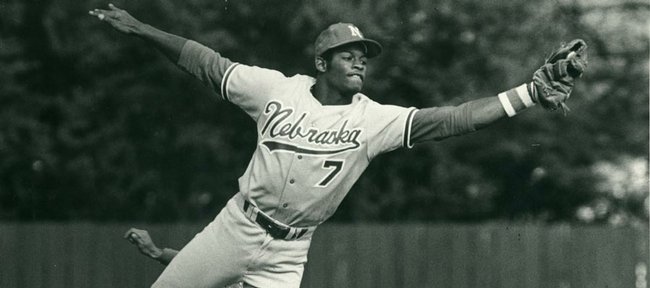 Feature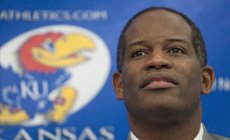 Turner Gill was named the head coach of the Kansas football team Sunday, December 15, 2009.
When Turner Gill was named Kansas University's new football coach, I told our desk people I thought we had an old black-and-white print of him in our photo files.
So I went to search one of the drawers in the large sports-department filing cabinet, found the G section, shuffled through some photos, and there it was — a picture of Gill playing shortstop for Nebraska in the early 1980s.
Here was one of the best quarterbacks in NU's storied football history, and we had retained a picture of him playing baseball. Go figure.
Well, I could say we kept that pic because we knew Gill would become KU's football coach a quarter of a century later, but who would believe that?
In retrospect, I imagine we kept it because we figured at the time Gill had a brighter future in pro baseball than he did in pro football.
Gill didn't project as an NFL quarterback, but he did play professionally for a couple of years for the Montreal Alouettes in the Canadian Football League.
After suffering a concussion in the last game of the '85 season, Gill was advised to give up football. He was only 23 years old, so he opted for pro baseball instead, and for the next three summers toiled in the low minors.
When it comes to baseball, there are two categories of players — those who can hit, and those who can't. And, like countless others before and after him, Gill fell into the latter category.
Gill played two summers for a Cleveland Indians farm team in Williamsport, Pa., home of the Little League World Series and, to be frank, hit like a little leaguer — .189 in 1987 and .195 in 1988.
And so — again like countless pro baseball players before and after — Gill entered the real world, where he became a college football coach. (Granted, some would say football coaching isn't the real world, either, but no one can deny the money is real).
Trivia question: Can you name the only other KU head football coach who played minor-league baseball?
Answer: Bob Valesente, the Jayhawks' head coach in 1986 and 1987, was an outfielder in the low minors for a couple of seasons in the 1960s. And, you guessed it, Val couldn't hit, either.
As I mentioned, Gill wasn't regarded as an NFL prospect. Few Nebraska quarterbacks were in those days because the Cornhuskers were primarily a running team, lining up in the I-formation and daring other teams to stop them.
One of those teams was, of course, Kansas, and the Jayhawks were grist for the mill all three years Gill played under center for coach Tom Osborne's juggernaut.
In 1981, when Gill was a sophomore, the Cornhuskers had to rally in the second half to post a 31-15 victory over KU. A year later, NU romped, 52-0. Then, when Gill was a senior in 1983, Mike Rozier ran for 285 yards and four touchdowns in a 67-13 Nebraska runaway.
Interestingly, though, in each of the three games Gill started at quarterback against Kansas, he threw one TD pass. No more, no less.
A little more than eight months from now, Gill will make his debut as coach of the team he beat like a drum when he was a player.
That's a good thing, though, because, from all indications, Gill is much, much better in a coaching box than he was in a batter's box.