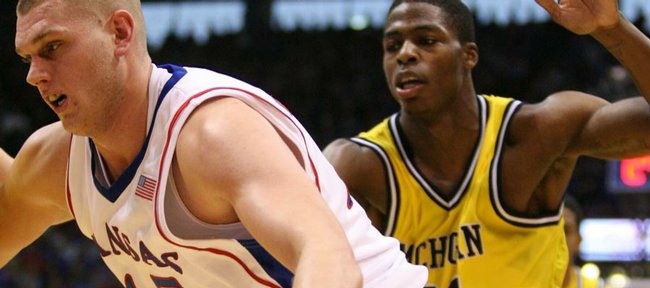 Cole Aldrich has been reluctant to reveal any reasons for his so-so play so far this men's basketball season.
"Me personally, I never make excuses for anything. You just keep on fighting," said Aldrich, Kansas University's 6-foot-11, 245-pound junior center from Bloomington, Minn.
The past several weeks, Aldrich been battling an illness, which coach Bill Self on Monday identified as bronchitis.
"I call it some crap in my throat," said Aldrich, who takes an 11.3-point, 9.7-rebound average into today's 8 p.m. home game against California. "It's one of those nagging things."
More importantly, the preseason All-American is facing a serious illness in his immediate family. Cole's grandmother, Ann, has terminal lung cancer and is in hospice care back home in Minnesota.
"My grandma is not doing very well right now. She's struggling," Aldrich said after Monday's practice. "I don't know how long she's going to live.
"I am hoping she's still there when I go home (Wednesday for Christmas break). I'll be home Wednesday, and hopefully I can see her," he added of his dad's mom.
Ann Aldrich turned 79 in August.
"It's one those things you have to keep your head up and just keep on fighting through," said Cole, who went 0-for-3 shooting and scored five points with 11 rebounds in Saturday's victory over Michigan.
Cole's dad, Walter, said it has been difficult to read his son's emotions lately.
"He's a tough kid. He doesn't say much," Walter said. "Him being sick ... he didn't tell the coach or anything. I imagine it (grandmother's condition) is in the back of his head, at least."
Self said he has noticed that Aldrich, who tonight faces 7-3 Cal center Max Zhang, has been laboring physically on the court.
"I knew he didn't feel great. After watching and studying him, he really doesn't feel very well," Self said. "He's having a hard time breathing. He's OK. He's got a bug right now, which a lot of people get."
Self has said Aldrich has a lot on his plate.
"I think there's a lot of things going on with Cole that's a little different than last year," Self said. "The expectations bit is a small piece of it. I think family health is a big piece of it. Different personnel and roles (on KU's team) are a piece of it. Him being sick is a piece of it. The combination of things has kept him from being as good as he can be. The last two practices, he's been great. It's a matter of time before he bounces out of it and has some big games."
Senior Sherron Collins thinks winter break — the Jayhawks are free to leave town after tonight's game, then report back Saturday —will help his buddy.
"Hopefully he stays inside. We all know how cold it gets in Minnesota," Collins said with a smile. "We'll just wait for him to get back. We need him."
Collins says there's no doubt Aldrich has been less than 100 percent the last four weeks.
"It has affected him a lot, shot-blocking, rebounding the ball," Collins said. "I see him gasping for air more than he usually does. I'd never seen him use an inhaler before. He's got to use one now. He has to get over that bug."
Aldrich's roommate, Tyrel Reed, says Cole "says he's been sleeping fine. Once he wakes up, he's tired and has a lot of stuff in his chest taking his wind away. He has the holiday to get to go home and see his family a bit. Hopefully he gets over it soon."
Aldrich said he never considered taking any time off to try to shake the bug.
"There's no time to sit out," said Aldrich, who had final exams last week. "We've got a game tomorrow, then are fortunate enough to go home over Christmas and spend some time with the family. I'll probably hit the gym, but get a little extra rest."
As far as today's challenge ... Zhang (4.3 ppg, 3.9 rpg) has eight blocks in his last four games.
"I've got the scouting report right here. Obviously, being 7-3, he's going to be good," Aldrich said of the 240-pounder. "He's good. He's kind of like Jeff (Withey) in a small little way. Jeff is good for our big guys in the post. He makes us think about the shots we take and contests them well."
Aldrich would love to get off to a good start tonight.
"I'll stay aggressive, post hard and continue to talk to our guards and get the bigs the ball," Aldrich said. "I think we've got some great big guys and guards who can feed the post real well.
"I'm just happy to win," he added. "It's what it comes down to. I'm an unselfish person whether I get this number of shots or that number. As long as we win, I'm happy."
More like this story on KUsports.com