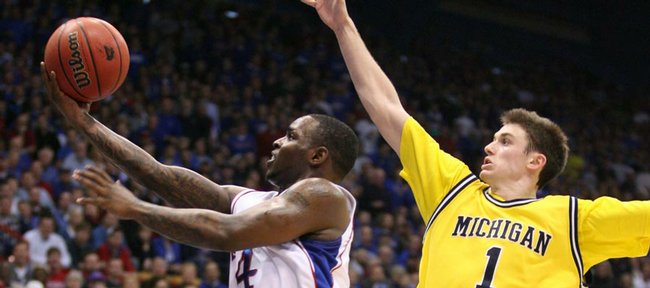 KU vs. Michigan
Reader poll
KU's rebounding

18%

272 votes

KU's turnovers

77%

1138 votes

Undecided

4%

64 votes
1474 total votes.
Sherron Collins looked like a guy who'd just been punched in the gut.
"The pain ... it just goes and stops and comes and stops. When it comes, it really hurts," Collins, Kansas University's senior point guard, said of "a little (flu) bug" that bit him prior to the Jayhawks' unsettling 75-64 victory over Michigan on Saturday in Allen Fieldhouse.
The play of the top-ranked Jayhawks had the 5-foot-11, 205-pounder feeling a bit nauseated as well.
Kansas built a 21-point lead (41-20), saw it dip to 11 at halftime (42-31), then remain stuck in the 11- to 15-point range the rest of the way.
"We are satisfied that we won, still are No. 1 and are undefeated," Collins said after the Jayhawks won their first game in six tries all-time against Michigan. "(But) it's a little bit deflating when you know you could have played better."
Collins, who scored 19 points off 7-of-10 shooting on a day Marcus Morris erupted for a career-high 23 points, suffered six turnovers, three during an 11-1 Michigan spurt that closed the first half.
KU never regained momentum after that 31⁄2-minute lapse.
Coach Bill Self indicated he didn't "think our guys' body language or energy was good the second half."
Collins wanted all the blame after a game in which fellow preseason All-American Cole Aldrich went 0-for-3 from the field and scored just five points.
"When coach came in the locker room, before he was going to get mad at anybody else (at halftime), I just stopped him and said, 'I'll take it. It's on me. I'm a senior,''' Collins said.
"I made three (turnovers) in a row when I got out of my character a little bit. We could have cracked it open right there. We let them get back in it. As point guard, I can't make mistakes, especially like that, three in a row."
The Jayhawks' struggles began when the Wolverines went to an active 1-3-1 zone defense. Collins, Morris and Xavier Henry (15 points) were the only Jayhawks able to crack the zone, combining for 32 of KU's 33 points the second 20 minutes.
Morris, who had 10 rebounds, hit seven of 10 shots and all eight free-throw tries.
"He was open. His eyes were wide the whole game," said junior guard Brady Morningstar, who Self said did the best job of any Jayhawk penetrating the zone and pitching.
"When we drove to the middle, Marcus was cutting to the rim, which is why he was getting some easy layups," added Morningstar, who had two points and three assists in 22 minutes in his season debut.
Morris surpassed his previous career high of 19 points versus Oakland on Nov. 25.
"I played OK. My man got too many rebounds toward the end. I didn't block him out enough," the 6-8 Morris said of 6-5 Zack Novak, who had seven boards.
Of KU's play against the 1-3-1, Morris said: "We didn't know the wings would play that high. They were jumping a lot of crosscourt passes. I think we adjusted to it a little better the second half."
Morris wasn't his usual bubbly, talkative self after KU's 10th victory against no losses. Michigan fell to 5-5.
"I think we could have played a lot better. Michigan is a good team, but we could have easily beaten Michigan by 20. It's kind of a downer. But we just got to regroup and move on," Morris said.
Self, who had a lot to say about his team's Jeckyll-Hyde performance, was asked if it felt like a loss instead of a big nonconference victory.
"Not a loss," he said, "but I'm not very happy. We were up 21 on a good team with three minutes left in the half. To only go in up 11 was very disappointing to us because we'd worked too hard to get up 21.
"The game should have been over at halftime. We played with no energy whatsoever. It was a very lackluster performance. We did not look like a basketball team out there the last 23 minutes."
That said, "I'd be very disappointed if they (players) left here real ecstatic," Self said. "You play to win. That's obviously important. But to go along with that, you play to get better. We wasted an opportunity in the second half to get better."
Self said there was plenty of blame to go around.
He didn't fully accept Collins' mea culpa.
"He was pretty good today until he went brain-dead," Self said, pointing to something besides the bug that has slowed KU's senior team leader.
"He's in the best condition he's ever been in, (but) he bumped his knee and got a bone bruise near the end of the exhibition season and our first game. He's still not 100 percent where he can fire off his leg. It's nothing structural."
Then in focusing on the big picture with the Chicago Tribune in town chronicling the performance of the Windy City native, Self added: "He's been great. After this semester, I think he only needs nine hours to graduate. When you really study how far he's come ... how a kid from inner-city Chicago can come here and leave this place as possibly the winningest player in this program ... he's a remarkable story."
Next chapter is Tuesday against California. Tipoff is 8 p.m. in Allen Fieldhouse.
More like this story on KUsports.com