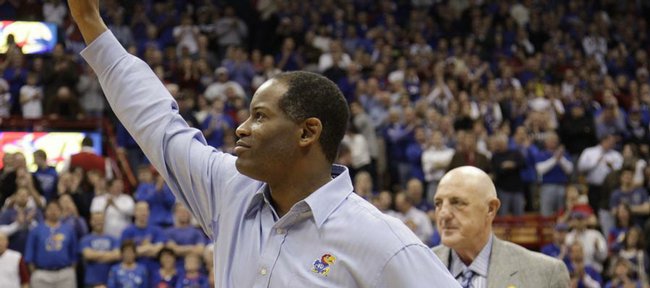 Photo Gallery
KU meets Turner Gill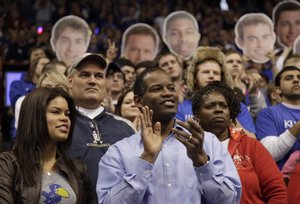 KU Athletic Director Lew Perkins introduced Turner Gill as the new football coach at KU Monday morning.
Buffalo, N.Y. — A few days ago, an older woman with dark hair and a New York accent was a couple of hours into her shift at the Starbucks inside the local Marriott.
It was early in the morning, a little before 9, and the woman — her name tag said "Terry" — was in the process of preparing a grande mocha when it came to her attention that two of her customers were out-of-town reporters in the area to do a story on former University at Buffalo football coach Turner Gill.
This piece of information, apparently striking a chord, caused the woman to turn her attention momentarily from the steamed milk.
"Oh, he stops in sometimes!" she said, beaming. "He's such a nice man!"
The name "Gill" holds a certain kind of distinction in western New York these days. Take over a program as lowly as Buffalo's was, lead it to a Mid-American Conference championship, its first bowl game in 50 years, and people tend to notice. Bring quality college football to a city that had grown accustomed to living without it, and people don't tend to forget.
Perhaps the best way to understand the impact Gill, the recently named head coach of the Kansas University football team, has had on the city of Buffalo is to see it up-close — board a plane, rent a car, hop onto I-90 and head toward the University at Buffalo.
Spend a few days in town. Stop in at the Anchor Bar — where the country's first buffalo wing was served — and flip through an issue of the Buffalo News, taking in the column about how, hard as the school might try, it's going to be a near impossibility to replace Gill.
Notice the Buffalo Bulls merchandise that now hangs from the racks at Macy's — it didn't used to, almost anyone will tell you — and talk to people like Terry. Talk to those that knew Gill, or at least knew of him.
Talk to enough people, in fact, and it's hard not to come away convinced that Gill — the man charged with pushing the program past a nightmare two-month stretch that saw previous KU coach Mark Mangino pushed out following an investigation into his treatment of players — is the man to lead the Jayhawks.
• • •
Talk to Dane Robinson, a senior defensive lineman from Maryland who's built like a refrigerator and acts as the team's unofficial spokesman.
Meet him in the parking lot of the school's football complex on a Wednesday morning last week, and he'll gladly take you through the football complex. He'll show you the locker room (where Gill, during a particularly impassioned pregame speech, put on a helmet and threatened to take the field), the meeting room (where players and coaches regularly held round-table discussions in which players were encouraged to speak their minds) and lead you out onto the team's field (where, over the past four seasons, the team enjoyed unprecedented success). Robinson was there from the beginning, which means he can tell you about the days before Gill, when confidence was nil and football players were ashamed to wear their team gear on campus because being associated with the UB football program wasn't exactly something to brag about.
He can also tell you how Gill took a broken football program and turned it into a family. And he'll tell you how he did it: by building relationships with players that simulated those of fathers and sons. By telling players that, one day soon, they were going to be proud to wear their UB sweatshirts to class. By supplementing workouts and practices with team trips to the local bowling alley and laser tag arena, because football, at any level, is supposed to be fun.
He'll tell you about the day a few years back, for instance, when Gill ordered players to be at the football complex before dawn the next day for outdoor conditioning. And how, when they dragged in the next morning, dreading the prospect of a workout in the dead of a Buffalo winter, Gill instead sat them down and showed a clip from the Ben Stiller movie "Dodgeball" ("If you can dodge a wrench, you can dodge a ball"), then led them to the nearby gymnasium to play.
Says Buffalo defensive back Josh Thomas, "He's a coach that you don't want to let down."
• • •
Talk to Buffalo tight ends coach Joe Dailey and wide receivers coach/recruiting coordinator Juan Taylor, too, because at the end of the day, they probably know Gill as well as anybody.
They'll tell you that Gill's fingerprints are all over the program.
Like the massive trophy case in the coaches' lounge, packed with family photos of assistant coaches. It wasn't there before Gill arrived. Notice, too, how the coaches' doors are always open so that anyone can pop in to discuss anything from Cover 2 formations to oldies hits.
"He immerses himself into a situation," says Dailey, who played quarterback under Gill at Nebraska in 2003 and '04. "He wants to meet everybody and know everyone."
They'll tell you that as flashy as Gill could be on the field — as a Heisman finalist quarterback at Nebraska in the early '80s, he led one of college football's most high-powered offenses — he's just as humble off it.
They'll tell you what it was like trying to recruit to Buffalo four years ago ("They didn't know what Buffalo was," says Taylor. "Some guys thought it was a state.") and how, these days, they can walk into a high school in Texas and immediately see a look of recognition on the face of a recruit.
"Now," Taylor says, patting the "UB" logo on the chest of his sweatshirt, "this is a brand. People know about Buffalo."
• • •
While you're there, stop by the Alumni Arena and see Paul Hutchings because he can give you the fan's perspective.
Hutchings' official title is campus awareness coordinator, but he can more aptly be described as one of the school's most intense fans. Before graduating a couple of years back and taking a job with the university's marketing department, Hutchings was regularly stationed in the front row of every UB football game, shirt off, the first "L" in a line of bare chests that spelled out "GO BULLS."
Hutchings is one of the founders of "True Blue," the football team's official fan group that has ballooned since Gill took over at the school.
In 2007, for instance, it had 55 members. Today, it has 5,500.
A former intern with the football program, Hutchings parlayed that into his current job, which, until recently, involved working closely with Gill to generate student interest in the football program.
What he quickly learned, he'll tell you, was that no matter the demands on his time, Gill always made himself available.
"He never turned down anything I asked him to do," said Hutchings, whose duties included organizing events in which students could interact with the coach. "No matter what it was."
Once, he asked Gill to show up at the student union before a game and pass out some fliers. When Hutchings showed up 10 minutes early the next day, he found Gill already there, weaving his way through tables, introducing himself to students, asking about their majors and their hometowns.
Building relationships one conversation at a time.
Hutchings will also tell you that, easygoing as Gill is, he harbors a competitiveness about him, as well.
When Hutchings organized an event in which four Buffalo students were selected to take on Gill in a football-throwing accuracy competition — three throws at a target, and the most accurate got a Buffalo gift basket.
Beforehand, it was decided that Gill would intentionally throw the competition, but when the students showed up breathing smoke and fire ("They were like, 'You're too old,' 'You don't have it anymore,'" Hutchings says), Gill grinned big and then proceeded to rifle three footballs effortlessly through the target, easily topping his competitors.
Says Hutchings, "He still gave them the gift baskets, though."
• • •
Make sure you head over to the 1230 AM WECK studio over on Genesee Street and see Brad Riter, who for the past two years has hosted Gill's weekly radio show.
Riter, who was born and raised in Buffalo, will invite you over after an evening show, offer you a Molson and take you back to his office, which is scattered with various pieces of Bulls memorabilia.
Riter is an unabashed Gill fan. Says you can't comprehend the strides Buffalo made under his watch. He's gotten to know Gill well over the course of the coach's tenure in Buffalo, but he still marvels at Gill's down-to-earth persona.
"The guy drives a Chevy Equinox!" says Riter, beside himself. "He literally drives the same car as my sister, who's a Spanish teacher and a mother of two!"
Riter will tell you that Kansas is getting itself one hell of a football coach, and, because he grew up in Buffalo — because he watched the unthinkable evolution of the UB program under Gill — he'll roll his eyes at the idea that the coach isn't ready to take over a Big 12 football program.
"I don't think you can understate where this program was before he took over," says Riter. "And you can't overstate where the program is right now."
He smiles, takes a swig of his beer.
"He's going to win a Big 12 championship," he says. "He is."
• • •
Finally, talk to Turner Gill.
Shake his hand. Look him in the eye. Hear his passion as he lays out his plan to turn Kansas into a perennial conference championship contender. Sit across from him in an office in the bowels of Allen Fieldhouse, an hour after being showered with applause after he was introduced at halftime of the men's basketball game against Michigan.
Already, he'll tell you, he's been working feverishly to re-create the sense of family his teams enjoyed at Buffalo.
During his first meeting with Kansas players last week, he had each of them stand up and talk about their own families. Then he had them fill out questionnaires about themselves, which he carries in a folder and takes time to study as he's being whisked from appointment to appointment, living room to living room, the flurry of responsibilities that come with his new position.
He knows it's imperative to get to know his players as well as he can before the start of spring practice, which is why he opened his office for one-on-one meetings this week, talking to players about just about anything besides football.
"I don't want the first thing I say to them to be me talking to them after they mess up a fly pattern," he says.
Now, the inevitable questions that follow a high-profile hiring: Can the nice guy finish first? Can the family approach win championships? Can Gill and his new staff appease a Kansas fan base buoyed by the happenings of an eight-year stretch that saw the program win 20 games in two seasons and capture an Orange Bowl title?
Time will tell, of course, but on Saturday, Gill didn't seem overly concerned.
And so, with a number of tasks still facing him and his daughter by his side, the newest face of Kansas University football rose from his seat, smiled and headed out the door, off to build a program.