At his introductory news conference earlier this week, Kansas University football coach Turner Gill emphasized the importance of speed.
Friday, when KU's new defensive coordinator, Carl Torbush, first met with the local media, he too talked about how critical speed would be to what the new staff wants to do at Kansas.
"Twenty-five or 30 years ago, you could get away with a slower guy," Torbush said. "But I've really got a simple philosophy on that. If I'm a great football coach and I've got a 4.9 (-second) 40 (-yard) linebacker and you've got a 4.5-40 running back, I can be the best coach in the world, and I'm probably not going to win that battle."
Agreeing on the need for speed is just one of the many ways in which Gill and Torbush seem to mesh. Add to it their common belief in the importance of morals, hard work and spirituality — things new offensive coordinator Chuck Long shares, as well — and it's not difficult to see why Gill was so quick to announce the first two members of his staff.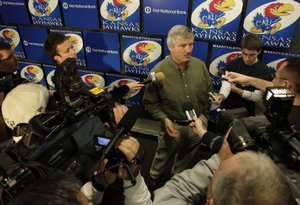 "We're going to have a staff that's going to be very, very compatible," Torbush said. "Turner Gill is going to put together a staff that believes in the same type of values and moral fiber that he believes in, and that's very important."
That's not all they'll share. Like Long, Torbush arrives at Kansas with a wealth of coaching experience.
He broke into coaching at Southeast Louisiana University as a baseball coach in the mid-1970s. Since then, he has held several jobs in football.
The 58-year-old Torbush spent the 2009 season as defensive coordinator at Mississippi State. During his career, he has held down key positions in three major conferences, including a head-coaching stint at the University of North Carolina and the defensive-coordinator title at Alabama, Ole Miss and Texas A&M.; It was at A&M; where Torbush and Long (then at Oklahoma) battled against each other.
"I've known Chuck a long time," Torbush said. "I was very fortunate to be coaching at A&M; when we got our brains beat out by Oklahoma when he was the offensive coordinator there. So I feel sure that I'm going to get ribbed about that for the rest of my life."
Although he did not unleash any cheap shots at his former opponent, Long said he, too, has great admiration for Torbush's abilities. He also said that their current situation was a big reason he always had operated by two tried and true rules.
"I've known Carl a long time," Long said. "I remember him when he was on Mack Brown's staff (at UNC) years ago, and we've overlapped in the Big 12. This is a very close fraternity, and I always tell guys when you get into this deal, 'No. 1, don't ever burn a bridge. But also, always stay in touch, always make sure you're very professional with guys and treat them the right way because, chances are, you're either going to play against them or you're going to work with them.' And, in this case, Carl and I have gone from playing against each other to working together, and I think it's going to be a great thing."
The connections between the still-developing staff don't stop there. Two of Gill's assistants at the University of Buffalo played for Torbush at UNC. It was their testimony, along with the opinions Torbush has shaped himself, that led him to say yes to Gill and Kansas so quickly.
"I've known how he acts toward players and coaches and toward people," Torbush said. "Anybody that's ever been around him, there's no fake about him. What you see is what you get. You're getting a great, great human being. He's the type of guy that I want to be around each day of my life."
As for the specifics of what kind of defense he wants to be around, Torbush said he always had operated out of a 4-3 set, but that he anticipated throwing several other sets onto the field, as well. He mentioned multiple looks up front, a 3-3 formation and even a defense that employs six defensive backs, a clear sign that he's aware of the challenge of keeping up with the Big 12's spread offenses.
"We're a multiple defense. That's the great thing about what we'd like to do," Torbush said. "But what we will do, I don't know yet. We've gotta make sure that whatever we do is something our players can handle and we can get the best players on the field to be successful."
A large factor in determining that will be recruiting. Torbush, who has recruiting ins that stretch to all four corners of the country, said he spent a heavy portion of his first week on the job doing just that, and he anticipated finding out quickly how successful he would be in bringing athletes to Kansas. Despite the week being dubbed as "a whirlwind," Torbush said he had enjoyed every minute of it so far.
"There's been no negatives," he said. "We haven't lost a ballgame, nobody's scored a point, so we're on an extended honeymoon right now."
He also said he looks forward to learning more about his new job and his new home and has no desire to reclaim a position as a head coach.
"No, I really don't," he said. "I'd like to have the head coach's money, but the thing I really enjoy the most in football is, No. 1, coaching the linebackers, which I've done all my life, and No. 2, coordinating a defense so that you play the checker game with the offense that you're playing against."