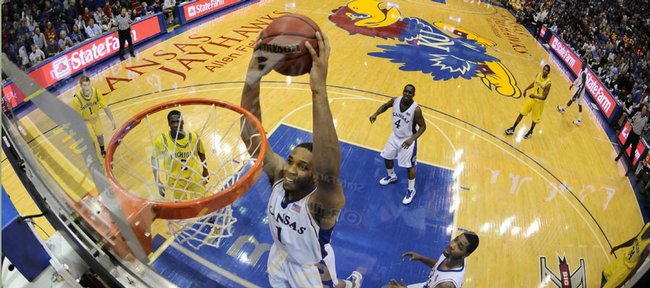 KU vs. Michigan
Reader poll
KU's rebounding

18%

272 votes

KU's turnovers

77%

1138 votes

Undecided

4%

64 votes
1474 total votes.
Reader poll
Sherron Collins

37%

3 votes

Marcus Morris

25%

2 votes

Cole Aldrich

12%

1 vote

Thomas Robinson

12%

1 vote

Tyrel Reed

12%

1 vote

Other

0%

0 votes
8 total votes.
Reader poll
Yes

53%

35 votes

No

40%

26 votes

Undecided

6%

4 votes
65 total votes.
KU scoring — Marcus Morris 23 (career high), Collins 19, X. Henry 15, Reed 6, Aldrich 5, Taylor 2, Morningstar 2, Robinson 2, Markieff Morris 1.
KU was 25-for-48 from the floor (52.1 percent), 6-for-19 from three (31.6 percent) and 19-for-26 from the free-throw line (73.1 percent).
UM was 24-for-67 from the floor (35.8 percent), 5-for-28 from three (17.9 percent) and 11-for-13 from the free-throw line (84.6 percent).
KU out-rebounded UM, 37-34. KU had 14 turnovers to Michigan's 10.
FINAL: KU defeats UM, 75-64
Well, it wasn't pretty, but despite a lackluster second half, KU closes out a 75-64 victory.
KU 71/UM 58 — 1:24 left in 2nd half
Collins swishes a tough, stepback jumper, and it should be a free-throw contest for KU the rest of the way.
Markieff Morris picks up his fifth foul in only nine minutes. Just one point, one rebound, one assist and one turnover for him today.
KU once again can't seem to find an opening in the 1-3-1 zone, but Marcus Morris bails the Jayhawks out with a no-elevation three that swishes through from the deep corner.
After a missed three from Xavier Henry, Sims adds a layup in transition, and Michigan uses its final timeout.
KU 66/UM 55 — 3:09 left in 2nd half
Aldrich's cross-court pass is stolen. The big man still doesn't have a field goal (0-for-3) today.
Morningstar helps KU with its first successful lob that I can remember today, as his pass to Marcus Morris is dunked home.
Taylor is called for a questionable charge, and that's his first turnover in a long, long time. Remember, he had six assists and no turnovers last game, and before that play, he had five assists and no turnovers today.
Aldrich can't rip away a defensive rebound, and after a jump ball is called, Self shakes his head in frustration. I can't tell for sure, but that looked to me like a "We need to be tougher" head shake.
Collins splits two defenders to get into the lane before hitting a short jumper. That's only KU's eighth field goal this half.
Morningstar somehow gets the ball away after getting double-teamed up high, and two passes later, Xavier Henry has an easy layup.
KU 60/UM 47 — 7:49 left in 2nd half
KU tries a lob pass against the 1-3-1, but Morningstar's pass clangs off the front rim. The Jayhawks have been stymied by the defensive set.
Xavier Henry gets KU a much-needed bucket, hitting a three over a defender. I should point out that because KU had an inbounds pass under the basket, UM had to switch back to its man defense.
KU leaves Zack Gibson alone on an inbounds pass, and he puts in an uncontested layup under the basket. Self probably doesn't have as many timeouts in this game as he'd like to have.
Robinson misses the front end of a one-and-one, but Marcus Morris tips in the putback. That, or he knocked a Michigan defender into the ball, which gave KU the two points.
Xavier Henry is fouled on a drive to the basket, and KU finally musters some offense against the 1-3-1 zone. Xavier makes just one of his two free-throw tries, though.
KU 52/UM 41 — 11:30 left in 2nd half
Collins stays in, but the turnovers continue to follow him. A bounce pass to Xavier Henry is stolen away (though it looked like Xavier Henry might have been fouled inside). That's five turnovers for KU's All-America candidate.
Manny Harris is left alone in the corner, and he swishes his third three. Self calls another timeout after the blown defensive assignment.
True to form, Michigan has hitched up a ton of threes (21) but hasn't made a ton of them (five, 23.8 percent). The Wolverines came in making under 30 percent of their threes, but that didn't stop them from attempting 25.4 per game.
Reed airballs a three, and after two Michigan offensive rebounds, the Fieldhouse is in its first "scared cheering mode" of the year. The fans are getting increasingly tense about this one, even with KU still up by 11.
KU 51/UM 36 — 15:10 left in 2nd half
Marcus Morris leaves a high-low lob well short of Aldrich, and the pass is stolen. KU's assistants — along with Self — aren't happy on the bench.
The ball sticks in Collins' hands when Taylor would have had an open three attempt, and Collins instead drives the lane and picks up a charge for his fourth turnover. From the way Self jumped off the bench, it appears Collins might be coming out of the game again.
KU 49/UM 36 — 17:01 left in 2nd half
Michigan goes back to its man defense in transition, and Collins slices between two defenders for a short jumper.
After a made jumper by Michigan, though, the Wolverines set back up in their 1-3-1 trapping zone. Marcus Morris has a pass stolen, and KU can't stop turning it over against the trap.
Aldrich does a good job of seeing players through a double-team, finding a cutting Xavier Henry for a slam.
KU's best two ways of countering UM's zone right now are to 1) don't allow a Michigan made basket; or 2) sprint the ball up the court after a made basket to beat the Wolverines zone down the court. The Jayhawks certainly haven't executed against it well so far.
• New KU football coach Turner Gill's comments were brief but strong.
"You know that the basketball team has a great dynasty," Gill said. "Our football staff is here to build another great dynasty."
KU scoring — Collins 11, Marcus Morris 9, Reed 6, X. Henry 5, Aldrich 5, Taylor 2, Robinson 2, Morningstar 2.
KU was 13-for-27 from the floor (48.1 percent), 4-for-9 from three (44.4 percent) and 12-for-15 from the free-throw line (80 percent).
UM was 11-for-33 from the floor (33.3 percent), 3-for-13 from three (23.1 percent) and 6-for-6 from the free-throw line (100 percent).
Both KU and UM had five turnovers in the first half. KU out-rebounded UM, 21-16, in the first half.
KU 42/UM 31 — Halftime
Michigan finally gives its customary 1-3-1 zone a look, and Collins turns it over against a trap, as his bounce pass is knocked away and stolen.
Morningstar is guarding Harris now, and the UM guard is having trouble even getting the ball.
Another turnover by Collins against the 1-3-1 zone, as his pass is intercepted on the perimeter by Zack Novak. Aldrich goaltends a shot by DeShawn Sims, and Self catches the blocked ball in the air. Before letting go of the basketball, a perturbed Self asks for a timeout.
Collins can't figure out this 1-3-1 zone. Again he lobs a horrible pass, and again it's stolen. Darius Morris follows with an uncontested layup.
Collins hitches up a quick three that hits back iron, and on the other end, Morris swishes a three from the corner. Self calls his second timeout in 45 seconds to get Collins out of there.
Xavier Henry misses a three, and the late surge by Michigan has the Wolverines down only 11 at the half.
KU 41/UM 20 — 3:18 left in 1st half
Michigan comes out of the break with its first zone of the day, as the Wolverines set up in a 2-3 zone. Collins is fouled on a reach-in, and his two free throws push KU's lead to 15.
Collins with a steal, and he puts in a quick layup in transition. Both Collins and Robinson wave their arms in the air, and many of the alums rise to their feet.
KU breaks the zone by getting the defense to collapse on Aldrich in the middle. Two quick passes later, Reed has an open three, and he swishes it through.
What a play by Taylor, who looked like a running back giving a shoulder fake left before dribbling around Laval Lucas-Perry to the right. Taylor finished with a scoop layup on his way back down from a jump, and the ball falls off the glass and through, drawing many "oohs" from the crowd. UM needs another timeout, this time down 20.
Reed with another zone-busting three. Give the assist to Taylor.
KU 27/UM 16 — 7:20 left in 1st half
Robinson with another great pass off the high-low, lobbing over the top to Marcus Morris for an easy lay-in.
Robinson has brought some energy to the defensive end as well, knocking the ball away for a steal up top before finishing with an uncontested, one-handed slam. Robinson screams out in delight, and KU has an 8-0 run.
Xavier Henry finally gets a left-handed layup in traffic to go down. He had started the game by missing his first four shots.
Marcus Morris with a quick baseline move, creating contact before putting in a shot high off the glass with a whistle. His free throw finishes off the three-point play, and Marcus is KU's leading scorer with nine points.
After an Aldrich defensive rebound, KU runs in transition, with Taylor finding Xavier Henry on the wing. Though Collins was calling out for a skip pass, the senior can't argue with the final result, as Xavier rises above a defender to rattle in a three. UM coach John Beilein calls timeout with his team down double digits for the first time today.
KU 14/UM 11 — 11:57 left in 1st half
Brady Morningstar checks in to a nice ovation at the 15:09 mark for his first action of the year. Self still elects to keep Xavier Henry on Michigan's most dangerous offensive player Manny Harris.
KU has gotten to the free-throw line six times already against Michigan, and that's a rare feat against the Wolverines. Opponents average just 11.8 free throws against Michigan this season. KU has started just 2-for-10 from the floor, though.
Xavier Henry hesitates a few times before finally getting the ball in the post to Thomas Robinson. The big man turns the touch into two points, driving before dumping the ball over the defense to Marcus Morris for a slam.
Morningstar follows with a long, pull-up jumper off the dribble, and after falling behind, 11-10, KU has regained a three-point edge.
KU 7/UM 7 — 15:31 left in 1st half
Two good plays by Tyshawn Taylor on KU's second possession. In transition, he thought about taking it one-on-two toward the basket, but instead wisely backed it out. After Marcus Morris drew a double-team inside, Taylor quickly passed on the perimeter to Sherron Collins, who drained the three.
Collins penetrates into the lane and hits a short jumper. He starts today 2-for-2, and his 1-for-12 effort against La Salle seems like a distant memory.
Already, Cole Aldrich has three rebounds and one block. Michigan — with its tallest starter at 6-foot-8 — has no one to match up with him.
11:05 a.m.
KU coach Bill Self with a green tie for the green game. Nice.
The crowd is juiced for this one. It's loud in here already.
11:02 a.m.
New KU football coach Turner Gill is on the front row of the south student section with about eight recruits and their families.
Gill will be officially introduced as KU's new football coach at halftime.
10:56 a.m.
Here's a quick note about Michigan's 6-foot-5 guard Manny Harris, who comes in leading the Wolverines with 22.2 points and 8.4 rebounds per game.
Though Harris has struggled for the most part from three this season (13-for-45, 28.9 percent), he's made nine of 16 three-pointers in his last three games (56.2 percent).
10:50 a.m.
KU has installed a "WaveCam" that hangs from the west side of the Allen Fieldhouse rafters.
I'm not sure exactly what kind of shots the camera will be used for yet, but the release on it says this: The WaveCam is a 25-pound camera that is suspended beneath a trolley that travels the length of the west side of the Fieldhouse.
The WaveCam at KU is only the second at a basketball facility; there also is one at Villanova's home court.
It's going to take some getting used to, for sure. It's just kind of weird to see a trolley run along the top of the Fieldhouse and also a floating camera supported by some wires. I would expect some fans on the west side — whose views might be obstructed by the camera — might not like it as well.
10:10 a.m.
Welcome back to the Newell Post Live, coming to you from Allen Fieldhouse where the No. 1-ranked Kansas Jayhawks are getting set to take on the Michigan Wolverines.
Today marks the return of KU guard Brady Morningstar to the Jayhawks' lineup after a first-semester suspension. I think most KU fans believe this might lead to a significant decrease in playing time for Tyrel Reed.
But the people saying that I don't believe have taken a good look at Reed's numbers so far this year.
Sure, Reed might not be KU's best defender. He also isn't the team's most prolific scorer.
Still, so far this season, he's been an excellent role player on a team that doesn't really need to have five superstar scorers on the court at the same time.
To get a feel for Reed's improvement, let's compare his 2009 stats to last year's stats. (Remember with these stats, Reed played 20.7 minutes per game last year and has played 16.1 minutes per game this year).
Tyrel Reed
2008 turnover percentage — 19.8 percent

2009 turnover percentage — 9.6 percent


2008 steals percentage — 1.8 percent (40th in Big 12)

2009 steals percentage — 3.0 percent (17th in Big 12)


2008 assist percentage — 8.7 percent

2009 assist percentage — 13.8 percent


2008 assist-to-turnover ratio — 1.0 (35th in Big 12)

2009 assist-to-turnover ratio — 4.7 (1st in Big 12; 5th in nation)


2008 three-point percentage — 38.9 percent

2009 three-point percentage — 35.7 percent


So, it you look at the stats, Reed has seen a significant increase in his assists and steals while also combining that with a significant decrease in his turnovers. Though he hasn't made as high of a percentage of threes so far this year, the percentage is close to what he shot a year ago.
As long as KU has scorers like Sherron Collins, Cole Aldrich and Xavier Henry on the floor, you can bet that KU coach Bill Self also is going to make room for a guy that leads the conference in assist-to-turnover ratio, grabs some steals and hits the occasional three-pointer.
Make sure to vote in the poll at the left, and also use the hashtag #kubball to have your tweets appear in our grid on the left.
Oh, and www.justin.tv/sremlahc10, password: phog.