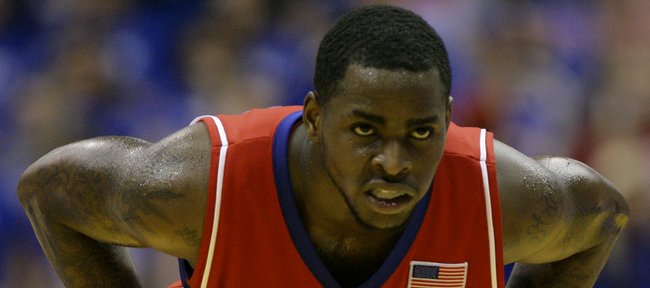 Winner of 1,979 games in 112 seasons, Kansas University's tradition-rich basketball program has yet to record a victory over the University of Michigan.
The Jayhawks take an unsightly 0-5 mark versus the Wolverines into today's 11 a.m. clash in Allen Fieldhouse.
"I just heard that today. Our astute radio man told me that," KU coach Bill Self said Friday, referring to veteran play-by-play voice Bob Davis supplying him with some pre-game ammo. "I'll definitely remind our guys of that."
Of teams with multiple games played against Kansas, only Michigan, UTEP (3-0) and Bradley (2-0) have unblemished marks.
"It's weird because of all the good teams we've had in the past," KU senior guard Sherron Collins said of KU's mark vs. Michigan, which includes losses in 1992, '85, '82, '80 and '49. "Hopefully we'll get that changed."
In the schools' last meeting, Chris Webber, Jalen Rose and company downed the Jayhawks, 86-74, in the 1992 Rainbow Classic Finals in Honolulu.
"They were the Fab Five. They were pretty good," Self said of the '93 Wolverines, who fell to North Carolina in the NCAA championship game. The Jayhawks also reached the Final Four in New Orleans that season.
As far as the present ... No. 1-ranked KU (9-0) today enters as a 19-point favorite against the unranked Wolverines (5-4). Michigan, which opened at No. 15 in the AP's preseason poll, has beaten Northern Michigan, Houston Baptist, Creighton, Arkansas-Pine Bluff and Detroit and lost to Marquette, Alabama, Boston College and Utah.
"They are positively an NCAA Tournament team," Self said. "They have arguably a first-team All-American on their squad, who has played as well as any guard in the country."
Manny Harris, a 6-5 junior from Detroit, averages 22.2 points, 8.4 rebounds and 5.0 assists per game.
"He's really good," said KU sophomore combo guard Tyshawn Taylor, who Self said will start in place of Elijah Johnson after coming off the bench the past two games.
"I'm sure I'll guard him some. 'X' (6-6 Xavier Henry) might start on him since he's bigger," Taylor added.
Last year's defensive stopper, Brady Morningstar, who today comes off suspension to make his season debut, also figures to take a turn on Harris.
"When Brady is in the game, he'll certainly be put on him," Self said. "I don't know if you can shut out a guy averaging 22, but we'll certainly try to slow him down."
Morningstar said he'd welcome the assignment.
"It's not just me chasing him around. It's our whole team trying to stop their team," Morningstar said.
Michigan's second double-digit scorer is DeShawn Sims, a 6-8 senior from Detroit, who averages 15.6 points and 7.4 boards. Guards Laval Lucas-Perry (7.4 ppg), Zack Novak (6.3 ppg) and Darius Morris (4.8) complete the starting lineup.
"With a Michigan team that runs a Princeton offense, you've got to play a little differently than if you are playing a Nebraska or somebody like that," Morningstar said of a team that also uses a 1-3-1 defense on occasion.
"It's all about knowing where to be on the court because they run a strange offense."
Michigan coach John Beilein is just as wary of the well balanced Jayhawks.
"They have got the great combination inside/outside," he said. "You've got Collins, who by himself can win a game, and (Cole) Aldrich. He's just a mountain with really long arms.
"Now (Xavier) Henry is shooting over 50 percent. When you play those type of teams that have two or three really good guys, many times it's the other guys beating you. They guard and have assigned tasks and make it very difficult to stop."
Michigan is not the only team to have history on its side today.
The Jayhawks counter their 0-5 mark with Allen Fieldhouse, where KU has won 47 straight games.
"I think from our standpoint and fan standpoint this is our first real true home game where the building should be juiced," Self said. "I'd love to see a lot of energy, love to see our guys be able to play at that magic level but still be poised and not too geeked up, to execute possessions that matter as opposed to when a game is lopsided and there's no pressure to execute."
Beilein is aware KU rarely loses at home.
"Playing in Allen Fieldhouse and the team we are playing, it's going to be a daunting challenge," he said.
More like this story on KUsports.com