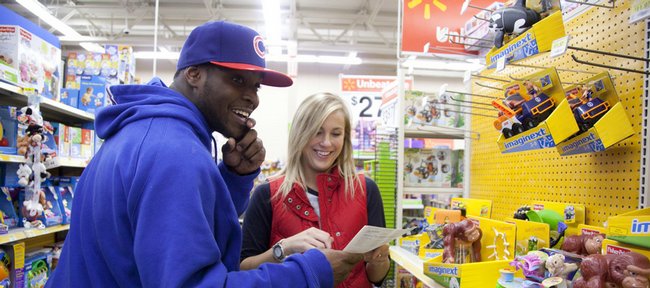 Sherron Collins, who grew up poor in Chicago's Julia D. Lathrop Housing Development, always had packages under the tree on Christmas Day.
"My mom worked two jobs to make sure my brother and I had what everybody else had. We didn't see her from 7 in the morning until 11 at night," Collins, Kansas University's senior basketball point guard, said Thursday night.
"There were Christmases where I didn't get everything I wanted or close to what I wanted. But I was always grateful for getting something. I thank my mother for that all the time."
Collins couldn't help but think back to Christmases past — with older brother Steve and mom Stacey — as he and his KU teammates shopped for 17 needy families at Walmart in south Lawrence.
As one of the basketball team's "Santa's Helpers," Collins kicked in some of his own money after exceeding a $100 limit for toys and clothes for two 5-year-old boys and their mother.
"We got them a lot more stuff. I think they'll be happy with the things they got," Collins said while placing a toy train and tracks and a Mr. Potato Head in his shopping cart, which was steered by KU student manager Lacey Breech.
"I think it's good we do this every year for kids to lighten up their Christmas. I know how it can get with times tough and people not able to have gifts. I'm just sad this is my last year to do it," added Collins.
The Jayhawks — under the direction of former KU player Roger Morningstar and his wife, Linda — have shopped for needy families the last 16 years, thanks to donations from members of the Roundball Club.
It takes the Jayhawks about an hour apiece to traverse the aisles of Walmart and walk through the check-out lines.
Some highlights of Thursday's excursion ...
• Red-shirting KU senior Mario Little, who, like Collins, hails from Chicago, wore a Santa Claus hat as he filled up his cart while munching on snacks.
"Hey, Santa, how we doing?" KU coach Bill Self said in approaching Little in the little kids' toy department.
"It's amazing to me how Santa Claus can be so focused and eat Cheetos at the same time."
• Soph guard Tyshawn Taylor received some unexpected help from his mom, Jeanell, and sisters, Ghariana and Taquana. His little sisters shared their expertise with some of Taylor's teammates as well.
• Sophomore forward Markieff Morris shuffled through KU basketball jerseys with student video coordinator Douglas Compton and joked that the only number he could find was junior guard Conner Teahan's No. 2, not his own No. 21.
• Junior guard Tyrel Reed held up accessories for a little girl to the neck of freshman guard Xavier Henry, with Henry offering his opinion on some of the colors.
• Henry debated which princess dress to choose as video coordinator Kyle Keller filmed the proceedings.
• Collins yelled over to KU coach Self, who was in the vicinity of big-screen TVs.
"You buying a TV for somebody, coach?" Collins asked.
"No, I'm watching TV," Self said, laughing.
Self later praised his players for showing at Walmart at 9:30 p.m. on a Thursday for the shopping excursion, which was completed first by sophomore forward Travis Releford, who bought a batch of clothes for his family in need.
"Our players do a lot of causes. Most don't draw attention to it. This is one that does," Self said. "The guys really enjoy it. We've got guys with final exams tomorrow morning and guys who had finals at 7 tonight, and they are here and excited to be here when they weren't made to be here because they know they are taking the time out to brighten somebody's Christmas.
"Roger and Linda Morningstar have done a great job of keeping this in the forefront with our players and keeping the tradition going. It's important we give back. We are all very blessed, especially at a time where everybody needs to feel good about the holiday season," Self added.
This upcoming holiday ties for another as the favorite of senior guard Collins.
"This and the Fourth of July," Collins said. "I go home to Chicago for the Fourth and see all the little kids in my neighborhood. I buy a big bag of fireworks and light them and put on a show for them because they probably don't get to see fireworks shows all the time. Not everybody can get downtown to see the fireworks.
"Christmas and the Fourth of July are the best because of the kids," added Collins, who would get to do some shopping for his own son, Sherr'mari, at a later date.