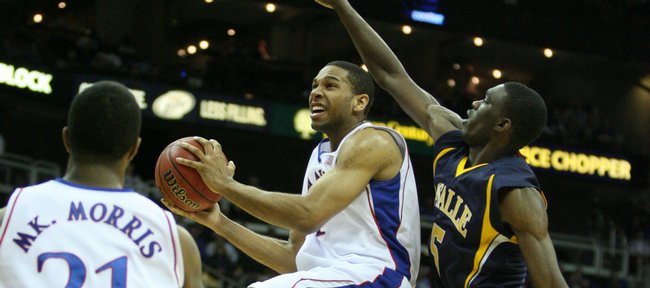 Kentucky's John Wall probably leads Kansas University's Xavier Henry in the publicity department.
But as Jayhawk coach Bill Self observed on Monday's Big 12 coaches conference call, the numbers put up by KU's freshman sensation "are very comparable to what John has done."
Self wasn't stumping for Henry for any mythical national rookie-of-the-year honors. He was just discussing the progress of KU's combo guard, who Self said actually has been better than expected.
Here's a look at the numbers through nine games of Wall and Henry:
• The 6-foot-4 Wall has averaged 18.1 ppg in 35.1 minutes, the 6-6 Henry 18.0 ppg in 27.0 minutes.
• Henry has hit 55 of 99 shots for 55.6 percent, Wall 54 of 100 shots for 54 percent.
• Henry has made 24 of 45 threes for 53.3 percent, Wall seven of 19 threes for 36.8 percent.
• Henry has converted 28 of 34 free throws for 82.4 percent, Wall 48 of 61 for 78.7 percent.
• Both players have 37 rebounds. Wall has 64 assists, 39 turnovers, 25 steals and five blocks; Henry has 16 assists, 18 turnovers, 16 steals and seven blocks.
"I'm not saying one is better. I'm not trying to say that at all," Self said. "John has gotten a lot of attention so far and justifiably so."
Both players Monday were tapped their conference's rookie of the week. Wall was honored for the fourth straight week, Henry the second in a row.
"Xavier has been a model of consistency," Self said. "You don't see that often with freshmen.
"He's maybe taken five or seven (bad) shots all season. For a scorer's mentality, to only take that many is remarkable to me. I don't know if he'll average this many points the rest of the season. Nobody can argue with his efficiency. If he's averaging 12 shots a game and getting 18 as a freshman, that's very efficient."
Taylor likely to start
Kansas coach Bill Self has been impressed with the play of sophomore guard Tyshawn Taylor, who has had 12 assists and no turnovers the last two games.
"Tyshawn has definitely earned his (starting) spot back. He's been good the last two games," Self said on his Hawk Talk radio show. Freshman Elijah Johnson started the past two games.
"He (Taylor) has given himself up defensively in doing what we want him to do, and I think he's made good progress."
Johnson labored a bit in Saturday's victory over La Salle.
"Elijah turned his ankle. He tripped the first play of the game. It bothered him. He didn't look as explosive to me," said Self, who also has had high praise for the Las Vegas native his rookie season.
Withey close to playing
Self hopes Arizona transfer Jeff Withey will be eligible to play in Saturday's 11 a.m. home game against Michigan. He had to sit out two semesters in accordance with NCAA transfer rules.
"We've got to get Jeff's grades turned in, then he'll be automatically cleared to play," Self said. "We think we can (get them turned in by game time). I don't know how much impact he'll have on the team early. He hasn't been 100 percent healthy yet (recovering from a stress fracture in his right knee). Our trainer wants Jeff to go up and down to play full-court this week the entire practice. He hasn't had the reps. I can't see just putting him out there, just because the other guys have a better understanding of what to do in certain areas."
Morningstar debut
Self said guard Brady Morningstar's one-semester suspension ends Saturday.
"I believe getting Brady back will help us take a step (forward)," Self said. "Not that he'll play a ton of minutes, but he'll give us a great post feeder, also our best perimeter defender, more than likely. He's a guy that can spot up and make shots. He can play off other guys better than a lot of our young kids can."
Green game
ESPN is promoting Saturday as a "Green Game." The network has been on campus filming "sustainability" efforts of both KU and the city of Lawrence.
These efforts will be featured throughout the telecast.
"I think we will wear green warmups or a shirt," Self said on Hawk Talk. "It is a good cause, brings attention to it. We'll participate any way they want."
KU associate AD Jim Marchiony said plans are for the Jayhawks to wear green shirts during warmups.
"It's the first one they've ever done," Marchiony said of the network. "We've been working with ESPN on this for months."
Details will be released by KU today.
Gill introduced
Several members of KU's basketball staff attended Turner Gill's introductory news conference Monday. KU coach Self was at a Boys and Girls Club charity event in Kansas City and couldn't attend.
"Our new football coach pretty much wowed everybody by his remarks. I heard it went well," Self said.
Self's wife, Cindy, and son, Tyler, actually met Gill's wife, Gail, last year at the KU-Nebraska football game in Lincoln.
"Cindy and Tyler were sitting there by a lady whose daughter was on our dance team," Self said. "She said her husband coached football somewhere and her daughter was on the dance team. Cindy couldn't figure it out. I said, 'That was probably Turner Gill's wife because they knew so much about Nebraska and KU and her husband coached somewhere else.' So they've unofficially met."
Of Gill, Self said: "He was a little bit of a superior athlete and probably a better student (than Self) too. I'm excited for Turner and his family. I hope everything works out for our prior staff, too. A lot of guys from the head coach on down have done a lot of good for this university. Hopefully it'll be a win/win for everybody."
Practice
The Jayhawks practiced an hour and a half on first day of finals week. "It's the biggest week of the year — this and a week in the spring," Self said of exam time.
More like this story on KUsports.com