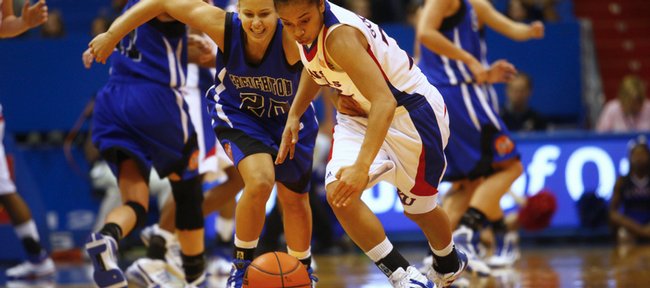 Time was when Kansas University point guards were like garter snakes.
They couldn't hurt you, so you ignored them.
No more.
KU point Angel Goodrich, avoided by Creighton defenders Sunday like she had the bubonic plague, erupted for a career-high 20 points as KU thumped the Jays, 77-56, in Allen Fieldhouse.
"We actually wanted her to shoot," Creighton coach Jim Flanery said of the Jayhawks' red-shirt freshman. "Not because we didn't respect her. We respected other players more."
Like Danielle McCray. The Jays were all over the Big 12 preseason player of the year, double-teaming her time and again and forcing her to take bad shots.
"It all starts with McCray," Flanery said, "because you have to put so much emphasis on guarding her. You have to cheat somewhere."
McCray managed to finish with 18 points, but she missed 11 of her 16 shots.
KU coach Bonnie Henrickson had an inkling about Flanery's deny-McCray strategy prior to tipoff.
"I figured they would leave (Angel)," Henrickson said. "I thought her shot attempts would be up, although not that much."
Goodrich not only doubled her career scoring high, she quadrupled her previous high in shot attempts. Until launching 16 shots Sunday, she had never taken more than four in any of the Jayhawks' previous eight games.
Asked if she expected to shoot 16 times, Goodrich replied: "No, I did not. Not at all. I was a little surprised. But they left the middle open."
Goodrich may have been surprised she was able to drive to the basket so often or take short jumpers, but her teammates weren't.
"I'm not sure they expected it," senior Sade Morris said, "but we did."
While Creighton (5-3) concentrated on McCray, Henrickson placed a special emphasis on Megan Neuvirth, the Missouri Valley Conference preseason player of the year, and that meant Morris was the Creighton standout's designated shadow.
"We knew she makes them go," Morris said. "We knew we had to cut the head off."
Neuvirth, who had 25 points in a loss to Nebraska last week, failed to reach double figures, missing eight of 11 shots and settling for eight points during 33 minutes on the floor.
Seemingly, Morris was so focused on Neuvirth that her shooting suffered. Morris took only five shots and missed them all, but she didn't blame her poor shooting on over-emphasizing the Neuvirth watch.
"My shot just isn't falling now," Morris said, "but I can't let that affect my defense."
Morris wasn't the only solid KU defender. Overall, the Jays made only a third of their shots, and KU forced 21 turnovers, including eight steals — three by Goodrich.
Goodrich was also good at her specialty. The 5-foot-4 freshman from Tahlequah, Okla., was credited with eight assists and now has 28 in the last three games.
Another strong point for the No. 23-ranked Jayhawks was free-throw shooting. KU nailed 24 of 28 charities, including nine of 10 by Aishah Sutherland, who finished with 15 points and a game-high 10 rebounds.
Krysten Boogaard, although playing just 21 minutes, added 10 points and five boards.
Kansas (7-2) will be idle until Sunday, when Cal-Riverside will come to town for a 1 p.m. start.
More like this story on KUsports.com