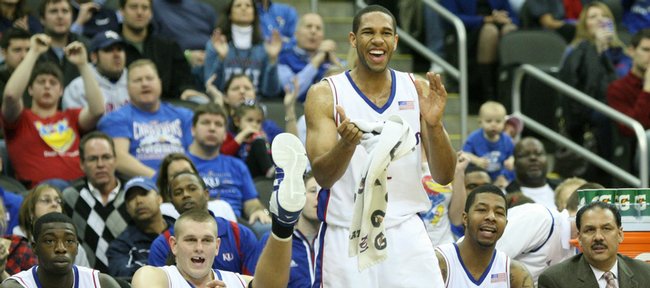 Kansas City, Mo. — Bill Self, who took his prize freshman out of Saturday's Kansas-La Salle game with five minutes to play, summoned Xavier Henry back onto the Sprint Center court with 3:50 remaining.
The late substitution wasn't to make sure Henry — who had exited with a career-high-tying 27 points — surpassed the total he'd set in the Jayhawks' season-opener against Hofstra, was it coach?
"Nah. I didn't care about that. A career high nine games in? Hopefully that won't last long. At least I hope not," KU coach Self said after watching Henry hit two free throws at 3:34 and a driving layup at 1:41 — and finish with a career-best 31 points — in the Jayhawks' 90-65 victory over the Explorers.
Henry hit 10 of 15 shots (four of five threes) and seven of nine free throws and hinted even better scoring days may be ahead.
"It was all right," the 6-foot-6 guard said of his effort, grinning when asked what would happen on a day he's "really good."
"I don't know. It'll be a good day, though, when I'm better than average."
The Oklahoma City sensation knew he was close to his first collegiate 30-point outing when, with four fouls, he returned to the game for the final time.
"Yeah, and then coach was like, 'Take him (defender),' so I kept going to the hole and scoring easy layups. As soon as he said, 'Take him,' that's all I needed to hear," Henry said.
Henry became the first KU freshman to score 30 in a game since Paul Pierce, who hit for 30 versus East Tennessee State on Jan. 6, 1998. KU's freshman single-game scoring record is 35 points set by Danny Manning against Oklahoma State in 1985.
"I thought he was 'all right' too," Self said with a smile.
Henry picked up the scoring slack on a day Sherron Collins labored to scored five points off 1-of-12 shooting. Collins last had five points off 1-of-8 shooting against Davidson his sophomore season.
"When Sherron has a game like that ... that may be the worst game Sherron has had shooting the ball maybe since he's been here. He couldn't get in a rhythm," Self said. "X just scored so easy. Getting 31 points on 15 shots is pretty good, especially for a freshman. He didn't take bad looks. He shared the ball.
"We saw today something he has to do more of, which is attack the basket. He's been so conscious to try to do what we want him to do, it's probably taken away some of his aggressiveness as far as putting the ball down and attacking the rim. He can get to the hole and get fouled."
Henry said he benefited from the solid play of KU big men Cole Aldrich and Markieff Morris, who had 19 and 12 points respectively off combined 13-of-16 shooting. Aldrich had five blocks and six rebounds.
"Most of the time, when I throw it inside, I'm wide-open for the three," Henry said.
La Salle (6-3), which trailed just 21-20 nine minutes into the game, then was buried by a 21-7 KU surge, was victimized by 10 first-half points from Henry and 11 from Aldrich.
Not even a hard foul by Terrell Williams with 5:21 left could slow the sweet-shooting Henry.
"My neck popped a little bit. I'm always popping my neck anyway," Henry said. "It popped, and it was burning."
Not a surprise since he was on fire.
"The whole game is fun. Even feeding the post man is fun, getting good reactions out of everybody," said Henry, who also had four rebounds and two steals in 29 minutes.
KU (9-0) will concentrate on final exams this week and next meet Michigan at 11 a.m. Saturday in Allen Fieldhouse.
More like this story on KUsports.com