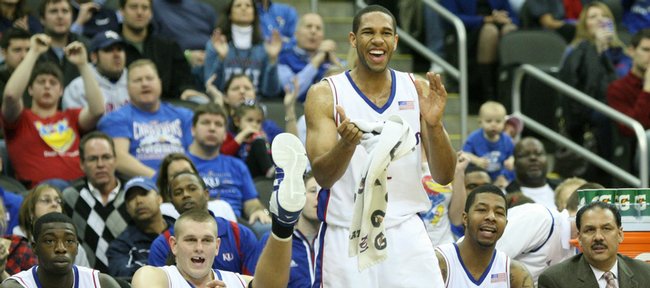 FINAL: KU defeats La Salle, 90-65
Xavier Henry picks up his career-high, as he's fouled in the lane and makes both free throws. His 29 points today surpasses the 27 he had against Hofstra in the season opener.
Collins misses a tough pull-up from the top (making him 1-for-11 today), but Aldrich tips the follow in.
Collins is just forcing things now, and he bricks up another despite being double-teamed. He's now 1-for-12.
Another drive to the left and two for Xavier, who becomes KU's first 30-point scorer this year. He checks out with 31 points.
C.J. Henry swishes in a three, and Marcus Morris follows with a two off the glass with a foul. The final score isn't going to indicate how close this one was.
KU wraps up a 90-65 victory.
KU 78/La Salle 58 — 3:50 left in game
Just when KU needs points, Xavier Henry comes through with a huge three from the right corner.
In transition, Taylor passes up an open three to get it to the hot hand, and Xavier swishes another long-range shot. His 52-percent three-point shooting will only be helped by his 4-for-5 performance from behind the arc today.
Xavier Henry drives to the glass for two more, and he's up to 27 points on 9-for-14 shooting.
As Self would say, both teams are playing "loose" right now. Both teams are getting up and down the floor, and neither team is playing much defense as of late.
Taylor crosses over his defender and puts in a two off the glass with a foul. His free throw pushes KU's lead to 20.
KU 65/La Salle 49 — 7:26 left in game
Aldrich draws an away-from-the-ball whistle, and KU will shoot the bonus the rest of the way. Aldrich makes both of his attempts.
Twice in a row, Aldrich loses his man, Jerrell Williams, on the perimeter. Twice in a row, Williams makes him pay, draining three-point shots. Self calls timeout, and the Jayhawks might need some switches defensively. Every KU player on defense seems to be guarding a player much bigger than him or much quicker than him.
A Markieff Morris block leads to two more in transition, as Taylor scoops to Xavier Henry for a layup.
Xavier Henry steals the ball in transition, and though he fails to tightrope the sideline (he stepped out of bounds at least twice; I was looking straight down the line) the officials don't blow the whistle. Taylor feeds Markieff with an over-the-head pass for a slam. This is as loud as the Sprint Center has been today.
Markieff Morris turns it over on a bad pass, and a Collins foul will give La Salle free throws after the break.
KU 59/La Salle 41 — 11:27 left in game
The pace has slowed a bit with a flurry of fouls. Both teams are getting called for numerous fouls trying to front players who are posting up.
Johnson is getting beaten routinely off the dribble by La Salle's Rodney Jones. Self motions for C.J. Henry to go in to try his luck.
Collins tries a lob to Robinson, but the freshman can't get the thunder slam to fall, instead rattling it hard off the iron.
KU 55/La Salle 36 — 15:21 left in game
Aldrich gets it inside, and after ripping it away from a defender, he kicks out to Xavier Henry for another three.
Marcus Morris fouls Williams on a layup attempt, and the La Salle player finishes a three-point play. Just 37 seconds into the second half, Self checks Markieff back in for Marcus.
Aldrich gets it underneath again, and he goes under the basket before scooping in a reverse layup.
Back to the 2-3 zone for La Salle, and immediately, Collins throws an alley oop to Markieff for a dunk.
A rare turnover for KU, as Xavier Henry and Taylor bang into each other trying to track down a pass from Collins. Williams is fouled on the way to the rim, and he makes two freebies.
Just when it appeared Self was going to have to call a timeout to regroup his team, the Jayhawks score two buckets in transition. After a Markieff Morris rebound, KU pushes ahead, and Xavier Henry scoops in a layup with his off hand for two.
Aldrich tears away a defensive board from two La Salle players (and also his teammate) before throwing ahead to Collins, who hurls an underhanded scoop to Xavier for another layup. A perturbed Giannini signals for timeout.
Out of the break, Xavier Henry feeds Aldrich with a nice lob pass, and the big man line-drives it off the glass for two more.
KU scoring — Aldrich 11 (5-for-7 shooting), Henry 10 (2-for-7 shooting), Taylor 7, Markieff Morris 6, Marcus Morris 4, Collins 3, Elijah Johnson 1.
KU was 14-for-28 from the floor (50 percent), 4-for-6 from three (66.7 percent) and 10-for-16 from the free-throw line (62.5 percent).
La Salle was 11-for-29 from the floor (37.9 percent), 3-for-11 from three (27.3 percent) and 2-for-7 from the free-throw line (28.6 percent).
La Salle out-rebounded KU, 21-17, in the first half, but the Explorers had 10 turnovers to KU's three.
Some thoughts
• If you look back to our pregame notes, this game has pretty much gone as expected. La Salle has dominated the offensive glass (11 offensive rebounds) but is losing any positive momentum because of turnovers (10). The Jayhawks should be fine as long as they continue to force turnovers on the defensive end.
• It's no small feat that KU out-shot La Salle in free throws, 16-7, in the first half. Remember, the Explorers are averaging 25.6 free throws per game.
• Good half by Taylor, who looked like he was more composed during his time in there.
• We haven't seen the big lineup I predicted yet that would push Marcus Morris to the three spot. I'm a bit surprised, but as many guards as KU has (Collins, Taylor, X. Henry, C.J. Henry, Johnson, Reed, etc.), it's hard to keep two-thirds of those guys on the bench at the same time.
• Of note: KU had seven first-half blocks. Aldrich had four, and Markieff Morris had three.
KU 42/La Salle 27 — Halftime
Taylor does a nice job on a drive in transition. Much like a quarterback, he looked off the defender, keeping his eyes on Sherron Collins on the perimeter and making it look like he was going to pass it. Instead of passing it, though, he took it hard to the rim to draw a foul.
Thomas Robinson continues to pick up the cheapest fouls on the team. He slapped away the ball from a La Salle player, but after the ball floated free, the official called a foul on him. That's his second whistle.
Great job of body control by Markieff Morris, who banged straight into a defender but kept his wits, pumping the ball back up on to the glass for a bank shot with a foul. The big man swings his right fist in satisfaction.
KU goes with a small lineup for the final possession, as Self wants to avoid the third foul for both Xavier Henry and Collins.
Aldrich blocks Green on the final possession, and Tyrel Reed throws ahead to Taylor, who tries a spinning shot from the top of the key at the buzzer. The rainbow bounces hard of the back iron, though it would have been an amazing shot had it gone through.
KU takes a 15-point lead into the break.
KU 36/La Salle 25 — 3:15 left in 1st half
Rodney Green picks up his second foul on a loose ball, and La Salle coach John Giannini yells at him across the court. "If you would have gotten to the ball, you wouldn't have gotten the foul!" Then, Giannini goes down his bench to preach the same message, bemoaning the fact that one of his players was out-hustled.
Aldrich has started to show his offensive game, putting in a turn-around on one possession before getting fouled on the next. He makes one of the two free throws, and KU is up by double figures.
Despite what Markieff might have said before the game, Rodney Green is, in fact, a really good shooter. He squares up from 14 feet on the baseline and swishes another shot, pushing his total to 12.
Aldrich once again answers, though, putting in a short turn-around that rattles off all sides of the rim and the backboard before falling through.
Xavier Henry is horse-collared on his way to the basket, and he slumps over for a second, grabbing the back of his neck. The freshman shakes off the injury and stays in to hit his two free throws.
KU shows a rarity, going to a 2-3 zone defensively. Both Collins and Xavier Henry have two fouls, so this might be a tactic by Self to try to avoid picking up their third whistles.
Xavier Henry uses a strong move to get to the bucket, clearing some space with his body before putting in a layup off the glass.
KU 27/La Salle 20 — 7:38 left in 1st half
La Salle has moved back to its 2-3 zone, and KU has had less success recenty. Collins throws a pass out of bounds intended for Taylor.
At the 10-minute mark, out of nowhere, the crowd perks up a bit. As has been the case during most K.C. games, the fans have been a bit dead so far.
Markieff Morris comes away with a steal, and Collins drains a three from the left wing. The next trip down, Taylor takes a good look at the rim before hitching up a three from straight on that goes through.
C.J. Henry checks in, and Self has kept with his promise of trying to play C.J. a bit more.
The Jayhawks are finally getting some stops defensively, and it's because of what we talked about in the pregame: turnovers. La Salle's getting a bit sloppier with the ball, and Xavier Henry takes advantage of the latest miscue, getting hacked on his way to the basket.
KU 21/La Salle 19 — 11:24 left in 1st half
Aldrich wiggles around a defender inside for a layup, but KU's struggles defensively continue.
Williams gets a shot to go down with a foul, and the Jayhawks can't get any separation despite nearly flawless offensive production.
La Salle has scrapped its zone, and that appears to be a good move.
La Salle corrals another offensive rebound, and Green knocks down a three to give the Explorers their first lead at 17-16. Self calls a 30-second timeout to reset his defense. The Explorers already have four offensive rebounds and are shooting well over 50 percent (7-for-11, 64 percent).
Taylor comes up with a big bucket for KU, driving down the lane before putting in a layup off the right side of the glass.
Thomas Robinson scoops up a steal, and Tyrel Reed wisely passes on a three in transition when he couldn't immediately find the handle on the basketball.
After resetting, Taylor scoops back to Markieff Morris, who swishes a three from the left wing. La Salle uses its first timeout after KU's 5-0 burst.
Self had reason to be worried about La Salle's guards posting up. Green makes a move on Taylor with his back to the basket, and he puts in a fallaway off the glass. That move will be hard for anyone to stop. Green has 10 points already on 4-for-7 shooting.
KU 14/La Salle 12 — 15:27 left in 1st half
La Salle starts out in a 2-3 zone. KU immediately attacks it with a lob, as Sherron Collins throws over the top to Cole Aldrich for a slam.
Rodney Green wastes no time starting his scoring, as he uses a quick drive to get to the lane before putting in a short shot.
KU couldn't have gotten three better shots in its first three possessions against the zone. The Jayhawks work it to Marcus Morris on the baseline, and after the defense collapses, two quick passes net Xavier Henry an open three that he drains. The next time up the court, Collins feeds Aldrich again inside, and the big man drops it into the hoop for two.
Xavier Henry is fouled on a three from the top, and he makes all three tries. Four possessions has equaled 10 points for KU. You can't get much better than that. Might be time for La Salle to reconsider its zone.
Green drains an open three (as mentioned before, he's shooting 46.5 percent from deep this year, so there's no excuse to leave him open), but Marcus Morris fights for an offensive rebound on the other end and puts in a layup.
Marcus Morris uses a baseline move to put in a layup, and the Jayhawks have scored on each of their first six possessions.
Unfortunately for KU, it isn't getting any defensive stops. Following an offensive rebound, Jerrell Williams sticks back a two, and the Explorers have made five of their eight shots so far.
1:03 p.m.
A great crowd has filled in here. Fans are going all the way up to the rafters. This has to be close to a sellout.
La Salle's Kimmani Barrett, who has a dislocated middle finger, is starting for the Explorers. The digit is heavily taped, so we'll see if it affects him on the court.
12:48 p.m.
Kansas athletic director Lew Perkins is courtside at today's game, just for those of you wondering about his whereabouts these days.
12:12 p.m.
Welcome back to the Newell Post Live, coming to you from the Sprint Center in Kansas City, Mo., where the Kansas Jayhawks are getting set to take on the La Salle Explorers.
Let's get right to some notes about La Salle, which comes in with a 6-2 record.
• Six-foot-5 point guard Rodney Green leads La Salle, averaging 18 points, six rebounds and four assists per game. He also makes 46.5 percent of his shots from three. He also was a high-school teammate of the Morris twins in Philadelphia, Pa.
• La Salle has good size at the 2 and 3 positions, as Kimmani Barrett is 6-6 and Vves Mekongo is 6-5. KU coach Bill Self is worried about those guys' ability to post up.
• One note on Kimmani Barrett, though: I was just told he dislocated his middle finger on his non-shooting hand. He's going to try to play, but if he doesn't play much, that's why.
• La Salle shoots 43.5 percent from three as a team, which is good for 12th nationally.
• The Explorers pull down offensive rebounds on 45.1 percent of their offensive possessions, which is good for the third-highest percentage in the country.
• La Salle has had a tendency to turn the ball over, averaging 16.7 turnovers per game — about one every four possessions. That's a high number considering the Explorers play a slower tempo than the average NCAA team. La Salle's opponents have averaged just 11.5 turnovers per game. This is an area KU might be able to dominate.
• La Salle is averaging 25.6 free throws per game. Its opponents are averaging just 18.1 free throws per game.
Make sure to vote in our poll on the left, and use #kubball to have your tweets appear on the left side of this page.
Oh, and the answer is: http://justin.tv/sremlahc10, password: phog.