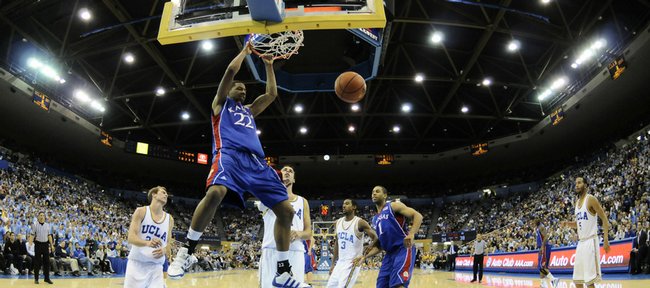 Marcus Morris agreed to participate in a quick word association game before a Kansas University basketball practice the other day.
"Hey Marcus," an inquisitor began, "if somebody says the word 'La Salle' to you, what first comes to mind?''
"My favorite school," Morris responded without hesitation.
La Salle, a private Catholic university with an enrollment of 7,331 students, is dear to the heart of the Kansas University sophomore forward — and also his brother, Markieff — mainly because it's located in the twins' hometown of Philadelphia.
"When I go home, I play there all the time," Marcus Morris said of La Salle's Gola Arena, which is located "five to 10 minutes from where I grew up.
"I know the ins and outs of the school. It's like Kansas to me. I've been going there since I was a freshman in high school, playing with those guys and playing tournaments at La Salle," Marcus Morris noted.
He and Markieff get a chance to play against their beloved La Salle Explorers (6-2) on Saturday in KU's annual holiday hoops game in Kansas City, Mo. Tip is 1 p.m. in Sprint Center.
"I love the coaches. One of my best friends is point guard for them," Marcus said of Rodney Green. "I was this close to committing to La Salle. I know everybody on the team personally, so I mean it's going to be a great game."
The Morris twins were teammates of La Salle's Green and Parrish Grant in 2006 when the four helped Philadelphia Prep Charter High to the Pennsylvania Class 4A state title.
"I know Rodney can't shoot," Markieff Morris said jokingly of his buddy Green. "He can finish really well. He has really big hands. He's a great passer. But he just can't shoot."
Green had a response when told of Markieff's lighthearted assessment of his game.
"I'd tell him to check the books. That'll be proof," the 6-foot-5 Green said in a phone interview with the Journal-World.
Indeed, the stat sheets show that Green is La Salle's leading scorer (18.0 ppg), who has made 46.5 percent of his shots, including a sizzling 45.2 percent of his threes (14 of 31).
"I'm going to call him right after this interview," Green added of Markieff. The two talk to each other on the phone at least twice a week.
"Actually he's been trash-talking on the Internet this week," Green said. "I think Marcus talks more. Markieff talks more trash."
Markieff says Green "doesn't talk trash, but eventually I'll say something to him to get him all excited. I'll be like, 'You've got to come to Kansas. It'll be tough for you to beat us.' He'll probably be like, 'We'll see.' He doesn't talk too much."
The twins definitely like to talk about where La Salle is located — Philly, where the Jayhawks will tangle with Temple on Jan. 2.
"I love the Phillies, the Flyers (but) I don't watch hockey too much," Markieff said. "I don't like the Sixers at all. I just like A.I.," he added of Allen Iverson.
Why doesn't he like the city's NBA team?
"Cause they let A.I. go," Markieff said. "Now they're getting on my good side because they got A.I. back." Iverson, who played for the Sixers for 10 seasons, recently returned after playing for Denver, Detroit and Memphis the last four seasons.
The twins have a special way of showing their loyalty to the City of Brotherly Love.
"I don't eat cheesesteaks unless it's from Philly. That's one of my main rules," Marcus Morris said. "You can ask my brother the same thing. If it isn't from Philly, I don't eat it."
"I don't eat Philly cheesesteaks from anywhere but Philly," Markieff noted. "I feel like I'm disrespecting my city when I do that."
Philly natives such as Green definitely respect the twins, who have helped No. 1-ranked KU to an 8-0 record.
Proof is Green's agreeing to take part in a little word association game.
"Rodney ... if somebody says the word 'Kansas' to you, what first comes to mind?"
"The twins," Green said. "The twins."
More like this story on KUsports.com