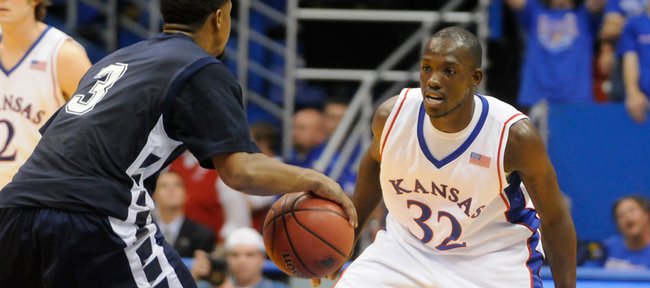 Tyrone Appleton, who was a backup point guard at Kansas University last season, cheered his former teammates from the lower-level, westside Allen Fieldhouse bleachers on Wednesday night.
"They are like my brothers," Appleton said after KU's 99-64 rout of Radford. "They'll always be my brothers."
Appleton, who announced plans to transfer on April 9 following his junior season at KU, actually is living in Lawrence, but is not enrolled in school.
The 6-foot-2, 180-pounder from Gary, Ind., who averaged 2.2 minutes per game in 21 games his one year at KU, surfaced at Southwest Baptist (Mo.) University last summer.
However, he did not stick around for the start of fall semester.
"My hip flexor is still messed up. I didn't get cleared to play this year," said Appleton, who suffered the injury last season.
"I'm hanging out, taking this year off. I'm rehabbing — going to a chiropractor in Kansas City — and looking forward to school next year."
Appleton said he will play ball at NCAA Div. II school Midwestern State in 2010-11.
Midwestern State, which is located in Wichita Falls, Texas, is coached by Grant McCasland, Appleton's former coach at Midland (Texas) College.
"I'll go there this summer," said Appleton, who may have to file for some sort of appeal to play at Midwestern State. It's believed since he enrolled at NCAA Div. II Southwest Baptist, he's ineligible to play ball at any other NCAA institution.
As far KU, he said: "I don't regret it (leaving in search of more playing time). I miss the atmosphere, the people, the teammates and coaching staff. I'm going to follow them as much as I can. I think they are great this year. Man, they've got a lot of weapons. They are deep. They've got 12 players who can play."
More like this story on KUsports.com