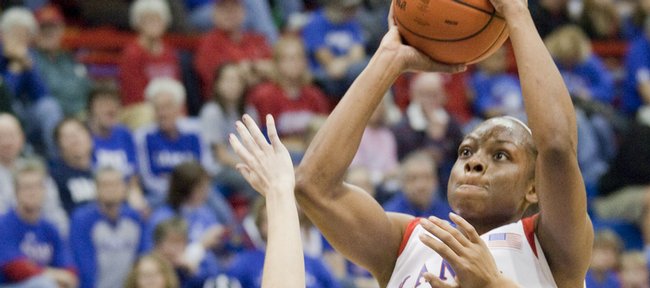 Photo Gallery
KU vs. Northern Colorado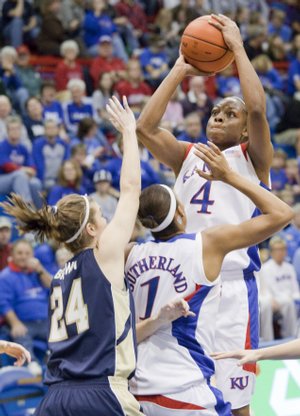 Photos from the KU women's basketball game against Northern Colorado.
Bonnie Henrickson wasn't awarding any gold stars Sunday afternoon.
Kansas University had just walloped Northern Colorado, 81-54, in Allen Fieldhouse, and KU's women's basketball coach sounded like the Jayhawks had lost by 27.
"I'll be honest with you, and you know I don't blow smoke," Henrickson said, "but I thought we were average."
And Henrickson was just warming up.
"I'm not happy," she said, moments later, adding that her players "… aren't happy with me."
Not after the Jayhawks had their ears burned in her postgame debriefing.
"She knows we can do better," said Danielle McCray, who scored 25 points while making all four of her three-point attempts, but nevertheless was gigged by Henrickson for her inconsistent defense.
"She's gambling, going for steals," Henrickson said of McCray. "She's doing her own thing, and that's not good for us."
Curiously, Kansas was credited with 14 steals — two by McCray — that comprised the bulk of the Bears' 23 turnovers, but Henrickson was still harping about sticking with the program.
"We need to get better," she said. "I want us to play better, to play together."
In essence, she wants her team to play like it did in the first 90 seconds of the second half when the Jayhawks outscored the Bears, 7-0, and forced UNC coach Jaime White to call a momentum-stopping timeout.
"I loved the way we came out of the locker room," Henrickson said. "That's the best we've been."
Otherwise, Henrickson emphasized she doesn't believe the No. 24-ranked Jayhawks are a Top-25 team.
"No, not at all," she said. "We don't play hungry, and we don't practice hungry. My anxiety is we have bad habits, and those things will come back and bite you."
On a more positive note, the Jayhawks (5-2) dominated the Bears (3-5) inside. Krysten Boogaard had 17 points — including a perfect 7-for-7 at the foul line — and seven boards, while Aishah Sutherland contributed 12 points and eight rebounds.
"We didn't really have anybody who could keep (Boogaard) out of the paint," UNC coach White said. "She was strong to the basket and made some great inside moves."
Nevertheless, KU posted a meager 35-31 edge in rebounds over the outsized Bears.
KU point guard Angel Goodrich tied a career high with 10 assists, but failed to score. The 5-foot-4 freshman was 0-for-5 from the field and 0-for-1 from the free-throw line.
"She's better than that," Henrickson said of Goodrich's shooting, "but she's the least of my problems. The rest of them have to wake up a little bit."
In keeping with her somber theme, Henrickson added another barb.
"We were average, borderline pathetic at times," she said, "and there's no excuse for that."
Kansas will meet UMKC at 7 p.m. Thursday in its third straight home game.
"We're winning," senior Sade Morris said, "but we're not playing the way we want to. For what we're trying to achieve our practices have to get better. We've got to fix it."
Notes
Henrickson used all 13 of her healthy players, and the eight non-starters contributed 21 points and 11 boards. … KU outscored UNC, 40-18, in the paint and 16-0 in fast-break points. … McCray is shooting 52.8 percent (19 of 36) from beyond the arc. … KU's 15 turnovers were the second fewest of the season.
More like this story on KUsports.com