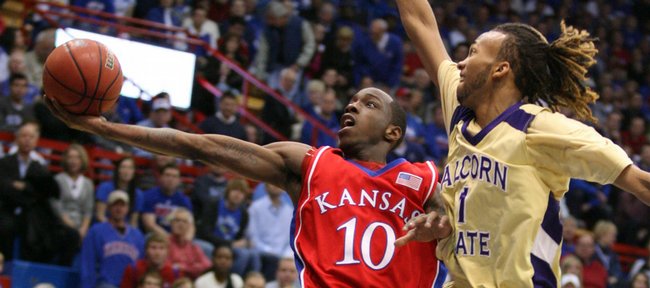 Past Event
Sunday, December 6, 2009, 4:30 p.m.
,
Not available
Los Angeles — Opponents haven't been gathering at center court to give UCLA's Bruins a group hug this young college basketball season.
"Nobody feels sorry for us. People are giving us their best shot, even with our record," UCLA fifth-year senior Michael Roll said.
He realizes foes and their fans love nothing more than to kick one of the top programs of all-time when it is perceived to be down.
While it's way too early in the 2009-10 season to say for sure the Bruins — who have reached three Final Fours in Roll's four seasons — are down and out, they are undeniably off to an abysmal, non-UCLA-like 2-4 start entering today's 4:30 p.m. matchup against Kansas (6-0).
UCLA, which has a whopping nine players injured at one time since the start of practice on Oct. 14, went an embarrassing 0-3 at the recent 76 Classic in the Bruins' backyard in Anaheim, Calif.
UCLA was blown out by Portland, 74-47, then fell to Butler, 69-67, and Long Beach State, 79-68, in consecutive nights. Prior to that, the Bruins had lost to Cal State Fullerton, 68-65, in their season opener at Pauley Pavilion, and defeated Cal State Bakersfield, 75-64, and Pepperdine, 71-52.
"I can't say I saw this coming," said Aliso Viejo, Calif., native Roll, who leads the Bruins in scoring at 13.2 ppg, just ahead of sophomore guard Malcolm Lee's 12.3 mark.
"We are very young and do not have much game experience. Our record is not anything we can speak highly of. It gives us more motivation, makes us work a little bit harder," Roll added.
The Bruins, who have had a full week to prepare for top-ranked KU, received a jolt on Tuesday when 6-6 sophomore forward Drew Gordon announced plans to transfer.
"As far as our team it's over with," Roll said of the transfer being a distraction. "Drew said he's gone. We can't worry about that. We have the No. 1 team coming in."
The good news is that, except for 6-8 Reeves Nelson (hyperextended right knee) and freshman forward Tyler Honeycutt (stress reaction right tibia), the injuries have abated. Those two players are not 100 percent, but should be able to play today.
Other members of this season's walking wounded: Roll (right ankle); Lee (concussion); sophomore center J'mison Morgan (swollen left knee); sophomore guard Jerime Anderson (left groin); senior forward James Keefe (left shoulder); freshman forward Brendan Lane (left ankle); freshman forward Mike Moser (lower back).
Meanwhile, senior forward Nikola Dragovic has missed two games because of suspension. He also is back and available for duty.
"They've been hit pretty hard. They've been so beat up," KU coach Bill Self said of the Bruins, who are off to their worst start since going 2-5 to open Steve Lavin's final season in 2002-03. "Ben (Howland, UCLA coach) has had to practice 3-on-3 because he's only had six guys some days. It's hard to get good when you can't be on the practice floor and get the reps. They are still UCLA. They are good, and they'll recover."
Roll said the injuries definitely have been tough to overcome.
"We couldn't do as much running. It limited some guys. Practices were short, but intense," Roll said, adding, "it is really ironic. It feels like every single person got injured or missed practice at least once."
"There's a lot of bad to it, but we can find good from it, too. A lot of people wouldn't have gotten as much time if people weren't hurt. Hopefully it can help in the long run."
Roll is convinced the Bruins can still make a run for the Pac-10 championship. Heck, the season is just six games in for a young squad which has used four first-year starters.
"We definitely could," Roll said. "We are going to learn from these early games. It's our whole focus. Play tough teams, like the No. 1 team in the country now, and we'll be that much better for the Pac-10 games."
Howland is being patient and innovative as he molds the 2009-10 Bruin squad. He has considering turning to a zone at times instead of his typical man-to-man defense.
"When you're playing young players, they are going to make mistakes," Howland told the Orange County Register. "We've got to definitely play better in the backcourt to be successful," added Howland, who uses Roll as well as sophs Anderson and Lee. "We've got to defend better, shoot better and make good decisions."
That figures to be tough to do versus KU.
"They have Sherron (Collins) at point guard and big Cole (Aldrich) in the middle," Roll said. "They definitely have some talented wings. They are deep. They're the No. 1 team. They're good."
More like this story on KUsports.com