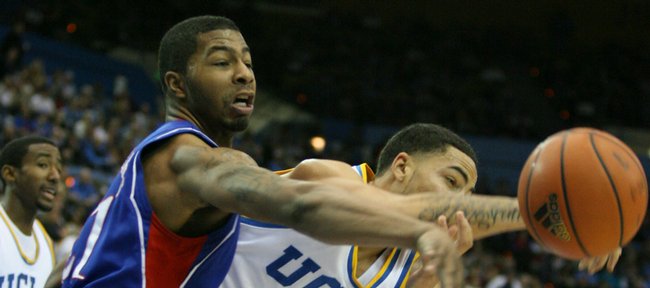 FINAL: KU defeats UCLA, 73-61
The "Rock Chalk" chant echoes across the walls of Pauley Pavilion starting at the 1:37 mark. Eerie. The UCLA fans finally start up with a "U-C, L-A" chant, but not after KU fans had about 20 seconds to themselves.
Collins takes a drive all the way to the rim for two, and KU has its largest lead at 17.
UCLA adds a three and two, and Tom Keegan's GameDay Cram Session prediction is right on: KU wins by 12.
KU 69/UCLA 54 — 2:33 left in 2nd half
A near-turnover by Xavier Henry, but he scrambles to reclaim the loose ball. Taylor hits a long baseline shot with a hand in his face.
Malcolm Lee follows with a three, and UCLA seems to keep hitting shots just as KU is about to pull away.
Aldrich gets his first field goal of the game at the 5:51 mark, as he puts in a reverse layup while standing under the rim.
Collins misses a floater, but Marcus is there for the tip-in.
Two more offensive rebounds by UCLA, and Lee finally cashes in with a short jumper in the lane. Howland uses his final timeout.
Xavier Henry puts in a three after the break, and he's 3-for-5 from three in the second half.
KU 60/UCLA 46 — 7:34 left in 2nd half
Tyler Honeycutt is fouled and makes one out of two free throws. The Bruins have been consistently hitting 50 percent of their freebies.
Collins uses a quick move into the lane to draw a foul, but he misses both free throws. Aldrich gets the original offensive rebound, but is later whistled for a push. UCLA will shoot the double bonus the rest of the way.
Another missed front end of the one-and-one by UCLA, this time by J'Mison Morgan. Those really hurt.
Aldrich, on a shot from the baseline, tries to bank it in like Tim Duncan. I don't think I've ever seen him try that. The shot misses, but Markieff Morris continues his best game as a Jayhawk, wrestling for the offensive board before getting fouled and making both free throws.
Just when KU has a chance to get some breathing room, Xavier Henry tries an ill-advised pass over two defenders. It's stolen away, and Roll finishes with a fast-break layup to bring KU's lead down to nine.
Markieff Morris comes through again for KU, going around his man one-on-one before putting in a finger-roll.
Aldrich has been a better passer than shooter today, as he finds Markieff again under the basket. Markieff misses both free throws after getting fouled, but Aldrich cleans up the offensive rebound. Xavier Henry gets loose for a three from the right side, and KU has opened up a 14-point lead.
KU 52/UCLA 43 — 11:38 left in 2nd half
Marcus Morris misses a short jumper, but Markieff is there on the weak side to put the stickback in.
After double-teaming inside, KU leaves Reeves Nelson alone underneath, and he puts down a two-handed stuff.
Reed finally gets his first three to rattle in, as he drains a shot from the deep corner. The junior is now 1-for-3 from the outside.
Anderson misses a crucial free throw — the front end of a one-and-one. The Bruins' bad free-throw shooting has held up today (5-for-10).
Collins with a smart play, as he drives baseline and pulls up for a short baseline shot so the big men can't block it. The shot swishes through, and KU is starting to find a rhythm offensively.
Elijah Johnson creates inside, scooping off to Markieff Morris, but he misses a layup. Dragovic answers with an open three on the other end, and once again, UCLA is down just seven.
Big play to grab the momentum back by Markieff, who snatched an offensive rebound and put it back in off the glass for two with a foul. He'll have a chance to put KU back up by 10 after the break.
KU 43/UCLA 36 — 15:23 left in 2nd half
KU re-focuses after the break, and a lob from Aldrich over the top gets Marcus Morris an easy dunk.
The next possession, quick passes get Reed an open three, but he misses. KU can't get a long-range shot to go down.
A charge by Xavier Henry and a reach-in by Marcus means that UCLA will be in the bonus the rest of the way, and we aren't even to the first media timeout of the second half yet.
In transition, Xavier Henry puts in a three from the left side, and finally KU has snapped its three-point skid. Howland uses a timeout, and he only has one left.
Reeves Nelson out-muscles Xavier Henry for an offensive rebound, and he eludes Aldrich's block attempt for a layup. He's fired up about it, too, slapping a teammate's hand on his way back to the defensive end. The two teams are still even in rebounding at 24 each.
KU 38/UCLA 34 — 17:17 left in 2nd half
Aldrich is fouled inside and makes one of two free throws.
The next possession, Aldrich tries a pass inside, but it's deflected. Turnover KU.
A pass by Xavier is tipped by an UCLA player, but before it can go out of bounds, it hits off the official. Bad break for KU, and Malcolm Lee adds a fast-break layup on the other end to cut KU's lead to five. UCLA's fans are starting to believe they can win this game.
Collins breaks a field-goal drought, keeping his dribble long enough to get all the way to the rim for a layup in traffic.
Taylor fouls Lee on the way up, and KU needs to be careful with the whistles. That's four fouls on the Jayhawks in the first 2:22 of the second half, and the Bruins will be shooting free throws in the bonus before too long. Though UCLA is a poor free-throw shooting team, one out of two free throws is better than getting no points.
Collins jacks up a quick jumper that misses, and KU is not running any semblance of an offense right now. The first person with any look is shooting it up.
The quick trigger gives UCLA another chance to score in transtion, and Roll does so, getting a layup to bounce in.
Timeout KU, as UCLA has trimmed the lead to four.
KU scoring — Markieff Morris 10 (5-for-6 shooting), Collins 8, X. Henry 7, Taylor 6, Aldrich 2, Reed 2.
KU was 14-for-30 from the floor (46.7 percent), 1-for-7 from three (14.3 percent) and 6-for-6 from the free-throw line (100 percent).
UCLA was 11-for-33 from the floor (33.3 percent), 3-for-10 from three (30 percent) and 3-for-5 from the free-throw line (60 percent).
Both teams had 20 first-half rebounds. UCLA had 11 turnovers to KU's eight.
Some thoughts
• Great half for Markieff, but a disappointing half for the rest of KU's bigs. Against the undersized Bruins, the stats have Marcus Morris and Aldrich combining to go 0-for-5 (though I swear I remember Marcus making a first-half shot). Either way, those guys need to have better second halves for KU to pull away.
• KU getting five first-half blocks is significant. Coming in, the Bruins were first in the nation in least amount of two-point shots blocked (2.2 percent). KU blocking five of UCLA's 23 two-point attempts (21.7 percent) is pretty impressive.
• UCLA might have had 11 turnovers, but the Bruins took care of the ball much better in the last eight minutes. We'll see if the Jayhawks can pick up the steals at the start of the second half.
• Getting back to our pregame discussion below, UCLA was just 8-for-23 from two-point range (34.7 percent). Advantage KU.
KU 35/UCLA 28 — Halftime
Aldrich is doing a good job of blocking shots inside, but his teammates can't seem to help him corral the rebound. Following two offensive rebounds, UCLA's Michael Roll puts in a jumper over Reed, and Self calls timeout to get his defense straightened out. UCLA leads KU on the boards, 17-16, so far.
Aldrich gets the ball inside, and after drawing a double-team, he's bumped on his way up. He hits both free throws to push KU's lead back to 10.
Taylor leaves an alley-oop pass well short for Aldrich, and it's stolen away. Taylor's line: six points, no assists, three turnovers. Xavier checks back in for him.
The game has loosened up a bit. Dragovich hits a jumper, but Collins answers with a tough shot on the baseline. Dragovich comes right back, draining a three from the left side.
Collins holds for the last possession, but passes it with just a few seconds left, and a pass back to him rolls away toward mid-court. Time runs out, and UCLA takes some momentum into the locker room only down 35-28.
KU 29/UCLA 19 — 3:37 left in 1st half
Thomas Robinson checks in, and he immediately gets his favorite whistle — getting one with his hands straight up. Jerime Anderson gets the two and foul, but he can't complete the three-point play, missing the free throw.
Taylor gets a steal and dishes to Robinson, who blows a wide-open layup. Self immediately summons Aldrich off the bench.
Xavier Henry shows some explosion to get a block underneath the UCLA basket, and on the other end, Marcus Morris gets his shot inside to roll in.
Self is exploiting UCLA's weakness and lack of size inside, as KU clears out the lane and isolates Markieff Morris in a one-on-one matchup inside. After getting the ball, Markieff puts in a short left-handed shot, and credit Self for calling the correct play to put his team in a great position to score.
Collins hits a jumper, and UCLA uses its third timeout of the half.
Michael Roll follows with a stepback three, and UCLA actually is hanging closer in this game than it would seem considering how poorly the Bruins have played so far.
KU 21/UCLA 12 — 7:59 left in 1st half
Markieff Morris seals his man underneath the basket, and Aldrich rewards him by zipping a pass inside. Markieff drops the easy shot in for two.
KU is getting almost any shot it wants inside. Aldrich gets the ball deep on the blocks, but he misses the easy shot off the glass. KU has actually missed its fair share of short shots so far.
Xavier Henry drives in the lane for two, but Dragovich answers with a fadeaway three on the other end.
Aldrich finds an open Xavier Henry for a three, but the official calls him for three seconds in the lane. That's a pretty ticky-tack call, especially because the whistle came after Aldrich had already passed it.
KU 15/UCLA 6 — 10:58 left in 1st half
Though UCLA coach Ben Howland threatened to have his team play zone, we haven't seen it yet.
Tyshawn Taylor has two bad offensive possessions in a row, airballing a wild shot in the lane before throwing a pass straight to a UCLA defender on a fast break. Self jumps off the bench and practically throws Tyrel Reed into the game.
UCLA's shooting has been as bad as advertised. The Bruins are just 3-for-10 so far, missing open and guarded shots alike.
Markieff Morris is the beneficiary of a good pass underneath from his brother Marcus, and the big man puts in a left-handed layup. A few seconds later, Collins scoops a pass to Markieff, who jams it home for two.
UCLA can't even get a shot up now. Following a full timeout, UCLA turns it over on three straight possessions. Reed puts in a tough, high-arching 14-footer, and Taylor turns his steal into a one-handed jam on the other end. Howland will try another timeout.
The basketball looks like it's lopsided or something. Most of the KU players (and especially Collins) look like they're having trouble dribbling it without it taking a funky bounce.
KU 7/UCLA 4 — 15:45 left in 1st half
After winning the tip, KU gets it immediately inside to Cole Aldrich, who misses a short jumper. Marcus Morris gets the rebound, but Tyshawn Taylor doinks an open three off the glass for a bank-airball.
The next possession, good ball movement nets KU an open three, and Xavier Henry hits this one.
UCLA's Reeves Nelson uses his body to shield Aldrich, then drops a layup in.
Collins get to the glass for two, and Xavier adds two free throws after a defender blocked his way to the rim.
Trying to split a double-team, Collins dribbles the ball off his foot for a rare turnover. Nelson turns it into a layup at the other end, and the way the Bruins have been struggling to get things going offensively, KU can't afford to give away free points off turnovers.
4:35 p.m. CST
Though Pauley Pavilion seems much larger and more "airy" than Allen Fieldhouse, capacity is only listed at 12,819. And we're not close to having that many fans here today. Makes you wonder what game will sell out this year if the No. 1 team in the country doesn't do it.
4:33 p.m. CST
So it's not 50-50, but there's still a strong KU contingent here. Most of the Jayhawk fans seem to have congregated in the upper sections of the arena. A "Let's go, Jayhawks" chant even made its way across the court a couple seconds ago. Those watching at home should be able to hear the KU fans after made baskets.
4:28 p.m. CST
One quick thing to look for UCLA's strength offensively is going against KU's strength defensively.
UCLA is 42nd nationally in two-point field-goal percentage, shooting at a 53.1 percent clip.
KU, meanwhile, is first in nationally in two-point percentage defense, as opponents are shooting just 34.9 percent inside the arc against the Jayhawks.
The Bruins come in as both poor shooters from three (26 percent) and the free-throw line (55.6 percent), so unless the Bruins duck the early trends, they're going to have to succeed offensively against a Jayhawks team that has been extremely stingy inside the arc.
4:20 p.m. CST
Interesting tradition by the UCLA students, who chant each UCLA player's name before the tip ("Ni-ko-la Dra-go-vich" clap- clap, clap-clap-clap). The students chant the player's name until he raises his hand to acknowledge the crowd during warm-ups.
3:35 p.m. CST
Welcome back to the Newell Post Live, coming to you from Pauley Pavilion in Los Angeles, Calif., where the Kansas Jayhawks are getting set to take on the UCLA Bruins.
I'd never been to UCLA (or California, for that matter) until this week, and let me say, the campus is as advertised.
To get to UCLA, we drove down Sunset Boulevard along a winding road with trees towering over us. Deciduous trees also line the campus, and the air isn't nearly as unclean as I'd been told it would be.
And, despite what former Journal-World Ryan Wood kept telling me last night, it's not cold here. Yes, it's in the 50s, and without long sleeves, it's a bit chilly, but that's a long way from cold (read: Kansas).
I will have to say that the actual arena didn't live up to its billing, and I wasn't expecting much of it to begin with.
Though I've never actually watched the movie Hoosiers from beginning to end, the gym is what I would expect in a movie like that. The gym does have the old-time feel, but it has it without the same charm as Allen Fieldhouse.
LJW writer Gary Bedore told me that a renovation will take place soon, and the old building needs one. A building doesn't look as nice when it looks old because chairs, paint and other amenities don't look like they've been updated in a while.
If it didn't have such tradition, I would expect a newer arena in a place like this. Then again, how could you tear down John Wooden Court? Or move the intimidating blue banners that have hung for decades? Hopefully, the renovation will bring a bit of the building's charm back.
I'm actually outside the building at the food court, and I'd say, legitimately, that 75 percent of the people around us are KU fans. This game might be similar to the KU-CU matchups in Boulder, Colo. — with the fans about split in a road building.
Be sure to use #kubball to have your tweets show up on the left side.