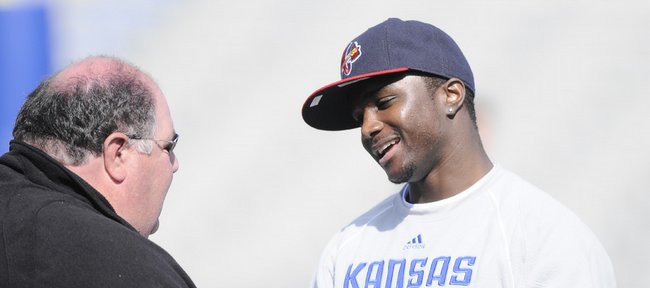 Twenty-four hours after Kansas University football coach Mark Mangino's resignation, former players are still trying to come to grips with the fact that the man considered widely responsible for transforming the program from doormat to Big 12 North contender is officially gone.
With Thursday's announcement that Mangino and the university had agreed to an undisclosed settlement, the news has flooded through the media, reaching former players at different intervals, and prompting the realization that, for the first time in eight years, the coach they call "Bear" won't be stalking the Memorial Stadium sidelines.
"I couldn't believe it," said former defensive back/receiver Charles Gordon, who developed into a future NFL player under Mangino. "I just thought that it's unfortunate. It's an unfortunate situation. For him, the program, the kids, for everyone involved, it was just a terrible situation."
Two years ago, this was all so unthinkable.
Whatever your stance on the coach's methods — there seem to be two: pro and con — there's no denying the fact that, under his watch, the program took a giant leap forward. Mangino molded his team in his own image — tough, disciplined, intense — and the result was an unprecedented level of success.
Regular bowl eligibility. Back-to-back bowl victories. A 2007 season in which the Jayhawks finished 12-1, finished with a No. 7 national ranking, and Mangino was named the national coach of the year.
There were other things, too. Sold-out crowds and spikes in graduation rate and program grade-point-averages.
Things seemed to be rolling along splendidly.
Now, though, it's all so different.
Following a seven-game losing streak to end the season — and the the internal university investigation that led to sometimes-disturbing allegations of verbal and physical abuse on the part of the coach — Kansas enters a stretch of uncertainty.
Returning players don't know who they'll be playing for next season. Recruiting is on kind of a temporary holding pattern. And a trio of interim coaches — Clint Bowen, Bill Miller and David Beaty — are left to wonder whether they'll be with the program a month from now.
According to a source close to Lew Perkins, the athletic director will accompany KU quarterback Todd Reesing to the National Football Foundation's annual awards dinner on Tuesday in New York City, an event that annually draws some of the biggest names — coaching and otherwise — in college football.
While there, the source said, Perkins figures to make strides in his search for a new football coach.
Since Mangino's resignation was announced Thursday, Perkins has said little in regards to possible replacements, other than insisting he hadn't spoken to any coaches before Thursday night and describing the KU opening as a much-desirable position.
He did say, however, that he always has a short-list of candidates ready in case of an emergency.
"God forbid something should happen to a coach, you always have to have a group of names (ready)," he said during a short meeting with the media Thursday night. "But every year they change, because people get jobs and people leave."
The search process, meanwhile, will likely be followed closely by former players.
"Me being from KU and graduating, I want to see success as much as anyone else," said former linebacker Mike Rivera, now with the Tennessee Titans. "Now the next step is obviously finding another coach, someone who's going to be able to lead this program to the next level. It's going to take awhile. It's basically starting from scratch, is the way I see it. They got a lot of work ahead of them. They're not just going to get back to the Orange Bowl in a couple years. It's going to take awhile."
For the moment, though, Gordon said he was still trying to digest Thursday's news that the Mark Mangino era at Kansas had run its course.

"(Mangino) turned the program around," Gordon said. "... He had a plan, and he let us all in on what his plan was as the years passed. And everything about Kansas football is better because of him. I couldn't quite believe (the news). It still feels so surreal right now.
"I'm just speechless."
Fedora mum on future plans
Larry Fedora, head coach at Southern Mississippi, said Friday that his focus is on his team's upcoming bowl game and not speculation that he is a candidate for the vacant head coaching spot at Kansas.
"I'm not going to comment on Internet rumors or job speculation out there on this one or any other one in the future," Fedora told the Hattiesburg American. "My main focus is taking the team to the (12th bowl game in the last 13 seasons) and making sure our seniors go out with an eighth win. This team deserves all my attention."
Fedora, in his second season with the Golden Eagles, is one of a handful of coaches — along with Stanford's Jim Harbaugh, Connecticut's Randy Edsall and Houston's Kevin Sumlin, among others — rumored as possible replacements for Mangino.
Noted as an up-and-coming coach with strong recruiting ties in Texas, Fedora is 14-11 at Southern Miss. and is familiar with the Big 12, having served three seasons as the offensive coordinator at Oklahoma State.
This season, his Golden Eagles lost 35-28 to Kansas in Lawrence.
KU's Self reacts to Mangino resignation
Kansas men's basketball coach Bill Self has yet to speak with Mangino since the coach's recent departure, but intends to do so in the near future.
"I haven't spoken with him yet. I'm sure I will at some point in time — soon I hope," Self said Friday in Allen Fieldhouse. "That's obviously a unique situation. I don't know if there are any winners in the situation. I certainly feel bad for Mark and his staff from a personal standpoint. There's no question about it.
"I think all coaches always feel bad when a situation like that occurs," he added. "I think that's the natural reaction. On the flip side, I have total faith in our administration as well. I hope somehow it can be a win/win for everybody certainly. I don't know if that's the case or will be the case. I think only time will tell. I certainly respect the job Mark and his staff have done. There's no question about that."
More like this story on KUsports.com