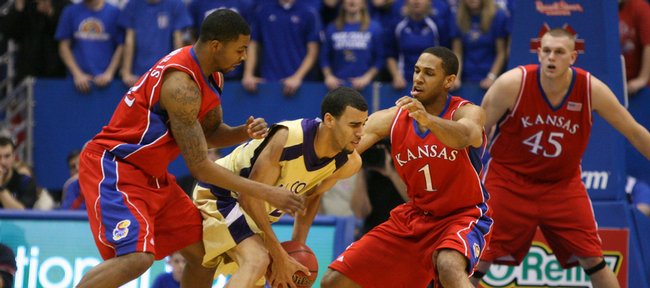 9:55 p.m.
A quick update: C.J. Henry did not play in tonight's game because of a sore knee.
FINAL: KU defeats ASU, 98-31
Robinson slams home a rebound dunk, and KU is threatening 100 (but not 120).
Robinson gets fouled and makes one of two free throws to push KU to 98.
ASU forces an Elijah Johnson turnover on the last KU possession to keep the Jayhawks under 100.
KU still comes away with a 67-point win.
KU 93/ASU 29 — 3:47 left in game
KU finally forces it into the paint against the zone, and Teahan cuts to the glass for a layup.
Johnson shows some handles with a spin move in transition, and he feeds Collins on the outside for another three. At this point, KU has 33 three-point tries and 29 two-point attempts.
Teahan with another bucket, as he goes under the basket for a reverse layup that hangs suspended on the rim for a second before falling in.
Robinson's hustle gets rewarded again, as he receives a pass on the run and goes above the rim before slamming it home with one hand.
Reed responds well after his benching. He grabs a couple loose-ball rebounds, drains a three from the right wing, and puts in a layup under the basket.
KU 77/ASU 28 — 7:36 left in game
Two bad possessions in a row by Tyrel Reed. He had an outlet pass stolen, then fouled Alex Savannah to give him a chance at a three-point play.
The next KU possession, Reed's pass sailed way high of its intended target and out of bounds, and Self walked over to Taylor on the bench to tell him to re-enter the game for Reed.
Taylor lobs a pass to Xavier, who throws in the alley-oop with one hand before hanging on the rim a second.
Xavier Henry misses a three, but Conner Teahan brings down the offensive rebound. Two passes later, Collins drains a three of his own. Xavier and Sherron aren't turning down many three-point attempts tonight.
KU 69/ASU 19 — 11:25 left in game
Jonathan Boyd puts in ASU's first three-pointer, a shot from the corner over Collins. Xavier Henry answers on the other end with a three of his own.
Nice bounce pass inside from Elijah Johnson, and Aldrich finishes with a two-handed slam.
Johnson feeds Marcus Morris on the break, and he throws home a violent slam. The steals are coming too easily for KU, as ASU is up to 27 turnovers (while KU has 19 steals).
KU 59/ASU 12 — 15:53 left in game
Both teams start the second half like they ended the first half — with some sluggishness on both ends.
Aldrich puts in a pair of free throws, but Marcus Morris follows by missing his two attempts.
Keith Searcy picks up two quick whistles, and he fouls out before the first media timeout of the second half.
Xavier Henry bricks a three from the corner, and KU has missed its first three long-range shots of the second half. I guess the Jayhawks at least picked the correct game to have a poor shooting night from the outside (6-for-23, 26.1 percent).
KU scoring — X. Henry 10, Collins 10, Robinson 9, Aldrich 7, Markieff Morris 6, Marcus Morris 5, Taylor 4, Reed 2.
KU was 18-for-40 from the floor (45 percent), 6-for-20 from three (30 percent) and 11-for-20 from the free-throw line (55 percent).
ASU was 5-for-27 from the floor (18.5 percent), 0-for-3 from three (0 percent) and 2-for-3 from the free-throw line (66.7 percent).
ASU had 15 turnovers, while KU had six. KU out-rebounded ASU, 33-16.
Some thoughts
• What would the score be if KU shot well?
• I know it doesn't matter much in this game, but 20 three-point attempts is probably too many. Yes, the ASU zone is sagging way inside to try to take away KU's inside game, but the Jayhawks still should at least attempt to move the ball inside before settling for a three outside (a shot they can always get).
• Collins finished the first half 3-for-11 after not shooting more than seven times in any of his last four games. That's a bit weird. I can't guarantee it's because of his early exchange with ASU coach Larry Smith, but I will say he looked a bit more fired up after that point.
• Markieff Morris was just 2-for-4 in the first half. That drops his shooting percentage all the way down to 84.2 percent (16-for-19).
KU 53/ASU 12 — Halftime
It's almost like Robinson is teleporting himself from one side of the floor to the other. He follows a block on one end with an offensive rebound on the other. In limited minutes, the freshman already has seven rebounds, and most of those have come because of hustle.
His only shortcoming tonight has been free throws. Robinson misses his first four freebies before getting some positive encouragement from the crowd. He makes his next attempt.
Aldrich puts in just one of his two free-throw attempts, and if you want to really nitpick, KU has made just 10 of its 19 free throws tonight (52.6 percent).
A sloppy final 3 1/2 minutes for KU doesn't mean much on the scoreboard, as the Jayhawks still take a 41-point lead into the break.
KU 51/ASU 12 — 3:29 left in 1st half
Shaunvanta Ingram hits a 14-footer from the baseline, and KU fans let out a mock cheer. The bucket comes with 7:12 remaining, meaning that ASU went 11 minutes, 46 seconds without a point.
On the next ASU possession, Holt puts in another jumper, and the KU fans gasp as if they've seen a ghost.
Collins follows with a three, and Markieff Morris takes advantage of an ASU turnover with a one-handed powerslam on the other end.
Nice high-low pass from the top of the key by Markieff Morris, who put the lob where only Aldrich could get it. The junior finishes the play with a dunk.
Markieff Morris is doing all the little things for KU. He dives into a pile to help strip the ball away from a pair of ASU players, and the hustle leads to three points, as Collins pours in another three.
Another offensive rebound for Robinson, who muscles it back up for two with a foul. One-hundred-twenty isn't looking like it's out of the question.
KU 34/ASU 4 — 7:49 left in 1st half
Robinson out-hustles an ASU player for an offensive rebound, and that effort results in a three-pointer for Xavier Henry. That's a 24-0 run for KU, as ASU hasn't scored since the 18:58 mark.
Nice pass inside by Marcus Morris, and Robinson finishes with a spin and layup. Robinson is so much better inside when he takes his time and doesn't rush things.
Robinson is going to work on both ends. He swats a shot away by Brandon Rogers, then after corraling a KU miss, he slams the follow home with one hand before yelling to the crowd.
Collins dives to save a ball from going out of bounds on the defensive end. Even with the lopsided score, the Jayhawks are still playing hard defensively.
It's getting ridiculous now. Xavier Henry puts in a pair of uncontested three-pointers, and KU has made it a 34-0 run. ASU has not scored in over 11 minutes.
KU 21/ASU 4 — 11:57 left in 1st half
Marcus Morris hits a tough turn-around in traffic, and that continues a run for KU. Aldrich adds a layup, and on a run-out, Reed gets an easy lay-in. Aldrich puts in another two after stealing an offensive rebound away from his teammate, Marcus Morris.
ASU, as predicted, is having trouble holding on to the ball. ASU turns it over for the seventh time in less than seven minutes, and the steal by Tyshawn Taylor turns into a dunk on the other end for Thomas Robinson.
The Braves' 2-3 defense has given the Jayhawks' some fits, but the problem for them is, they can't get back to get set in it. Following steals and misses, KU is easily out-running ASU down the court.
ASU's Ian Francis goes up for a shot in the lane, and he's met by three sets of Jayhawk arms. Robinson gets the official block.
It leads to a fast-break opportunity on the other end, and Markieff Morris puts in a layup with a foul. Smith gripes to a nearby official, telling the ref that even though KU is No. 1 in the land, the calls should go both ways.
KU 6/ASU 4 — 15:59 left in 1st half
Alcorn State opens in a 2-3 zone, and Cole Aldrich bricks a jumper from six feet. On the other end, JaMarkus Holt makes a jumper to give ASU the early lead.
Another miss by Xavier Henry, and Holt follows with another jumper. He screams to the bench in satisfaction, and the Braves are 1/20th of the way to the biggest upset in college basketball history.
KU is content to take open threes against the 2-3 zone, but perhaps the Jayhawks still should try to work it around inside before settling on the outside shot.
Sherron Collins finally gets KU on the board, making a three from the left side. After a steal from KU, Collins takes it all the way to the rim and misses, but Marcus Morris is fouled after getting the offensive rebound.
Collins needed help getting up after the drive, but ASU coach Larry Smith told one of his players not to help Collins up. Collins took offense to the remark, and he has some words for Smith right in front of me. Tyshawn Taylor has to grab Collins to restrain him, as the guard is hot.
On defense, Xavier Henry leaps over an ASU player who attempted a shot-fake in the lane. The fans oohed over than, as Xavier had to get way up to get over the top of the ASU player.
Collins' jawing seems to have taken him out of his game. He has jacked up two more quick threes, with both falling off the rim. Reminds me a bit of what happened in last year's game when Collins and Syracuse's Jonny Flynn had their own little battle going on within the game.
7:03 p.m.
No change in the starters. KU goes with Tyshawn Taylor, Marcus Morris, Xavier Henry, Cole Aldrich and Sherron Collins.
6:48 p.m.
Not to rag on the Braves, but their Kenpom team page tells you pretty much all you need to know about their struggles this year. All that red on their page is not good.
Alcorn State ranks 341st out of 347 teams in the KenPom rankings.
Not only that, the Braves are in the bottom 50 nationally in the following statistics:
• Turnover percentage (On 26.7 percent of its possessions, ASU turns it over)
• Three-point percentage defense (43.1 percent)
• Block percentage (The Braves get blocked on 12.7 percent of their two-point shots attempted)
• Steal percentage (The Braves get the ball stolen on 12.8 percent of their offensive possessions)
6:27 p.m.
If you watched the GameDay Cram Session that Tom Keegan and I did for this game (It's not too late if you haven't; the video is on the left), you know that I made a somewhat absurd prediction for this game.
I came out on the record and said that KU would score 120 points tonight.
It's not as crazy as you might think. Alcorn State, in addition to not staying within 15 points of any of its nine opponents, also has had a tendency to play somewhat recklessly, averaging 76.7 possessions per game. To put it in perspective, KU's average is 70 possessions per game.
Against Arkansas, Alcorn State racked up 89 possessions — and subsequently lost, 130-68.
So there you have it: My prediction is KU will score 120 points and also win by 60 (Let's go with 120-60, and please ignore all of this if KU has a 35-point first half).
Any other crazy predictions for this game? Think Thomas Robinson will lead KU in scoring? Or that Xavier Henry will score 30?
Be sure to go on record now in the comments section below.
5:56 p.m.
Welcome back to the Newell Post Live, coming to you from Allen Fieldhouse where the Kansas Jayhawks are getting set to take on the Alcorn State Braves.
This will go down as a blowout victory for KU, but I think it's worth knowing a little bit more about Alcorn State before we get into breaking down this game.
On our message board, kufan80 posted a link to a great story by ESPN's Dana O'Neil about Alcorn State and the difficulties its men's basketball team faces. The story was written last year, but obviously, most of the problems brought up in the story continue on this season.
After reading it, I had a bit of a better appreciation for what the Braves go through when they take on these crazy non-conference schedules.
We'll have more analysis later. Be sure to vote in the poll on the left and also check out our GameDay Cram Session if you haven't yet. Also, use #kubball on your tweets to get them to show up in the grid on the left.
And the answer is: justin.tv/sremlahc10, password phog.
I promise we will get at least one question about it in the comments section below.