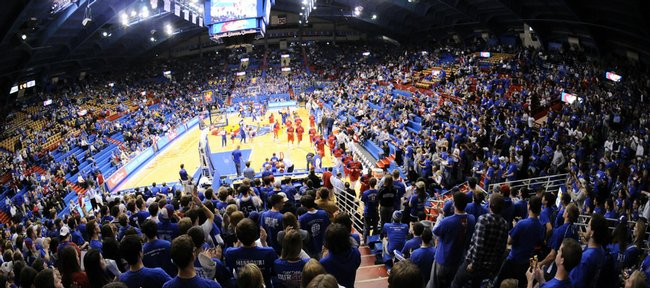 Tickets for selected games featuring America's top-ranked college basketball team are being sold for less than the price of a souvenir mini KU basketball. Bill Self's Jayhawks — No. 1 in the polls since preseason — can be seen for as little as $10 at Allen Fieldhouse and at the Sprint Center in Kansas City, Mo., as Kansas Athletics Inc. works to resell tickets anticipated to be left unused by Kansas University students departing campus for winter break.
The online deals tipped off over the Thanksgiving holiday and remained in play through the day Wednesday. Kansas Athletics sends out such discount notifications and promotional codes online, to people who have signed up for updates.
"This is something new," said Jim Marchiony, an associate athletics director. "We want to make games available to those who they would not normally be available to, at a time when the students are not on campus."
Additional info
About 4,000 seats normally reserved for students are being offered for resale as general-admission seats at the 16,300-seat fieldhouse, Marchiony said. The fieldhouse games included in the promotion are Dec. 9 against Radford and Jan. 6 against Cornell.
Also available at a discount: Dec. 12 against LaSalle, at Sprint Center. "We'll just sell them while supplies last," Marchiony said.
Marchiony acknowledges that he cannot recall a time when tickets for Kansas men's basketball had sold for so little. Outside the promotion, general-admission tickets at the fieldhouse regularly are $35, he said, and season tickets carry a face value of $50 or $65.
Wednesday night's game against winless Alcorn State was the 133rd consecutive sellout at the fieldhouse, and the streak will be guaranteed to continue even if some of the general-admission seats go unsold. That's because all of the 4,000 student seats were sold out before the football season, when students bought football and basketball season tickets for a total of $150.
Such tickets are loaded onto KU students' ID cards, and Kansas Athletics officials regularly anticipate that a portion of those students won't show up for games during break.