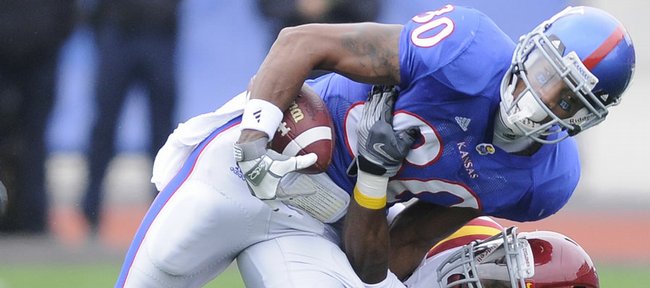 Kansas junior Dezmon Briscoe was honored as a first-team All-Big 12 receiver Tuesday in a vote of the Big 12 coaches.
Briscoe finished with 84 receptions for 1,337 yards and nine touchdowns this season. He was fifth nationally in receiving yards per game (121.55) and eighth in catches per game (7.64).
Kerry Meier earned second-team All-Big 12 honors after catching 102 passes for 985 yards and eight touchdowns. His 102 receptions were a school record.
KU had five players selected as Big 12 honorable mention: offensive lineman Tanner Hawkinson, defensive end Jake Laptad, quarerback Todd Reesing, punter Alonso Rojas and safety Darrell Stuckey.
Texas' Colt McCoy was honored as Big 12 offensive player of the year, while Nebraska's Ndamukong Suh was the league's defensive player of the year.
UT's Mack Brown earned Big 12 coach of the year honors.