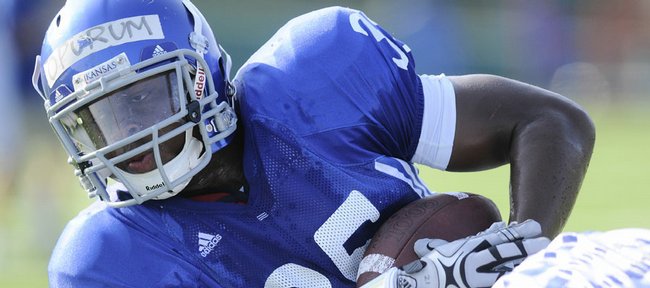 Reader poll
LB Huldon Tharp

14%

162 votes

WR Bradley McDougald

29%

319 votes

RB Toben Opurum

54%

590 votes

Other

1%

15 votes
1086 total votes.
Kansas University's coaches have been liberal in their praise of true freshmen Toben Opurum and Bradley McDougald this summer, and apparently, the two players have done nothing recently to dispel the kind words.
Speaking during Monday's Big 12 coaches teleconference, KU coach Mark Mangino praised the play of both players, who are expected to forego red shirts and contribute to the offense immediately this season.
"He has a lot to learn, but he's very talented," said Mangino of Opurum, who has been practicing as the No. 2 running back behind senior starter Jake Sharp. "And he is a guy that I think, as we go along, is going to get better and better every week as he gets comfortable with what we're doing and realizes that things are a little faster-paced here than they are in high school."
The coach expressed similar satisfaction with the development of McDougald, a receiver who he earlier this summer called the most impressive true freshman he's had at Kansas.
McDougald, a Dublin, Ohio, native who committed to Ohio State before signing with Kansas, is currently listed as a backup receiver but worked at times with the first-team offense during last Wednesday's open practice.
McDougald was listed as a back-up to senior Kerry Meier on the latest depth chart.
"He understands what we're trying to do and how we're trying to do it," Mangino said. "... He will be in the mix in the rotation and will play a significant amount for us this season."
Mangino on LBs: 'I think we'll be OK'
Despite the loss of three starters from last year's linebacker unit, Kansas University coach Mark Mangino on Monday seemed pleased with the amount of progress made at the position in recent days.
"The situation at linebacker is starting to shape up," he said, noting that things have been slowed a bit by injuries. "I think we'll be OK (there)."
On the team's most recent depth chart, released Saturday, Justin Springer, Drew Dudley and Arist Wright are listed as starters, although Mangino said true freshman Huldon Tharp is "right on their heels" and that the improvement of Vernon Brooks, a junior college transfer currently listed as a backup, has also been encouraging.
"Vernon Brooks is getting a lot of reps," Mangino said. "He's a junior-college player that just got here, so he faced a lot of challenges. He had to learn the system. He had to get in shape. He had a lot of things going against him. But this past maybe seven or eight days, he has really looked good, and he's making a lot of plays and doing some really good things."
Mortensen signs with UFL team
Former Kansas linebacker Joe Mortensen signed a contract Monday to play for the New York Sentinels of the United Football League.
Mortensen, who played in 50 games for the Jayhawks during his career, was the team's leading tackler in 2007, earning all-Big 12 first-team honors as the Jayhawks went 12-1 and won the Orange Bowl. As a senior in '08, meanwhile, he finished with 90 tackles and a team-high nine quarterback hurries despite playing with lingering injuries.
More like this story on KUsports.com