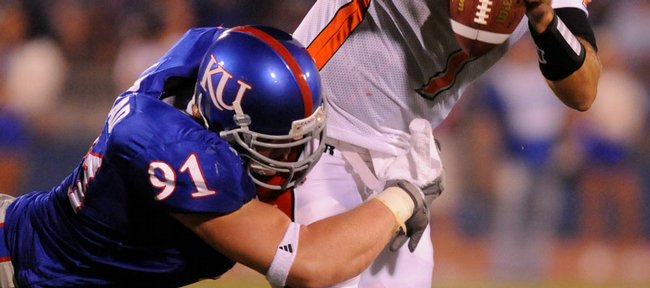 Kansas coach Mark Mangino used the word "hostile" to describe the atmosphere he would like fans to create for visiting teams at Memorial Stadium. Mangino no doubt has used that word or similar ones when talking to his defense about what he would like visiting offenses to feel coming from across the line.
A hostile, mean, nasty, fang-bearing, ill-tempered, ornery, rotten, downright rude attitude represents the best chance for the defense to overachieve, which it will need to do to have any chance of coming anywhere close to matching the productivity of the offense.
Throughout history, standout players who line up on defense tend toward viciousness on the playing field. Think Dick Butkus and Ray Lewis, Nick Reid and James McClinton. Offensive stars tend to enjoy hunting spotlights. Defensive stars prefer to hunt people.
On paper, the defense doesn't appear to have a great deal of loud talent, so loud attitude must compensate.
If the development of a young offensive line counts as the key to the offense, then the emergence of a nasty, quarterback-hunting defensive lineman holds the answer to disrupting visiting offenses. On paper, there is cause for concern. Junior Jake Laptad had seven sacks last season and has improved steadily. Ideally, Laptad would be a contending Big 12 defense's second-best pass-rusher. Until proven otherwise, he's this team's best. Junior Quinton Woods has speed, but so often junior college transfers spend a year adjusting to just how ruggedly the game is played in the Big 12, then take a big step forward as seniors. Senior Maxwell Onyegbule always has looked the part of a quarterback-hunter, but hasn't yet made an impact. Ditto for Jeff Wheeler.
In the perfect world, senior Caleb Blakesley would stand next to the team's best tackle. A year ago, he was the best on the roster and unless sophomore Patrick Dorsey or redshirt freshman Duane Zlatnik has a break-out season, the best guess is Blakesley again will be the most consistent performer from the tackle position.
If the line can exceed expectations for applying pressure on the quarterback, a fast, young secondary anchored by Darrell Stuckey has a chance to look good. In between the front and the secondary, an inexperienced linebacker unit appears longer on speed than size. Those are all tangible hints at how equipped the KU defense is to slow down the many high-powered Big 12 spread offenses. The real answer to how well it performs lies in how nasty an edge the players can develop as a team.
Forecasting nastiness isn't as easy as it seems. For example, former KU defensive tackle James McClinton, a deeply spiritual man who has a friendly word for and about everybody when not on the football field, took on an entirely different personality in a three-point stance. His language became bluer than his shirt, louder than the students' kickoff chant. So peaceful off the field, such a vicious play-killer on it. It was always all about passion with McClinton and to be passionate playing defense is to be nasty. He completely understood that and played a huge role in getting his team to the Orange Bowl. It's going to take someone to bring that sort of contagious, rugged edge to the defense for Kansas to snag a Big 12 North title.
More like this story on KUsports.com