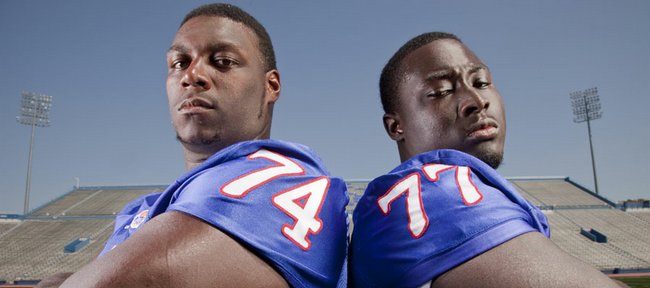 New kids on the block
The following is a list of how many career starts each Big 12 team returns on its offensive line:
Texas: 91
Oklahoma State: 86
Baylor: 66
Iowa State: 61
Nebraska: 61
Kansas State: 57
Missouri: 56
Texas A&M;: 56
Texas Tech: 52
Colorado: 48
Oklahoma: 29
Kansas: 25
• Source: Wall Street Journal
The Kansas University football team returns only 25 career starts on the offensive line — the least in the Big 12 and tied for fifth-lowest in Division I, according to a Wall Street Journal study.
Tanner Hawkinson still doesn't believe there's reason to be concerned.
"We may be a little young," the red-shirt freshman said, "but we're all confident in each other that we can get the job done."
This much is certain: If KU does have a strong offensive line this season, it will be because the Jayhawks have some quick learners.
Jeff Spikes (13 starts) and Jeremiah Hatch (12 starts) are the only players on the roster that have started at KU, and both have changed positions in the last year.
Spikes moved from left tackle to right tackle halfway through last season, while Hatch switched from left tackle to center following the 2008 campaign.
"One thing we learned before we came here ... one of the rules is, 'For the better of the team,'" Hatch said. "Whatever the team needs us to play, that's what we'll do."
The other three O-line positions will be filled by first-time starters on Sept. 5 when KU opens the season against Northern Colorado.
"I feel this way: I feel (the linemen) are coming to work everyday with the right mentality," KU offensive line coach John Reagan said. "They're coming with a great attitude. They're a group that's pretty tight-knit and they do things together and they work together and they pull each other along and they push each other along.
"I feel like we're headed in the right direction."
Hawkinson — who also switched positions in the offseason, moving from defensive end to offensive line — is slated to be the team's starting left tackle.
He'll also protect quarterback Todd Reesing's blind side on throwing downs.
"There's a little bit of pressure there," Hawkinson said, "but all you can do about that is just be confident in yourself and confident in your play."
Just recently, junior Brad Thorson participated with the first-team offense at left guard. The transfer from Wisconsin was the backup center a year ago.
"He's an intelligent guy that knows the offense, understands what we're trying to do and can bring some leadership to it that way," Reagan said.
Sal Capra, a 6-foot-3, 295-pound junior, has been the team's starting right guard through early practices this season.
KU appears to have more depth at offensive line than it has had in years past. Juniors Carl Wilson and Ian Wolfe lettered as backups in 2008.
Meanwhile, red-shirt freshmen John Williams and Trevor Marrongelli are also in the mix at the guard positions.
"I think they matured a little bit over the summer after being here for a whole year," Reagan said of Williams and Marrongelli. "They've got some strength to them. They've got kind of an edge to them that I like."
The Jayhawks also might get some help in the future at tackle after deciding to move Darius Parish from defensive line to offensive line.
Reagan first met Parish at a high school camp when Parish was already 6-foot-3 and 300 pounds.
"I saw him then and licked my chops, to be honest," Reagan said. "When we were talking about (players switching) positions, he was the first guy that came to mind for me."
One positive for KU is that any strides made this year on the offensive line also should benefit the team next year.
The Jayhawks have 16 players listed on the roster as offensive linemen. Seven are freshmen, four are sophomores and five are juniors.
None are seniors.
"We're excited for this season and for the future," Hawkinson said. "We've got a lot of young guys that are very talented. It should be a good group coming up."
More like this story on KUsports.com