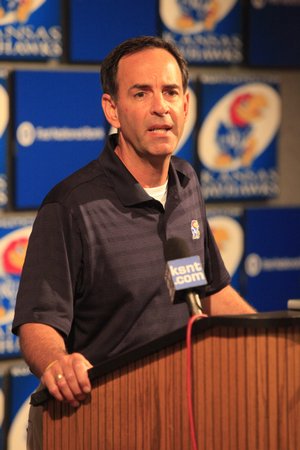 Progress is often measured in picas in women's volleyball. No one knows that more than Kansas University coach Ray Bechard.
"One little step forward takes great effort," Bechard said, "but it's easy to take two steps back."
Six years ago, Bechard appeared to have turned the corner in his sixth year as the Jayhawks' coach. In 2003, KU compiled a 22-11 overall record and a 13-7 mark in the Big 12 Conference.
But the program has been in decline ever since. KU will begin Bechard's 12th season this weekend hoping to snap a streak of three straight sub-.500 seasons.
"We had a good stretch there for a while," Bechard said, "then we had two or three ACLs. You can slip pretty easily."
Knee injuries played a role in the Jayhawks' 10-19 record in 2006. Since then, KU has posted almost identical win-loss seasons — 13-17 in 2007 and 13-16 in 2008.
Can Kansas climb back over the .500 mark again this year?
Naturally, Bechard is optimistic, saying: "We feel like we're close to getting closer to where we want to be."
Bechard has all but one starter back from last season, so the experience card should improve the Jayhawks' hand. Still, those are the same players who compiled a 7-13 record in conference play, so the returnees obviously will have to take it up a notch.
One who Bechard believes will make a quantum leap is Nicole Tate, who plays the critical setter position and underwent a baptism by fire as a freshman last season.
"It's kind of like having a quarterback or point guard who played as freshmen coming back for their sophomore year," Bechard said. "You're excited about how they'll perform."
As important as the setter is, however, size also plays a large part in volleyball success, and Bechard has eight 6-footers on his roster — two more than women's basketball coach Bonnie Henrickson, incidentally — and three are freshmen.
"We have four newcomers," Bechard said, "and three are in the 10-foot club, which means they can reach 10 feet when they jump."
Among those three is Tayler Tolefree, who will be attending college just a few blocks from where she went to high school. A 6-2 Lawrence High product, Tolefree also appears to be the most advanced of Bechard's new faces.
"She's had the best camp," the KU coach said. "The thing that has me excited is how she picks things up. In practice, we haven't had to say it more than once."
Kansas will open this weekend at the Middle Tennessee State Invitational in Murphreesboro, Tenn.
Soccer
Meanwhile, KU's soccer team will travel farther east into Tennessee to Knoxville, where the Jayhawks will participate in this weekend's Lady Vol Invitational.
Coach Mark Francis' team opened with a 2-0 victory over Drake last Saturday in Des Moines, Iowa.
"We feel we still need another week of practice," Francis said, "but it was nice to get a win in the first game."
Francis had hoped to start three true freshmen in that game, but wound up using two after Amy Grow, a forward from Edmond, Okla., suffered an undisclosed injury prior to the opener.
Francis did not disclose the injury, citing privacy concerns, but said Grow is out for the season.
The freshmen who did start were Whitney Berry, a forward from Goddard who scored one of the two goals, and Shelby Williamson, a defender from Colorado Springs.
Meanwhile, Kat Liebetrau, a red-shirt freshman from Centennial, Colo., started in goal ahead of senior Julie Hanley and recorded the shutout.
"She's a good shot stopper," Francis said of Liebetrau. "That's what sets her apart."
Cross Country
Both the men's and women's teams hope to improve on identical eighth-place finishes in last fall's Big 12 Conference cross country championships.
"We're looking for our best year on the men's and women's side," coach Stanley Redwine said.
Lauren Bonds, a senior from Hutchinson, heads the women's squad. Bonds is one of only two KU women runners to earn first-team All-Big 12 honors.
Top runners on the men's side are Donny Wasinger, a sophomore from Winona, Minn., and Bret Imgrund, a senior out of Shawnee Mission Northwest.
Kansas will open Sept. 5 at the Bob Timmons Classic at Rim Rock Farm.