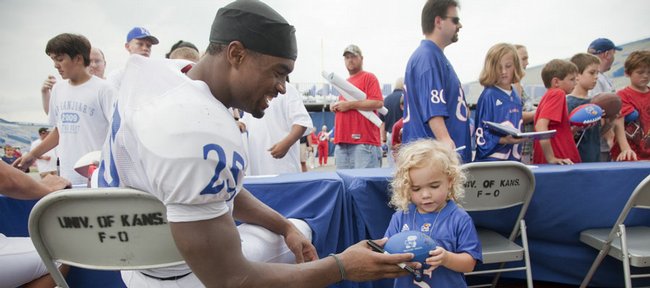 The lasting image to come from the Kansas University football team's Fan Appreciation Day wasn't coach Mark Mangino's urging of fans to make Memorial Stadium a "hostile" place this fall. It wasn't the shenanigans of an unusually feisty Baby Jay or one fan's Todd Reesing action figure (complete with yellow Livestrong bracelet).
No, the lasting image Wednesday was 2-year-old Miles McEachen, trotting around in his full-body Jayhawk costume — complete with a strap-on head that included a padded beak — garnering the kind of attention usually reserved for visiting royalty, or at least starting quarterbacks.
Purchased from a fan Web site as a Halloween costume last year, the suit is quickly becoming a bit of a staple at KU football functions. The youngster wore it — to much fanfare — during last week's KU Football Kickoff in Prairie Village, and when he and his dad, Mark, would make the drive from Overland Park to Kansas home games last fall, the costume usually would be in tow.
"Of course the crowds just eat it up," said Mark.
They certainly seemed to be doing so Wednesday.
With the possible exception of the Kansas players — who signed autographs for an hour after undergoing an afternoon practice that was open to the public — no one garnered more attention during Fan Appreciation Day than Miles. Eyes followed the 2-year-old everywhere he went, and many fellow fans stopped Mark to compliment the attire. At one point, the youngster posed for a photo with a pair of KU cheerleaders who had wandered over to examine the get-up.
Of course, cool as the costume is in a football setting, it came in even more handy last Oct. 31 — when a number of Kansas fans opened their front doors and found a 2-foot tall mythical bird standing on their porch.
"Some houses gave him extra candy," said Mark, after his son had met KU coach Mark Mangino. "They said, 'For a Jayhawk, we'll give you more.'"
•
Depth-chart shake-ups: In one of the day's biggest developments, Brad Thorson, a former backup center, worked primarily as the first-team left guard during Wednesday's practice.
In addition, receiver Bradley McDougald — who Mangino said is the most impressive true freshman he has had at Kansas — and running back Toben Opurum spent parts of practice working with the first-team offense.
Kansas players and coaches weren't made available for comment Wednesday, but McDougald is expected to play this season, and coaches have said that someone will have to supplement projected starter Jake Sharp at running back.
Opurum is one of three players — along with Rell Lewis and transfer Daniel Porter — battling to fill that role.
Defensively, tackle Patrick Dorsey saw action with the first team, while Justin Thornton appears to be a current starter at safety. Anthony Davis, meanwhile, has been working as a first-string cornerback.
•
Foster shifts to defensive tacke: Having already played as a fullback and linebacker during his Kansas career, red-shirt sophomore Steven Foster now will try his hand at defensive tackle.
On the team's most recent roster, Foster, who entered Kansas as the No. 4-rated fullback in the nation according to ESPN.com, is listed at the position and was working there Wednesday.
More like this story on KUsports.com