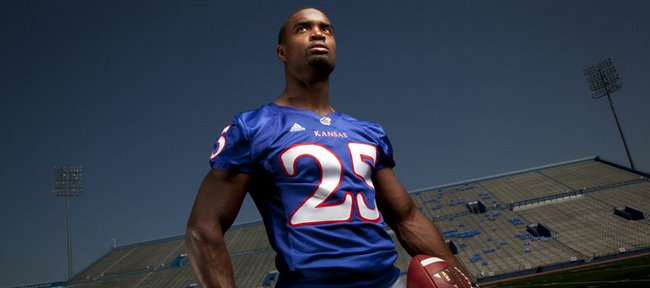 Michelle Foulks pulls out a black, three-ring binder in her Kansas City, Kan., home and sets it on the blue loveseat in front of her.
The white piece of paper on the front cover reads "Darrell's Achievements" in a bold font with a black-and-white, clip-art fair ribbon printed underneath the two words. Also slipped into the front cover are two KU football ticket stubs from 2004, two identical Jayhawk football recruit stickers that read: "Darrell Stuckey/K.C. Washington High School" and a folded, red Tootsie-Roll wrapper that has an Indian aiming his bow-and-arrow at a star.
"This is your book," Foulks told her son as a young boy. "All your accomplishments go in here. Everything."
The binder is four inches thick, and as Foulks turns the pages, Darrell Stuckey's story becomes clearer.
There are items in there you'd expect: the high-school baseball stats, the Hershey's track and field certificates, the preseason all-state football team from 2004 that includes a picture of a blond, baby-face kid named Kerry Meier.
But that's only part of Darrell's story. The book also contains the "A" he received on a math cumulative review in 2002, an umpiring certificate, sketches of the Tasmanian Devil he drew in class, his D.A.R.E. completion award and a "Proud Parent of an Honor Student" bumper sticker.
"He's trying to be this well rounded person, and I know where he's going with it," Foulks says, her dark eyes intensifying. "Football's not going to last forever."
• • •
Kansas University senior safety Darrell Stuckey leans forward in his black Team FCA T-shirt. A bracelet around his wrist announces "OW2P" — One Way to Play, a Fellowship of Christian Athletes campaign that demands athletes play alcohol- and drug-free.
It doesn't take long to see Stuckey isn't just here to wear his faith.
He's also here to share it.
Just 20 minutes after meeting you, Darrell is ready to tell a story. It's about David Stuckey Sr., his grandfather.
The elder Stuckey, a 5-foot-7, 150 pounder, never let his small stature hold him back.
He boxed men twice his size — men who later told him he hit like a hammer.
He bowled 300 games three times and hit multiple home runs in slow-pitch softball over the age of 50.
Darrell still remembers bowling with his grandfather during a bye week last year.
"You're getting pretty good, little peanut-head," David told him with a laugh.
But something wasn't right. Darrell couldn't help but notice how his grandfather was coughing.
Darrell could tell there was something wrong by the sound of his grandfather's hacks.
"He was one of those guys that loved you so much that, if he was hurting, he wouldn't want you to hurt with him," Darrell says.
A short time later, Darrell's fears were confirmed. His grandfather had cancerous ulcers in his stomach. David was in Stage IV. His cancer was too far advanced for an operation.
On March 3, 2009, Darrell was told his grandfather had between 24 hours and two weeks to live. The next day, Darrell drove to Kansas City to see his grandfather — he knew, perhaps, for the final time.
Darrell prayed silently in the car to himself: "God, please just let him make it. Please let him make it, Lord. Please let him make it."
As soon as he was finished praying, just 10 miles away from the hospital, Darrell received a call.
He was too late. His grandfather had passed away.
"My heart just stopped," Darrell says.
Next to Darrell in the car was a poem he had written. It was titled, "My Hero." Darrell was going to read it to the man who had inspired it.
But instead, with his tears blurring the road ahead of him, Darrell came to the realization that his grandfather would never get to hear it.
Darrell started praying again. At that moment, he noticed something on the windshield. A sprinkle. Then another. Then a few more.
In the driver's seat of his car on the outskirts of Kansas City in the middle of a prayer, Darrell found himself comforted by a spring rainstorm.
"I feel like God was mourning with me and saying, 'It's OK. It's OK to have pain, but you also can find joy in this pain,'" Darrell says. "'Just know that he's with me.'"
• • •
Michelle Foulks calls Darrell Stuckey her "blessed child."
When Stuckey was in sixth grade, he was picked up by an eighth-grade classmate in the locker room before being dropped through a glass window of a teacher's office.
Foulks holds her fingers an inch apart. That's how close a piece of glass came to hitting one of Darrell's major arteries, an accident that could have killed him.
Stuckey always had been the daring one. One time, when Stuckey was 6, Foulks couldn't find her son after he'd wandered outside of the house.
With tears in her eyes, she screamed out his name, "Darrell! Darrell!"
Finally, she heard a quiet voice from above her.
"Mommy, I'm up here."
Stuckey had climbed up into a treehouse by himself to hang out with some of the older kids in the neighborhood.
Stuckey was the athletic one, too.
He always won the limbo competition at the local roller rink because he'd do the splits straight out. One day, Michelle looked outside and saw her son doing back handsprings.
"He'd never taken gymnastics before in his life," she says.
Still, it wasn't always a certainty that he'd be built like an athlete.
When he was younger, Darrell wasn't big at all. In fact, to play in the "heavy" football league as a fifth-grader, Stuckey had to gain seven pounds in two weeks before the weigh-in.
"He was so short. I used to almost think he was going to be a midget," Foulks says. "I really did."
After stuffing himself with loads of starch, potatoes and meat, Stuckey checked in at three pounds over the minimum requirement. His team went on to win the championship that year.
Stuckey finally had his growth spurt in middle school, and in the span of a year, Foulks had to buy him all new clothes.
Since then, there was no question that her son would thrive in sports.
Stuckey played football, basketball and baseball, and he was good at all three.
High school friends began calling him, asking him to come to their school. A few buddies at K.C. Turner even volunteered to have Stuckey stay with them Monday through Friday so he would be eligible to play there. He politely declined.
Most important to Foulks, though, was the young man that Stuckey was growing up to be.
As the head of a single-parent household, Foulks made sacrifices early on for her children. She gave up alcohol, determined never to let her children see her drink.
She also traded in her once-a-week dancing nights at the Adam's Mark Hotel for drive-in movie night with her kids. Every Friday, Foulks would grab fast-food before going to the Boulevard Drive-In Theatre in Kansas City, Kan., where $5 would get all of them in for two movies.
She also admits she was tougher on Stuckey than she was on her daughter, Denae. Foulks believed he needed that.
"Leader, leader, leader," Foulks always told Stuckey. "You're a leader and not a follower."
"I tried to beat that in his head by saying it all the time," Foulks says.
Foulks knows he was listening. As he grew older, a lot of Darrell's friends stopped coming by the house.
"Son, what's going on?" Foulks would ask.
The responses from Stuckey were different but the same.
"That guy's all into girls now." "He's hanging with the wrong crowd." "He's getting high all the time."
Foulks was seeing Stuckey grow up right in front of her.
"I thank God," Foulks says, "that he didn't follow his friends."
• • •
Former K.C. Washington baseball coach Tim Cordill never saw Darrell Stuckey as a follower.
Cordill has seen kids fall by the wayside. One of his former players robbed a bank and went to jail. Others he worried about whenever they were on their own.
Cordill never worried about Stuckey.
"lt just seemed like, early on, he was the leader of those guys," Cordill says. "I think the way that he lives and how he goes about carrying himself and living his life, I think those other guys couldn't do it. ... I think they all wanted to be him deep down inside, but I think it was too hard for them."
It has been bittersweet for Cordill to watch Stuckey's rise to one of the top football players in the Big 12.
Sure, Cordill is happy. But the former minor-league umpire can't help but wonder what would have happened if Stuckey stayed with baseball.
Sometimes, Stuckey still makes the comment to his mother: "If I would have went to baseball, I'd have been a pro already."
Cordill doesn't disagree.
"Every time we played," Cordill says, "he always had the strongest arm on the field. He was always the fastest guy."
In 18 games as a junior (Stuckey ran track his senior year to prepare himself for collegiate football), Stuckey had six home runs, 24 RBIs, a .604 average, 17 stolen bases and no errors in the outfield. When the team ran 60-yard dashes in practice, Cordill said none of Stuckey's teammates came within 10 yards of him.
Cordill has been to enough tryouts to say with near-certainty that if Stuckey walked into one today, he'd get signed by a major-league team on athleticism alone.
But there was much more to Stuckey, Cordill says.
He was silly, and Cordill still swears that Stuckey probably wears SpongeBob SquarePants pajamas and watches cartoons when he wakes up.
But then again, he was mature — even in high school.
"It just seemed like he grew at a much higher level than anyone else did, because he wasn't making mistakes to figure out who he was," Cordill says. "He already knew who he was by the time he got there."
Cordill, who met up with Stuckey this summer after one of his daughter's dance recitals in Lawrence, says not much has changed since Stuckey was at K.C. Washington.
More than anything, Cordill sees Stuckey as a person of integrity.
In high school, the coach took 10 of his baseball players to a camp in Arizona. Many of them ran around the hotel at night. One had to be sent home early.
But then there was Stuckey, who made new friends and conducted himself well and happily took instruction from other coaches and players.
During Stuckey's junior year, Cordill was given the chance to take batting practice at Kauffman Stadium. He also was allowed to take one friend with him.
Cordill chose Stuckey.
The coach says it was one of the best days he's ever had, just watching Stuckey run foul pole to foul pole in the blistering sun, chasing down every baseball within 300 feet of him.
"Just to see his eyes light up ... it was fun to watch him," Cordill says. "I wish some days I had energy like that."
No, Cordill never did get to see the progression of Darrell Stuckey, the baseball player.
He doesn't seem too upset, though.
That's because he's still been able to see the progression of Darrell Stuckey, the man.
"If I had a son, and let's say my son was born a paraplegic and would never play sports in his life," Cordill says, "I would still want him to be just like Darrell."
Cordill pauses.
"That's saying a lot."
• • •
When Darwin Franklin took over as head football coach at K.C. Washington as a 24-year-old, he was trying to be a good role model for sophomore Darrell Stuckey.
A funny thing happened, though. Stuckey became a good role model for him.
"You probably don't hear that a lot from a coach, coaching a student," Franklin says with a laugh. "Shoot, the way that he helped me grow, and hopefully, I helped him grow."
One day a week, Franklin would make his players run 1,600 yards after a three-hour practice.
Franklin says Stuckey sprinted every one. And afterwards, he'd do backflips on the field to get laughs from his teammates.
Franklin also saw Stuckey as a genuine person.
"It's a hard thing in this day and age, to find somebody that young, with that much popularity, but still can sit there and say, 'I'm not perfect, but I just want to do the right thing,'" Franklin says.
When the two walked off the field after Stuckey's last game, Franklin gave Stuckey and hug and said, "Thank you for trusting me. Thank you for sticking it out with me."
"Coach," Stuckey said, "it wouldn't have been any other way. You were the best man for the job."
"That's when I really knew," Franklin says, "that I did something right."
• • •
The three-ring binder begins with a yellow newsletter, giving the highlights of a fifth-grade, Kansas City-area football league. It ends with a certificate, congratulating Darrell Stuckey for being a part of a team that tied for the Big 12 North championship in 2007.
There are a few blank protective sheets left at the end. Darrell Stuckey's story isn't quite finished.
Perhaps the pages will be filled this year. Maybe the safety will lead the Kansas defense to a Big 12 championship game. Or maybe there will be a story about Darrell being taken in the 2010 NFL Draft. That's possible, too.
One thing's for sure: Stuckey isn't taking any chances with his future. On campus, he's a Student Senator, a SAAC Executive Board member, a member of the Chancellor's Advisory Committee of Athletics, the Phi Beta Sigma Fraternity treasurer and recruiting chair and a founding member of the FCA huddle at KU.
"Now's the time to be ambitious," Stuckey says.
No, Stuckey shouldn't have any trouble filling in those final pages.
After all, football is only part of his story.
"I'll bet you a lot of those guys are thinking, 'I can't wait until I get to the NFL.' Darrell wakes up every day, and he just likes to be alive," Cordill says. "If he never plays past college, I'm sure he'll be good at whatever he does."
• A previous version of this story contained an error.
More like this story on KUsports.com