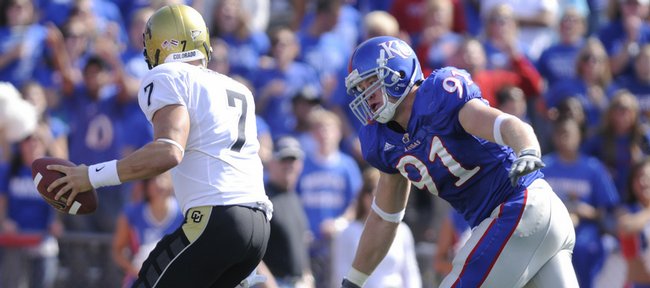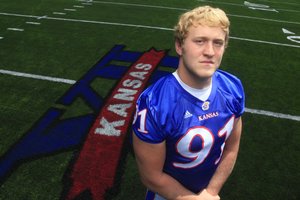 When Kansas University defensive end Jake Laptad plays video games in his spare time, his team of choice is the Kansas City Chiefs.
On defense, Laptad doesn't typically choose to control linebackers who roam the middle of the field, or defensive backs who sit in pass coverage waiting to make an interception. Everyone does that.
In the fantasy worlds of PlayStation and XBox, Laptad operates from the same spot that he calls home Saturdays at Memorial Stadium — in the trenches, of course, at defensive end.
Laptad, a junior who wears No. 91 for KU, chooses the Chiefs player who sports the same number on the D-line, Tamba Hali. He's Laptad's favorite player.
"I'm a big Chiefs fan, so when they drafted him, I was definitely happy about it," Laptad said of Hali, who played defensive end from 2006-2008, but will switch to linebacker this year in K.C.'s new 3-4 formation. "My dad is from Joplin (Mo.), so he was always a Chiefs fan."
With the college football season just around the corner, Laptad doesn't have much free time anymore.
The Tulsa, Okla., native is focused on building off a sophomore campaign during which he produced seven sacks and earned All-Big 12 honorable mention.
The Jayhawks enter the year with moderate concerns rushing the passer. James Holt led Kansas with 10 sacks last year, but he graduated. After Laptad's seven sacks, no Jayhawk had more than two.
KU's defensive line had only 13.5 sacks last year. Texas Tech defensive end Brandon Williams, by way of comparison, led the Big 12 with 13 sacks on his own.
"We definitely have to get better at rushing the quarterback," Laptad said. "We're getting better as camp goes on. We're getting better and better every day — our get-offs, working our hands, putting it all together to be a better pass-rush defense."
The Jayhawks didn't graduate any key components from their line. They also brought in junior-college standout Quintin Woods, who had eight sacks and 14 tackles for loss last season at Bakersfield (Calif.) College. Woods and Laptad could form an explosive duo off the ends.
"I think he'll be a good player for us," Laptad said of Woods. "He has a lot of speed, and he has some good moves."
Kansas ranked 40th in the country and sixth in the Big 12 last year with 29 sacks. More than a third of those were from Holt, so Kansas will have to rely on others to step up this season.
Laptad is the most obvious candidate. He already has had practices that have caught the attention of some of his teammates on defense.
"Jake can do a lot," senior linebacker Angus Quigley said. "Jake is a good kid. Physical. You gotta like a guy like that. He works his butt off. We never have to worry about his effort. He's going to give you everything he's got. He's got that drive that you need to play defense. For me, being new to the defense (after switching over from running back), he's a guy, (Darrell) Stuckey's a guy, guys like that, those are guys I can look up to."
Laptad also showed flashes of making plays in the backfield last season with 8.5 tackles for loss, which was second on the team. He led all KU defensive linemen with 38 tackles.
Laptad's seven sacks are impressive when you consider he only started seven games last season. He figures to start each Saturday for KU this year on a defensive front that KU coach Mark Mangino expects to be better.
"One of the goals we set out to reach is to be a better pass-rush defensive line," Mangino said. "The more pressure we can put on with four guys in a rush gives us the ability to do some things in coverage that we really like to do.
"Now, that doesn't mean we're not going to blitz. Blitzing is a part of our system. It's a part of who we are. But we believe we'll be better pass rushers this season than perhaps we were a year ago."