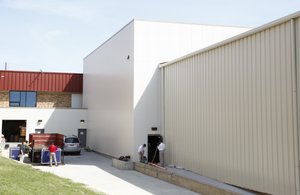 Kansas University's new basketball practice facility is open for business.
The Jayhawks held individual workout drills in the building Monday — the third day of first semester.
"I think all our players were totally impressed by it," KU coach Bill Self said of the structure, which is connected to the west side of Allen Fieldhouse.
"The design of it is absolutely perfect for the space we have. It looks good, has a good feel to it. It'll be a huge asset to our program."
The media will be taken on a tour of the building later this week.
"The best thing is it's ours and the women's," Self said of KU's women's team. "It's connected. We won't have to walk outside (in the winter). We won't have the facility conflicts we had in the past, though we always found a way to work it out. This is great. It's tremendous for our present players and future players."
The building is air-conditioned.
"The temperature was 20 degrees cooler than in the fieldhouse now," Self said.
The actual center court from the 2008 Final Four is mounted on the practice facility's west wall, as well as a scoreboard.
"Kansas Jayhawks" is scripted in Trajan font on the south wall as well as five national championship banners.
The north wall features two second-floor balconies from which Self and women's coach Bonnie Henrickson can see the new floor by simply exiting their offices.
"It should," Self said, asked if the facility would help in recruiting. "I'd think they (prospects) would be impressed as well."
Renovations to Wagnon Student Athlete Center and Parrott Athletic Center will be completed by the Oct. 16 Late Night in the Phog. Other renovations include a student-athlete support wing on the front of Anschutz Pavilion, new locker rooms for soccer, volleyball and softball and new administrative offices. The men's and women's basketball teams and opposing teams will have newly renovated locker rooms in the fieldhouse.
"We're excited about Oct. 16," Self said of Late Night and getting into the tradition-rich fieldhouse.
• Swine flu worries: Self is concerned about the risk of swine flu, not just to his players, but KU's entire student body. In all, 47 of KU's 27,000 students were presenting swine flu symptoms on Monday.
"It is a legitimate concern on all campuses. Suddenly everyone needs to take precautions on campus, in dormitories, wherever you are in contact with people," Self said. "You have to do things recommended to do, to not put yourself in position to develop or catch it.
"We educate our players on things they can try to do to eliminate risks," Self added. "A lot is as simple as hygiene. Always wash your hands, and do those sorts of things. We'll totally address everything with them (players)."
• No. 1 prospect to visit: Brandon Knight, a 6-foot-3 senior point guard from Pine Crest High School in Ft. Lauderdale, Fla., will make an official recruiting visit to KU for Late Night in the Phog, Rivals.com reported Monday.
Knight, who is Rivals.com's No. 1-rated player, has set up in-home visits with KU, Kentucky and UConn. He's also interested in Florida and Miami.
More like this story on KUsports.com