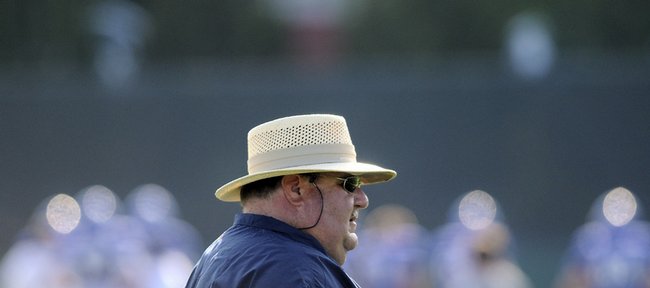 When Mark Mangino arrived at Kansas University in 2001, he brought with him a reputation as a hard-working, blue-collar, defensive-minded disciplinarian.
According to the players who have put their football lives in the Pennsylvania native's hands, little has changed during the past seven years.
"A good coach doesn't change," senior running back Jake Sharp said. "You know where you stand with coach, day-in and day-out. There are expectations set, and that's the way it is. It's clear-cut. When you do good, there's praise, and when you do bad, there are consequences."
Steady improvement has marked Mangino's tenure at KU.
His first team finished 2-10 overall and 0-8 in the Big 12.
His most recent squad went 8-5 and capped the season with a victory against Minnesota in the Insight Bowl.
Sprinkled in between were seasons like 2004, when the Jayhawks finished 4-7, and 2007, when KU went 12-1 and won the Orange Bowl.
Through it all, the ups and downs, the program-defining moments and utter disappointments, Mangino has maintained a mantra that many players say he personifies.
"He kind of fits his philosophy of, 'Sawin' wood.' He doesn't deviate," said senior lineman Caleb Blakesley, after pausing before speaking. "He does what he has to do to get things going the way they need to be going. I wouldn't necessarily say he's changed a whole lot. He definitely runs the program the way it needs to be run."
If anything, players say the success of the program — four bowl games in six years (and three bowl victories) — has made Mangino more driven.
"He's more competitive," senior Arist Wright said. "It seems like he doesn't want anything else other than greatness. He wants the best in everything, and that's a good thing, nothing less. When I came here, we had a 7-5 season, and now he's got an Orange Bowl title. That makes him hungrier, and it makes the players hungrier. Expectations are high."
That was by design.
"My aspirations for this program when I came here in 2002, (were) I didn't come here to be 6-5, 7-4 every year, and everybody just think that's good," Mangino said. "I thought that if we could get this thing rolling, perhaps we could get this team competing for championships."
That mentality is made clear to his players the minute they meet him as prospective recruits. Mangino and his staff don't mince words when spelling out what it means to be a part of the KU football program, from performance in the classroom and on the field to the right way to carry themselves in public.
Once the players step foot on campus, the emphasis only intensifies.
"From year to year, Mangino's become more and more driven," senior Angus Quigley said. "He was hired to make this a winning program, and he's done that. You have to credit him for that. You look at his record and what he's done here, he's turned this program around."
Only a select few of the handful of players asked about the changes they've seen in their head coach admitted to seeing any.
Senior Darrell Stuckey was one of them. But even in saying that he has noticed some minor differences, Stuckey was quick to point out that the changes, however small, have made Mangino a better coach.
"Of course he has (changed)," Stuckey said. "This was his first Div. I head-coaching job, and each year he's changed something. Each year he goes and learns a little more. I think he's one of the great coaches who can learn on the fly. I like to look at him as a great dictator because he understands everything that needs to be done and knows how to put people in the right position to make sure the team has a great opportunity to be successful."
Asked if he sees Mangino as more intense or more relaxed since the day he first met him, Stuckey offered another answer indicative of the kind you'd expect from one of Mangino's captains.
"He's a little bit of both. It depends on where you catch him, whether it's on or off the field," Stuckey said.
More intense or less, further driven or not, Mangino has accomplished what he set out to do. The Jayhawks have competed for championships.
With a strong senior class ready to go, including some of the most prolific offensive players in school history, Mangino and Co. could be in position for their finest year to date.
But even if the Jayhawks do win the Big 12 North division, play in the Big 12 title game and, perhaps, make a return visit to a BCS bowl game, the players who know him best know one thing is certain.
"I can tell you right now, he never gets satisfied," Sharp said. "I don't know a football coach in America who's ever satisfied. Ask (legendary Notre Dame coach) Lou Holtz if he was ever satisfied. I don't think he ever was."