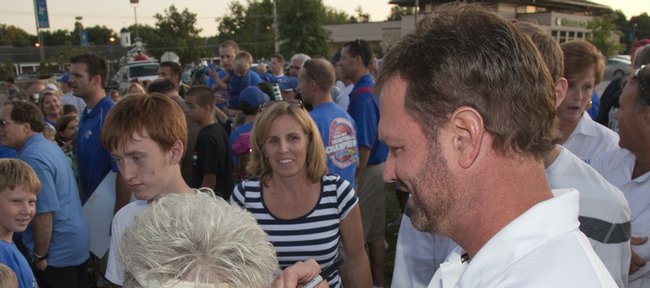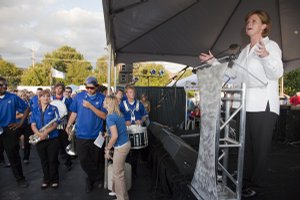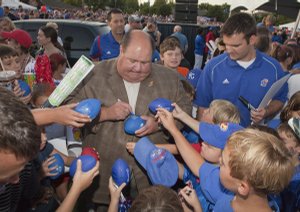 Prairie Village — A day after the NCAA ruled to vacate each of the Memphis men's basketball team's 38 victories during the 2007-08 season due to the use of an ineligible player, Kansas University coach Bill Self offered his take on the ordeal during Friday's KU Football Kickoff at Corinth Square.
Speaking publicly about the matter for the first time, Self — whose team beat Memphis in the '08 national title game — insisted the ruling has no effect on the Jayhawks or how they view their championship season.
"There were some teams within their league (and) some teams throughout the tournament that didn't advance because Memphis did, but I don't know enough about those details to really comment and have a strong opinion about it," Self said. "I may feel differently if the outcome of the (2008 NCAA title) game was different, but I don't feel differently.
"The bottom line is, when you get to that level, your kids want to play against the very best," he added. "And we had the chance to play against an unbelievably talented Memphis team. And fortunately for us, we were able to come out on top."
• Ten wins and no excuses?: After some stringent preseason research, Self said Friday that he's confident he knows what to expect from this year's Kansas football team.
"I've looked at their schedule, and I've studied it pretty good," said Self, still sporting his new-look facial hair. "And I think this could be a double-figure-win season for us."
"Some things probably have to go right," he added. "But I know that the staff is very excited about the caliber of athlete they have. And it just seems like, to me, since I've been here, it just gets a little bit better each and every year."
Of course, when Self took the stage a few minutes later to introduce KU football coach Mark Mangino, he told the fans on hand that, based on the team's top-notch quarterback and coaching staff, an undefeated season might not be out of the question, either.
• Mangino encouraged by fan interest: Upon his arrival at Friday's pep rally, Mangino seemed pleasantly surprised by the number of fans that had gathered for the event.
"You can see there are a lot of Jayhawk fans that are excited about the football program," said Mangino, set to begin his eighth season in Lawrence. "... There was a time when there wasn't a lot of people excited about KU football. And that has really changed."
• Goodrich eager to go for KU women: Nearly a year after an ACL injury spoiled what would have been her freshman season with KU's women's basketball team, point guard Angel Goodrich is ready to pick up where she left off, coach Bonnie Henrickson said Friday.
"She's bugging everybody to get out of her brace," said Henrickson, who last week signed a three-year contract extension after leading KU to the WNIT title game last season. "A lot of times, the last piece of that is mental and really not that much physical. So that's up to the doctors, that's not up to me. But she plays full speed, from what I understand, in pickup. And she's not limited at all; she does everything the rest of the kids do."
Goodrich, considered the most high-profile recruit in Henrickson's tenure at Kansas, will supplement a roster that features four returning starters, including all-Big 12 guard/forward Danielle McCray.
More like this story on KUsports.com