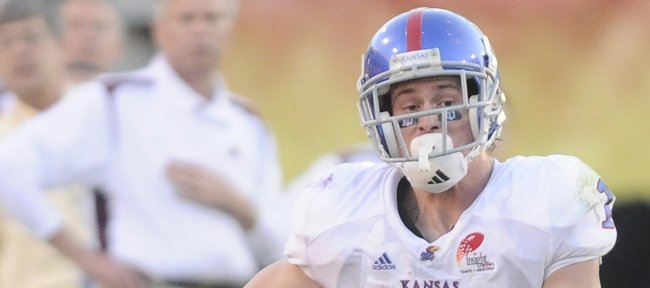 Jake Sharp is locked in. There's no doubting that, as the running back sits in a padded chair, surrounded by reporters at Kansas University's media day. He looks straight ahead, as if zeroing in on a target, and rarely blinks.
When Sharp talks about football, the dialogue is serious.
"He's all about football," fellow running back Toben Opurum said of Sharp. "He was actually my roommate for a little while at the beginning of training camp. We had a meeting, and right after we were done with our meeting, we came back, and he was ready to fall asleep. I was like, 'Man!' It was early."
Sharp usually hits the sheets by 10 p.m. during the season. He's awake — and focused — at 7 a.m the next day.
"Jake Sharp is a determined young guy," KU coach Mark Mangino said. "Football is his whole life. He eats it, sleeps it. He is one of the first guys out every day. This is important to him. I'm sure he dreads the day when he can't play football anymore. It will be a tough day for him because he enjoys it."
To understand Sharp's focus is to understand how he diligently answered the questions that surrounded him on the football field last season.
After Kansas went 12-1 and won the Orange Bowl in the 2007 season — a year in which Sharp shared carries with senior Brandon McAnderson and rushed for 821 yards and seven scores — Sharp seemed like the front-runner for the bulk of the carries in 2008. Instead, the Jayhawks brought in junior college transfer Jocques Crawford and increased the workload of Angus Quigley.
In the first four games last season, Sharp averaged only 6.5 carries per game. His highest rushing output in any of those four games was 29 yards.
KU coaches quickly learned Crawford wasn't cut out for the job, and Quigley seemed to be more effective in short yardage and goal-line situations.
Sharp's presence began to be felt as Big 12 play began. In KU's first conference game, Sharp carried 19 times and torched Iowa State for 186 total yards in Ames. Later in the season, he obliterated Kansas State for 257 total yards and four scores at home.
The starting running back picture became clear. Sharp deserved to be the No. 1 guy. By the end of the year, Sharp compiled 860 yards and 12 touchdowns. Not counting the first four games, he averaged 17.7 carries and 86 yards on the ground.
In the offseason, Crawford left the program and Quigley changed positions to linebacker.
It took awhile, but Sharp finally enters the season as the undisputed No. 1 running back at KU.
Despite all the talk in previous years about Sharp being a complementary back, or Sharp lacking the size (5-foot-10, 190 pounds) to be an every-down runner, the Salina native remains unfazed. As a senior leader on a team trying to win its first outright Big 12 North title in school history, he doesn't care much about the doubters. He's already silenced them.
"I feel that more than ever, the team's counting on me to produce and help them out, and I like that," Sharp said. "I'll do anything not to let people down, especially my teammates. That's a feeling collectively. It's not about so-and-so and whatever they want to do. It's about our team and everybody's going to lay it on the line for the team, and I think if that happens, we're going to have a good shot."
Now, the question is who will spell Sharp? KU has options — junior Daniel Porter, sophomore Rell Lewis and freshman Opurum — but none has registered a carry in a Kansas uniform.
"All you hear about is Jake. And Jake is doing a really good job," Opurum said. "But I think as far as depth, we have a lot of unproven talent. You know, a lot of people haven't heard of us or seen us play at the Division I level yet, but I think the talent is definitely there. Whenever we get on the field, people will see."
Kansas ranked 83rd in the country last year (ninth in Big 12) with 126.77 rushing yards per game. When the Jayhawks featured McAnderson and Sharp in 2007, they ranked 31st in the nation with 188.77 yards per game.
It's unknown how prominently offensive coordinator Ed Warinner will feature the No. 2 running back in the offense.
This much is clear, though: Sharp is the No. 1 option.
And in arguably his last season playing football — Sharp is considered a long shot for the NFL — he'll likely do anything to stay on the field. It's certainly evident in the speedster's no-nonsense running style.
"It's a realization. That's the reality of it," Sharp said of possibly playing his last year of football. "So basically, the seniors, we want to go out there and give everything we have to this team and to this game and enjoy it. We're blessed to have this opportunity. We're blessed with abilities, and I feel like we'd let a lot of people down, including ourselves, if we didn't go out and play this game the way it's supposed to be played."
More like this story on KUsports.com