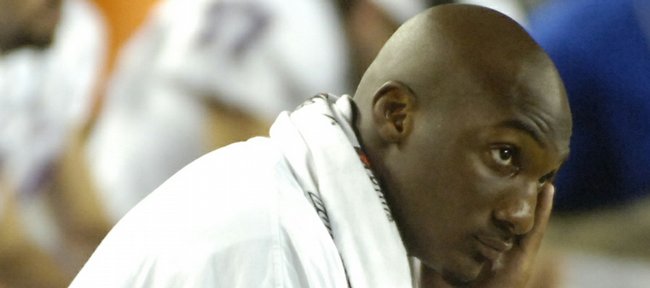 Tampa, Fla. — Tampa Bay cornerback Aqib Talib was held out of practice Thursday after police say he punched a taxi driver and was jailed on charges of simple battery and resisting arrest without violence.
The Bucs said the second-year pro, who fought with a teammate during last year's NFL rookie symposium and then had another confrontation with a teammate this offseason, would not be suspended by the team.
Instead the club referred the matter to commissioner Roger Goodell.
"It's unfortunate, certainly, what happened last night," general manager Mark Dominik said.
"I've been in contact with the league office. This falls under the personal conduct policy. Certainly whatever decision's made, the commissioner's decision supersedes anything the club does at this time."
Talib, a former Kansas University standout, posted $300 bail early Thursday. A Florida Highway Patrol arrest report said the 23-year-old punched a cab driver in the neck and ear after he picked up Talib and two other men outside a St. Petersburg nightclub.
The Tampa Tribune reported extensively on details of the cab incident. The paper said while in the taxi, Talib was asked three times by trooper John Ryan to exit the vehicle but "was uncooperative, without offering or doing violence," the police report stated.
The report stated that there was an "indication of alcohol influence." Both charges are misdemeanors.
According to the Florida Highway Patrol report, the arrest took place about 11:10 p.m. Wednesday at Interstate 275 (State Road 93) and Gandy Boulevard in Pinellas County. Talib was booked into the jail shortly before 1 a.m. and released just after 6 a.m.
David Duggan, the driver of the taxi, said he picked up three men at Nova 535, a lounge in St. Petersburg, about 10:45 p.m. Wednesday and was taking them to the Homewood Suites near Tampa International Airport. A few minutes into Duggan's drive, it took a dramatic turn.
"I thought I was getting robbed. I thought I was going to die," Duggan told the Tampa Tribune. "I didn't know these guys were Tampa Bay football players. I thought I was done."
Duggan, 47, said he was assaulted by Talib while the player sat in the back seat of his cab. He claims Talib began punching him in the back of his head while he was driving on Interstate 275, prompting Duggan to swerve before stopping on I-275 at Gandy to call the police.
Duggan said he never spoke to Talib while in the cab and the attack was unprovoked. Duggan said he charged the men $50 for the ride and collected the money up front.
Duggan believes Talib was one of three Buccaneers in his cab headed back into the hotel where the team stayed during training camp. He was unsure of the identities of the other two men.
"Talib began punching from behind and the car went from the right lane to the left lane," Duggan said. "The guy in the front seat started telling at him, 'Dude, you're going to kill us. You're going to kill us.'
"It felt like I got hit with a hammer. I thought I was getting robbed. Until the cops ran his ID, I had no idea who he was."
Duggan said responding officers were prepared to pepper spray Talib, but Duggan protested because pepper spraying the car "would be bad for my customers."
Then three police officers yanked him out the car and stuffed him in the back of the FHP car.
Duggan, who is 5-foot-7, 170 pounds, said he went to the emergency room at Bayfront Medical Center in St. Petersburg at about 1 a.m. and left after 5 a.m. He told the Tribune he has a large knot on the back of his head and is experiencing headaches. For the past two years, Duggan was a tow-truck operator before losing his job. He was "down on his luck" and moved in with a friend. He started working for the Independent cab company three days ago to get back on his feet.
After Duggan's run in with Talib, he is unsure whether he will drive his cab again.
"I don't go around beating up people. I've never been in a fight in my life. I'm not the type of person," Duggan said. "It was a vicious attack. It's like a hungry lion going against a chicken. It was that quick. I called One Buc Place and I'm ticked off. I have a bunch of medical bills now and somebody needs to pay them."
Talib walked onto the practice field about 30 minutes into an afternoon workout, but did not participate in drills. He left before the end of the session and was not available for comment.
"Obviously you're concerned, obviously you're disappointed," coach Raheem Morris said. "The real deal of the matter is it's a league issue. ... You have to let it go through due process."
Shortly after being drafted by the Bucs, Talib clashed with then-teammate Cory Boyd at the rookie symposium.
In May, he apologized for letting emotions get the best of him and swinging a helmet at offensive tackle Donald Penn and accidentally striking cornerback Torrie Cox instead during an offseason workout.
More like this story on KUsports.com