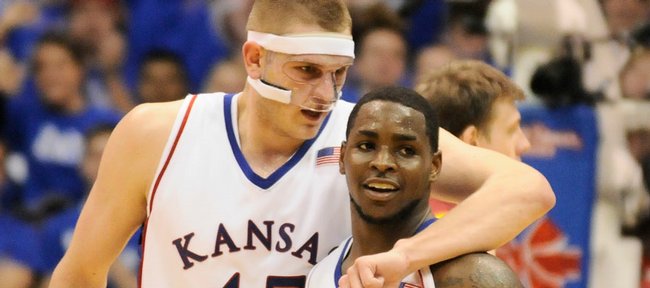 Cole Aldrich, who is expected to vie for college basketball player of the year honors his junior season at Kansas University, hasn't let any summertime hype go to his head.
"I'm nervous again," Aldrich said Tuesday.
Not about his game.
He was referring to speaking to a dozen media members who surrounded him at Parrott Athletic Center.
It seems Aldrich remains a guy more comfortable talking about the team than perhaps being the face of college basketball during the 2009-10 season.
"I think that'd be cool," Aldrich said, asked about he or teammate Sherron Collins perhaps emerging as the No. 1 player in the land.
"Being in that group of elite players who have been able to do that ... I think one thing that would make me proud and the rest of the Big 12 is to be able to have a player in our league do that again. In past years we've been able to have guys from our conference (like Michael Beasley and Blake Griffin the past two years) show we have some of the top players and are a top conference in the country."
Aldrich went to work on his body and his game this summer in an attempt to take that next step.
"Coach talked about getting my legs stronger. I think I have done that," said the 6-foot-11, 248-pounder from Bloomington, Minn.
"I think that'll improve my game a lot. Instead of going against guys like Dexter Pittman (Texas) and getting pushed out, I can hold my own against him. That dude is a load, but hey, if you can hold guys like that, you can hold anybody."
Aldrich worked out in both Lawrence and Minnesota this summer. He also worked several camps, including the LeBron James camp in Akron, Ohio, and Amare Stoudemire camp in Phoenix.
"We worked hard in the weight room and on the court," he said. "We also had time to have a little fun. It's the main thing you want to do in the summer, kind of get away from it but also stay into it."
Cole's dad, Walter, said it was great to have his son home for about a month total.
"He worked out a lot and got to play some golf," Walter Aldrich said, impressed with his son's well-conditioned body. "He tried wrestling the old man. I told him, 'I'm too old for that now,''' Cole's dad added with a laugh.
Cole said he felt the support of his buddies back home, laughing when asked if anybody teased him about not playing for say, the Minnesota Timberwolves of the NBA, instead of KU this season.
It's believed Aldrich would have been a lottery pick had he entered the 2009 Draft after his sophomore season.
"I'd say a lot of people are just excited to have another season to watch me on TV and our team to be successful," Aldrich said. "People are excited for the outcome of our season."
Aldrich said expectations remain the same despite the fact KU will likely be No. 1 in preseason polls.
"We have the same goals we've had since I've been here, winning the Big 12 Conference then the Big 12 tournament, making a good run (in NCAAs) and hopefully we can win another championship," said Aldrich, who was a freshman when KU won the national title in 2008. "That's a lot on the plate, but you know it really takes a lot to get to that point. A lot of things have to happen to have a successful season. I think they can."
Aldrich — he said he simply loves being a college student — plans on having a "blast" again this year. He remains one of the most popular players on the team. Proof of that?
"Ask him about the managers and what they did for him," Walter said. "They re-did the rooms (improvements at Jayhawker Towers) this year and he wasn't there the day they moved. The managers did it for him. He at least had all his stuff in boxes," Walter added.
More like this story on KUsports.com