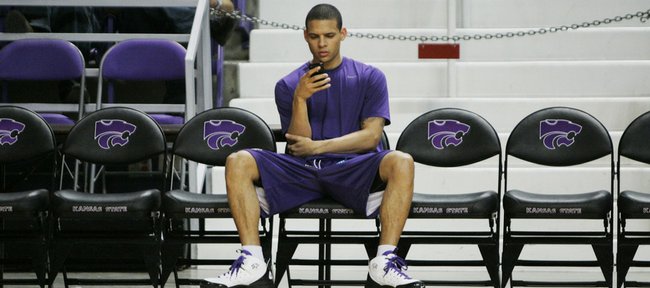 Manhattan — The first few shots, over the backboard, the kneeling three-pointer, seemed plausible. Doubt crept in as the fullcourt jumpers swished in a little too easy. By the time Larry Bird and Michael Jordan started calling bank off the scoreboard and through windows, well, there wasn't much question the shots were made in the editing room, not on the court.
Denis Clemente's shot, the one that generated 5,000 views in one day on YouTube? Believe it.
Off the scoreboard, off the floor, nothing but net — all real.
No director, no Big Mac on the line, no post-production splicing.
Just two Kansas State players engaged in a game of H-O-R-S-E, one with a video camera rolling, the other pulling off the kind of shot that should have been worth at least two letters.
"I just started laughing," Kansas State coach Frank Martin said of seeing the video. "I couldn't believe it. But, coming from him, I wasn't surprised."
Here's how it went down: Playing H-O-R-S-E with teammate Victor Ojeleye, an Ottawa native, Clemente got a running start from behind the baseline, heaved the ball to the scoreboard 50 feet above, then watched it carom back, bounce off the Bramlage Coliseum floor and drop through the net. Swish!
The video version was actually the second time Clemente made the off-the-scoreboard shot. He needed just two tries the first time. Once the camera was rolling, it took about 30 minutes.
"It's not an easy shot," Clemente said. "I don't think I can do it again."
Kids have been trying outlandish shots almost since Dr. Naismith first tacked that peach basket to a pole. Off the house, off the tree, with a baseball bat, with their foot — they've tried it all.
Difference is, now it can be seen outside the backyard and the local YMCA. The Internet validates those you-won't-believe-what-I-did shots, digital proof instead of word-of-mouth.
Certainly, fakes are out there. LeBron James effortlessly hitting jumpers from 80 feet and beyond in a commercial isn't real, no matter what your friends say.
But the Web is dotted with videos of real trick shots, from grainy YouTube clips of kids in parks to sites devoted entirely to off-the-whatever hoops. One group of Alabama teens even landed a commercial deal with a national hotel chain after someone at an advertising agency saw their trick shots on YouTube.
The clip of Clemente's shot has been linked by sports blogging sites, TV stations, shown on ESPN, mentioned in newspapers. Since it was first posted on July 24, Clemente's clip has generated nearly 40,000 views, most of those in the past 10 days.
"That's the marvel of YouTube," Martin said. "People have been making shots like that forever. When I was his age, I'd try to hit hook shots from the other baseline. When you spend a lot of time in the gym, you need some kind of joke time, some time to relax and do stuff that just puts you at ease. That's what gym rats do."
Incoming freshman Wally Judge suggested the shot off the scoreboard and Clemente, always up for a challenge, gave it whirl.
A swish, a teammate with a camera and now Clemente has gone viral.
"I didn't think it would blow up like that. It blew like crazy," said Clemente, Kansas State's leading scorer last season at 15 points per game. "I never thought it would be crazy like that."
More like this story on KUsports.com