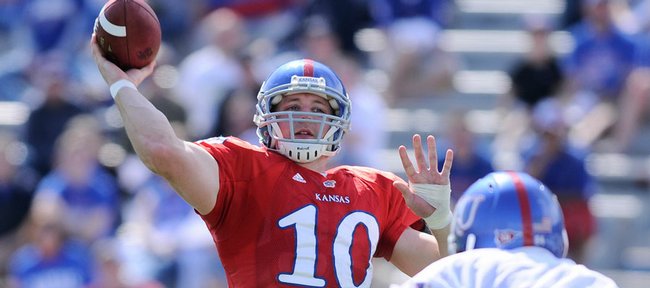 Senior Thornton returning to safety
After a short hiatus, Kansas University senior Justin Thornton will return to the position in which he thrived during the Jayhawks' 2007 Orange Bowl season.
Thornton, who tied for the team lead with five interceptions as a sophomore in '07, was shifted to cornerback last fall as part of the team's massive secondary overhaul. But on Wednesday, KU coach Mark Mangino said the St. Joseph, Mo., native has made the move back to safety.
"The reason we did that is because he kind of directs the traffic, he's an old hand back there," said the coach. "He's been in a bunch of big games at that position, and we're starting to feel more comfortable with him there because the corners are starting to develop really well."
Thornton played the first seven games of last season at free safety before making a mid-season switch to left cornerback. He led the Jayhawks with 11 pass break-ups and finished with a career-high 63 tackles.
Meier won't stop working at quarterback
Mangino's plan to phase Kerry Meier out of the quarterback rotation and allow the Pittsburg native to work full-time at receiver has been scrapped — at least for the most part.
"After looking at it through training camp, I'm not sure that we'll completely divorce him from that position," Mangino said. "But his reps are extremely limited. I just want to keep him there in case the worst-case scenario would come about."
Mangino, who said Meier has been working at receiver approximately 90 percent of the time, previously indicated that Meier would make a permanent shift to the position if backup quarterback Kale Pick emerged as a viable No. 2 quarterback during summer training camp.
Linebacker Brooks returns to practice
After leaving summer training camp last Tuesday to deal with a family emergency, transfer linebacker Vernon Brooks is back at practice and showing signs of promise, Mangino said.
"Vernon Brooks the last couple days has really come on strong, and he's really making a statement," said Mangino of the transfer from Texas' Blinn College. "He's a hard-nosed guy, and he just has to learn our defense. But he's doing very well."
Porter among running backs vying for snaps
A year ago, Daniel Porter was watching KU standouts Todd Reesing and Dezmon Briscoe from a box in his living room.
These days, he's vying for a chance to play alongside them.
"I used to watch them on ESPN all the time," said Porter, a running back transfer from San Mateo (Calif.) Junior College. "And I'm here now, so it's pretty cool."
The junior from San Francisco was a late addition to the Jayhawks' roster this spring, but Mangino last week called him one of the team's fastest players, and said he didn't figure the back would have much trouble making the transition to Division-I football.
"I like his attitude," Mangino said. "He's a guy, like a lot of our kids, he's super serious about his work."
Linebacker Jones no longer with program
Mangino also said Wednesday that Julian Jones, a true freshman linebacker from Lawton, Okla., did not report to training camp and is no longer with the team.
"We talked to him and he wanted to just go somewhere to college close to home," said the coach. "And I think he made a good decision."
More like this story on KUsports.com