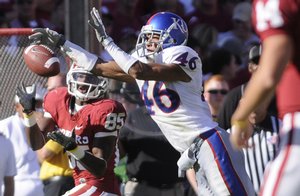 Kansas University defensive back Justin Thornton, whose five interceptions tied future first-round NFL draft pick Aqib Talib for the team lead two seasons ago, stole just one pass his junior season.
Why the decrease in thefts?
"I can't give you an answer for that one. I really don't even know, to tell you the truth," Thornton, a 6-foot-1, 213-pound senior safety from St. Joseph, Mo., said, when asked if opposing quarterbacks tried to throw away from his side of the field.
"It's always nice to have the interceptions and be up there in the stats, (but) I just go out there and give it my all. If I'm rewarded for my hard work, then that's what it is. My No. 1 goal is to win."
He does admit it was nice to share individual interception honors with Talib two seasons ago.
"Any time you can match the stats of an All-American, first-round draft pick is something to be proud of," Thornton said, adding, "that's in the past, a few years ago. I'm ready to come back and do what I can to help the team."
Thornton — he started the first seven games last season at free safety and the last five at corner — led the Jayhawks with 11 passes broken up. He also was fifth on the team with 63 tackles, recording a season-high nine tackles at South Florida.
Thornton's career high in tackles also was his sophomore season when he had 16 against Missouri.
He was asked if that proved to be his favorite game in his KU career.
"It comes close with the Orange Bowl, with the simple fact I'm from Missouri. There were some emotions in the game," said Thornton, who has been moved back to safety for his final season.
"I always play with emotion. The Orange Bowl is more significant because we got the win (against Virginia Tech his soph season). Sixteen tackles in a loss definitely hurts. The Orange Bowl is my most significant memory."
It remains to be seen if KU advances to a BCS bowl again his senior season.
"The one thing we've not done since I've been here ... first we've got to win the Big 12 North," Thornton said. "That gives us a shot to play in the Big 12 championship. That's been one of our No. 1 goals."
Thornton is hoping a strong season will culminate with his being selected in the 2010 NFL Draft.
"It's the goal of every player who steps out there. If you don't have the goal of being the best, you shouldn't be out there," Thornton said. "It's in the back of all our minds. Every guy on this team has it in their minds somewhere or another."
He knows how to reach the highest level.
"Discipline and hard work," Thornton said.
The hard work of Thornton, who chose KU over Missouri in recruiting, has rubbed off on some of his teammates. He's a candidate for team leader on defense.
"He is vocal, very helpful and a good person," said junior defensive back Chris Harris. "He's a difference maker. He can make plays."
"Coming over to cornerback from receiver last year, he helped me out a lot," said soph corner Daymond Patterson. "J.T. is a big leader in the secondary. Moving from safety to corner .. he never complained at all. He's helping the younger guys become better players.
"He's a classy guy, always telling us to do the right things. He'll never steer you the wrong way. Guys go to Stuckey (Darrell, senior safety) or him for advice."
Defensive coordinator Clint Bowen likes the fact Thornton is willing to talk on and off the field.
"J.T. is a vocal guy. He's older now and been through the battles a bit. He's one of those guys who doesn't mind saying what's on his mind," Bowen said. "That's good. He can talk to other kids and say, 'We've got to get this done.' Some kids are not as confrontational. He has no problem pointing out the things that need to get done. He's good with that."
Thornton is not as colorful with the media as, say, Talib, now with the Tampa Bay Buccaneers.
"We are two totally different personalities. I'm not as outspoken as he is. That's the way I am," Thornton said.
In a recent interview session, he wouldn't even talk trash on rival Missouri, the team that recruited him as hard as KU did.
"I think Mizzou has a hold on St. Joe pretty much," Thornton said of more St. Joe players winding up in Columbia, Mo., than Lawrence. "I was born in Atchison, Kansas. I'm a Kansas boy. It wasn't that hard for me to make that decision.
"I wouldn't take it back for anything. Everything has worked out for me. No regrets."