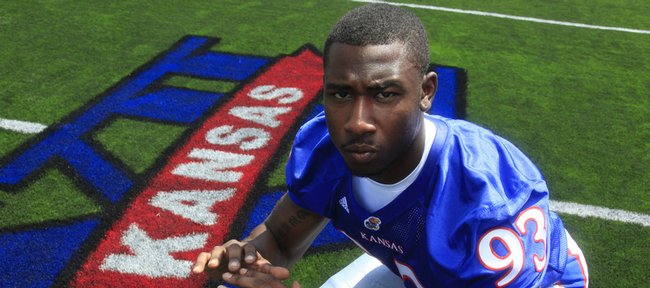 During the Kansas University football team's annual Media Day, Quintin Woods was asked how the first few days of practice were going, and in response, the defensive end from Flint, Mich., said, "It's been tough. Coach's working us, but it's for the (good) of our team. We're just taking it one day at a time, going out there and giving everybody our all, working hard in drills, working hard in practice, soaking everything up, and it's been good."
This was a significant moment for two reasons:
1. Improbably and impressively, the former Bakersfield College standout managed to pack nearly every known sports cliché into a single sentence — a feat that may never be duplicated.
2. It marked the first public comments from the Jayhawks' high-profile transfer, who coaches are hoping will add some pop to a Kansas defensive line that will be counted on to get to the quarterback more consistently than it did a year ago.
Last season, as the Jayhawks' defense struggled to a No. 89 national ranking, the defensive front recorded just 131⁄2 sacks, and the addition of Woods — a 6-foot-5, 230-pound behemoth who finished with 14 tackles for loss and eight sacks as a sophomore last year at Bakersfield — figures to provide a boost in that category.
"He's long and lean, and he's quick," KU coach Mark Mangino said during last week's Media Day. "He really gets off the ball fast. And because he has a lot of range with his long arms, he's able to lock out and get off blocks pretty good."
After originally signing with Michigan out of high school, Woods took a detour through Bakersfield, Calif., for the past two seasons as a result of academic issues.
Now Div. I eligible and signed on with the Jayhawks, he joins a group of defensive ends that includes junior Jake Laptad, an All-Big 12 honorable-mention pick last season, and experienced veterans Maxwell Onyegbule and Jeff Wheeler.
Physically, Woods leaves little to be desired, having already drawn comparisons to former Jayhawks defensive end Charlton Keith. But as the 2008 struggles of former running back Jocques Crawford illustrated, the ability to look good in a uniform is only half the battle.
For starters, Mangino said last week that Woods must improve his strength, adding that the player should benefit from the perks of working with a Div. I training staff on a consistent basis.
"A lot of kids at the junior college programs, they don't have intense weight programs like we do, they don't have a training table or a good place for the kids to eat on campus," Mangino said. "You don't have a guy like (KU nutritionist) Randy Bird on junior-college campus to help you out. So he'll benefit from that."
Another obstacle will be mastering a playbook that likely will prove more expansive than any Woods has seen before.
"You've got to learn your playbook before you can go out there," said Laptad, who is currently listed, along with Onyegbule, as a starter at defensive end. "That way you know what you're doing and you can make plays faster; you're not thinking about the play, you can just make the play."
"I went through that," Laptad added. "That's probably the biggest adjustment, learning the playbook. You've got to know the play before you can go out there and actually do it."
So far, however, things seem to have gone well enough in Woods' transition to Div. I football. Teammates spoke glowingly about his abilities as a pass-rusher, and he looked sharp in the Jayhawks' only open practice last Tuesday.
What's more, Mangino said last week that there's no question Woods will contribute this season — a good sign for a defensive line working under its third coach in the past three seasons.
"I'm just excited to get on the field," Woods said. "Excited just to have gotten back to Div. I, and I'm just ready to play for KU."
More like this story on KUsports.com