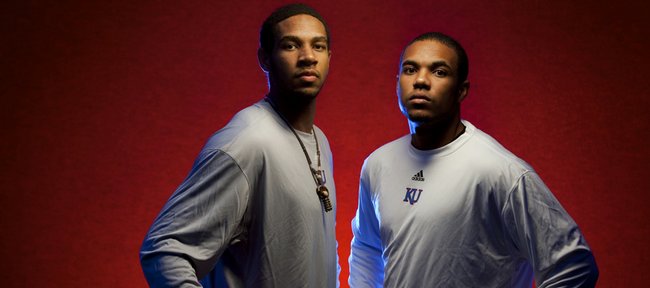 Wherever Xavier Henry goes, so does one of his most prized possessions — his wooden necklace.
"It's a warrior necklace. I got one for me and my brother. It just represents us. Me and my brother are warriors," Henry, Kansas University's 6-foot-6, 220-pound freshman basketball guard from Oklahoma City said Tuesday.
He slipped on the jewelry — which he bought in Hawaii — as soon as he finished lifting weights with his brother, KU freshman guard C.J., and the rest of his new teammates Tuesday afternoon in KU's Anderson Family Strength and Conditioning Center.
"We usually wear them every day. Every day I think of my brother. I think of my whole family," Xavier said of the close-knit group.
Family definitely matters to the Henrys.
Xavier said mom, Barbara, and dad, Carl, both soon will be moving to Lawrence for the 2009-10 season — one that may or may not be Xavier's only campaign at KU.
Remember, he's Rivals.com's No. 8-rated player in the Class of 2009 who is expected to be a first-round NBA Draft pick next June.
"Like I said before, I think I'm a one-and-done capable player, but it's about the holes in my game that people say I have," Xavier Henry said.
"It's why I chose Kansas because I think coach (Bill) Self can help fill those holes with his practices and playing. I think at the end of the year if he's done his job and I do my job, I think I'm a capable one-and-done player. I'm not saying right now I'm a one-and-done player. I want to come in and work hard. I think if he (Self) fills those holes and I fill the holes, there's no discretion."
Xavier is coming off an eventful summer in which he worked out hard with C.J. and a personal trainer back home.
"We went there and did a whole bunch of exercises, probably three hours a day," Xavier said. "We got treatment at the end, went home and hit the gym later. There were a couple NBA players (in town), like Kyle Weaver from the (OKC) Thunder. It was a good run."
The Henrys had drawn some criticism from KU fans on Internet message boards for not attending summer school at KU like the rest of the Jayhawks.
"I had to stay home. I had to get my braces off," Xavier said. C.J., who is a red-shirt freshman walk-on, would have had to pay his own way to summer school, since his contract with the New York Yankees only pays for two semesters per calendar year.
"I had to get two root canals and all four wisdom teeth taken out. People thought we were skipping these workouts (at KU). I had to do stuff at home and was still working out."
He moved into a Jayhawker Towers apartment with roommate Chase Buford on Monday. Brother C.J. has his own place off campus since he's an older-than-usual, 23-year-old rookie.
"Chase had everything in the room. He has all the game systems, the Wii, the Nintendos, the Playstations. It's like he brought his whole home in the room," Xavier said with a laugh. "I'm fine with it, because I barely packed anything to come up here because I don't have that much. When I walked in, I saw TV, couches. Then I looked in Chase's room and it was filled up with stuff. He packed heavy."
Henry, who will immediately join his teammates in daily pick-up games, says he has set no limits on his play.
"My experience is I'm trying to set the highest standards for myself," Henry said, asked if he'd like to be Big 12 rookie of the year.
"If you have high standards, there's no limit to what you can do. I'm going to work hard and anything can happen."
It was recently "reported" by some fan on the Internet that Xavier guaranteed KU would win the national title this season. He chuckled when informed of that Web site post.
"I don't think I guaranteed one. I wish I could," Henry said. "It's going to take hard work. If the whole team works hard, there's no telling how far we can go."
The team will be led by senior Sherron Collins and junior Cole Aldrich.
"Every day I can learn something. With those two staying, that's the biggest thing. That puts us right back on top," Xavier said. "They have all the experience. All they can do is teach us and all I can do is learn from them."
Aldrich likes what he's seen of Xavier and C.J.
"They are great people. The guys on the team are really excited to have them on campus," Aldrich said. "We are excited for them to be here and really be one as a team. They are hard workers. They were lifting with us today. They got in the grind with us and everything is going great so far."
Xavier seconds that notion.
"I had my mind set after I made my decision on Kansas (that) it has to be the place," Henry said. "Even if it's not the place, this is the place so it has to be the place. I love it so far. Nothing's happened to tell me it's not the place."
Cole's status
Aldrich, who considered turning pro after his soph season, was asked his current stance on the NBA. Self has said nobody should expect Aldrich to return for a fourth season.
"Sherron and I ... we had our thoughts about it (leaving). It's a whole new year. You never can say, 'I'm for sure doing this; I'm for sure doing that,''' Aldrich said. "I'm just going to take it day by day and try to put myself and our team in the best position I can."
How many years?
C.J. Henry was asked how many years he'll remain at KU. He's listed as a redshirt freshman, but Self believes he has three years of eligibility because the NCAA starts a player's clock once the player turns 21. Henry, 23, had four years left to play once he turned 21 and one of those four years was spent recovering from a broken foot while he attended Memphis.
"I'll just take it by the horns and don't look back. I'll go out there and leave it all on the floor. Who knows, it may be one year, it may be four. I'm still going to get a college education," C.J. said.
This, that
KU's game at Kansas State on Jan. 30, will be part of ESPN's College Gameday, the Big 12 announced Tuesday. ... The KU-Cornell game, originally set for Jan. 5, has been moved to 7 p.m., Jan. 6. ...
More like this story on KUsports.com