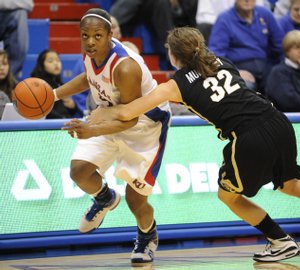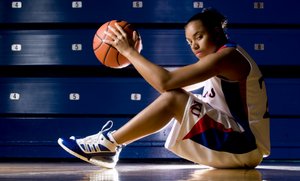 Around mid-October of last year when basketball practice was about to begin, Kansas women's coach Bonnie Henrickson was asked about Danielle McCray.
Said Henrickson of the 5-foot-11 junior: "Danielle has to step up and be a leader."
Did she ever.
McCray rocketed from an honorable mention All-Big 12 selection as a sophomore to first-team all-league status as a junior and quite likely will go into her senior year as the preseason choice for Big 12 Player of the Year.
McCray led the Jayhawks in scoring (21.6) and rebounding (7.7) during a 22-14 season — KU's best in a decade — that culminated with a clash against South Florida for the WNIT championship in front of a Big 12-record 16,113 fans in Allen Fieldhouse.
That the Bulls won, 75-71, did nothing to diminish McCray's luster, even though she had an off-shooting game. During the five WNIT games, McCray averaged 29.4 points and 8.0 rebounds.
Twice McCray scored a career-high 35 points — once against Arkansas in the WNIT and also in an astonishing 69-45 romp over national powerhouse Baylor in Allen Fieldhouse.
Still, McCray's most important outing may have been a 30-point, 13-rebound effort that propelled KU to a 67-52 victory at Oklahoma State and ended a 14-game Big 12 Conference road losing streak.
"Danielle was just borderline unbelievable," Henrickson said after the OSU game.
That wasn't the only time. McCray scored 30 or more points in six games, and failed to reach double-figures in just three of the Jayhawks' 36 outings.
With McCray returning and with only one regular — point guard Ivana Catic — lost to graduation, expectations are high. Nevertheless, even with McCray, the Jayhawks suffered through a horrible midseason slump, dropping 9 of 11 games.
It goes without saying McCray can't do it all, and Henrickson will be looking for additional scoring punch. Only McCray and Sade Morris, also a senior, averaged in double-figure scoring last year, Morris at a 12.7 ppg. clip.
Henrickson will also be looking for improvement from 6-5 junior center Krysten Boogaard who averaged 9.0 points and 5.5 rebounds during an inconsistent — sometimes maddeningly so — soph season.
Junior Nicollette Smith, whose shooting tailed off in the second semester, is the other starter. When she's on, she's the Jayhawks' second-best three-point shooter after McCray.
Stepping in for Catic at point guard will be Angel Goodrich, who was supposed to be the starter at that position last season. Then the high school All-American suffered an ACL injury in preseason practice.
The 5-4 native of Tahlequah, Okla., was Henrickson's most touted freshman recruit, but had to sit out as a medical red-shirt. Goodrich was given medical clearance last spring, so she will be good to go when preseason drills begin.
So, in effect, the Jayhawks will probably open this season with the same starting lineup Henrickson had planned to use last season.
Henrickson signed five players last November, yet none comes with a portfolio that would imply instant impact.
One is Tania Jackson, a 6-3 forward who missed her senior season at Lawrence High because of a torn ACL. Henrickson is bringing in two other forwards, both from Houston and both with the same last name — 6-3 Carolyn Davis and 6-1 Annette Davis. The two are not related.
The others are guards — 5-10 Monica Engleman, a freshman from San Antonio, and 5-9 junior-college transfer Marisha Brown.
Henrickson added insurance at point guard in the spring when she signed Rhea Codio out of Independence Community College. The 5-8 Codio, a native of Brooklyn, N.Y., averaged 16.0 points and 7.0 assists last winter at Indy CC.
More like this story on KUsports.com