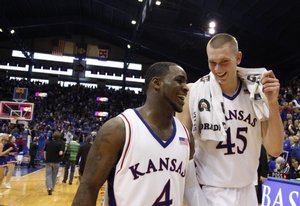 Blessed with talent and depth at every position — and valuable experience at the ever-important point guard slot — Kansas University's basketball team enters the 2009-10 preseason with the highest hopes.
And the greatest expectations.
The Jayhawks — who return senior floor general Sherron Collins and junior pivot Cole Aldrich and have added to the mix Oklahoma prep sensation Xavier Henry — are a popular pick to make the Final Four and vie for the tradition-rich school's second national title in three seasons.
"With what we have returning and the addition of some key recruits, I think we do have a chance to be one of the elite teams," said seventh-year KU coach Bill Self.
"But we have a long way to go and a lot of work to do to put ourselves in a position to hopefully be one of the elite teams ... a LOT of work," he repeated.
Self — he realizes a lot can and always does happen in college basketball's marathon six-month season — nonetheless agrees that, on paper, his '09-10 KU roster is one of the best he's ever assembled.
Yes, maybe even better than the 2007-08 collection of players, who stormed to the NCAA title.
"We talked about that at lunch as a staff," Self said. "That (2008) team had three guys (Mario Chalmers, Brandon Rush, Darrell Arthur) who, as rookies, started on their NBA teams."
"We had another guy play some minutes as a rookie (Darnell Jackson) and a fifth who would be in the league but opted to go overseas (Sasha Kaun). That is a group of guys. You add Sherron (Collins, sixth man), and that was a pretty talented team," Self exclaimed.
"I don't know if this team has the potential numbers to do what they are doing post-college.
"We do have numbers. We do have depth. I think we've got some guys who are pretty good at what they do. But to make a comparison ... I think the team two years ago is one of the best all-around teams we've seen in recent years, and there have been several of them. It remains to be seen what will happen (this year). I know it'll be a fun team to coach."
He's looking forward to the Oct. 16 Late Night in the Phog when he'll be able to begin mixing and matching combinations with his roster that includes 13 accomplished scholarship players as well as non-scholarship standout C.J. Henry. One of the Jayhawk walk-ons — Conner Teahan — would be a scholarship player at many, many other Div. I places.
"We didn't lose any key components from this past year and were able to add some key components to the roster. I think that makes for great competition in practice and makes us much harder to guard," said Self, who lost seldom-used reserves Tyrone Appleton and Quintrell Thomas to transfer as well as walk-ons Brennan Bechard and Matt Kleinmann from a 27-8 team that won the Big 12 regular-season title and reached the Sweet 16 of the NCAAs.
More importantly, he welcomes back first-team all-Big 12 players Collins and Aldrich as well as starters Tyshawn Taylor, Marcus Morris and Brady Morningstar.
Also on hand are scholarship returnees Tyrel Reed, Mario Little, Travis Releford, Markieff Morris, plus walk-ons Teahan, Chase Buford and Jordan Juenemann.
A strong recruiting class consists of guards Xavier and C.J. Henry and Elijah Johnson, forward Thomas Robinson and transfer center Jeff Withey.
"The guys are hungry and excited. It makes for competition," Self said. "A guy has to look to his left and right saying, 'I better work.'''
One possible negative on a team with so-many positives is the fact there might not be enough shots — or minutes — available to keep everybody happy.
"People have asked me, 'Do you have enough balls to go around?' We have one and one only," Self said.
"This place changes you. When you get here, you think about the big picture as opposed to an individual one. I'm excited how well this team can potentially play together. It'll take time, but we have some nice pieces. If we are unselfish we can be really hard to guard."
Selfishness is not expected to stain the team, not with team leaders Aldrich and Collins on hand.
Remember, Collins, a 5-foot-11 senior from Chicago and Aldrich, a 6-11 junior from Bloomington, Minn., elected to bypass the NBA Draft to try to clip the nets for the second time in their careers.
"I do think we return the best guard in the country and return the best big guy in the country and if you are going to start a team, why not have an anchor and why not have a guard? That's a pretty good two spots," Self said.
Aldrich — who, as a freshman reserve made a name for himself for his work against Tyler Hansbrough in the 2008 Final Four — burst onto the scene as a regular in averaging 14.9 points and 11.1 rebounds his soph campaign.
He recorded the first official triple double in KU history in a second-round NCAA Tournament victory over Dayton. That game was contested right down the road from his childhood home.
"Coach and I talked a little bit after the season. I told him, 'I am having way too much fun. I really want to do a lot of things very few people have done,'" Aldrich said of the reasons for returning for year No. 3 in Lawrence.
"I think with Sherron and I both coming back we could be those special names in Kansas history that all the little kids look up to."
Self said Aldrich already was one of the best big men he's ever coached, with the sky the limit for the big man.
"He improved more than anybody else in America did. Who ever would have thought he'd come so far so soon?" Self said.
"He has a fabulous attitude, works his tail off every day. For everybody out there that could understand the biggest jump you make as a player is between your freshman and sophomore year ... all you have to do is look at Cole to get it because what a jump he made."
Collins — in his first season as a starter — averaged 18.9 points and 5.0 assists per game. He made 77 of 205 threes for 37.6 percent while also tutoring freshman guard Tyshawn Taylor (9.7 points, 3.0 assists).
"It wasn't that tough a decision," Collins said of staying for his senior year.
"I thought, 'I can graduate, increase my stock, which will be higher in next year's draft, and come back with a special group.' We have a good chance of being in a race for another national championship. I'd like to go down in history with two."
Self — he fought the battle of the bulge with Collins last preseason in holding the player out of all but one exhibition game in Canada — could not have been prouder of him during the actual season and postseason.
"He's one of the best competitors I've had the chance to work with — ornery, stubborn but tough," Self said. "I feel like he gets slighted a little bit. Everybody who said last year that Kansas returned no starters from the national championship team didn't really know Kansas. He'd have started the last two years if he had been healthy. He deferred because of his health.
"What a year he had."
The other three returning players who started a majority of games are: Taylor, Morningstar and Marcus Morris.
Morningstar, a 6-3 junior guard out of Lawrence's Free State High, burst onto the scene after a red-shirt season.
He averaged 6.5 points, 3.0 rebounds and 2.6 assists a game, while icing 50 of 119 threes for a team-leading 42.0 percent. Morningstar, who had a team-leading 43 steals, emerged as the squad's defensive stopper.
"He's one of KU's very own, being raised right here in Lawrence. It means so much for him to be a Jayhawk," Self said. "He led our league in three-point shooting. He's our best perimeter defender. No disrespect to Brady, (but) when we recruited him I didn't think he'd play 30 minutes a game for Kansas his sophomore year. He did it and did it well."
Taylor, 6-3 sophomore, from Jersey City, N.J., hit 50 percent of his shots, including 36.4 percent of his threes. He plucked 38 steals, third on the team behind Morningstar and Collins (39).
"Tyshawn was fourth-leading scorer on his high school team, a great team. He comes to Kansas on a Big 12 championship team and scores more points as a freshman than he did in high school," Self said. "When he was playing well, he has that personality that can add so much to a team. I'm proud of him for the year he had."
Marcus Morris, a 6-8 sophomore from Philadelphia, experienced the usual freshman highs and lows in averaging 7.4 points and 4.7 rebounds per game. He hit 49.5 percent of his shots, including making six of 15 threes. Marcus' brother, Markieff, a 6-9 forward/center, averaged 4.6 points and 4.4 boards per game. Markieff, who started seven games, hit 44.8 percent of his shots, doing all of his damage up close. He made just three of 16 threes.
"You stop and think about how far those two have come," Self said of the twins. "They are two of the hardest workers we have. They are getting stronger, better. There was a time last season all of us wondered if they could dunk. They never did. They have unbelievable futures and are fun to coach."
Tyrel Reed, a 6-3 junior from Burlington, had a breakthrough soph season in averaging 6.5 points a game. Reed, who started two games, hit 49 of 126 threes for 38.9 percent.
Many of those threes came at the most important time in games.
"Did he make some big shots for us or what?" Self said. "He's a hard worker, is hard on himself, too hard on himself. He wants to be a perfect player. He had a great year for us and will continue to get better."
Mario Little, a 6-5 senior guard/forward from Chicago, had an injury-plagued season. He showed flashes of brilliance while averaging 4.7 points (off 51.2 percent shooting) and 3.2 boards.
"He played less than full strength," Self said of the player who had offseason surgery to repair a stress fracture in his lower left leg. "He's got game. When his leg gets 100 percent healthy he'll show it. He's a fabulous prospect."
Travis Releford, 6-5 sophomore from Bishop Miege in Roeland Park, averaged 2.7 points a game in limited minutes.
"It's not fair because everybody wants to play. Everybody works hard, sometimes you don't get the same opportunities other guys have for whatever reasons," Self said. "Travis has a chance to be a special player. We recruited him and knew it'd take a year or so. He's shown signs of being an excellent player. I think he'll be a 1,000-point scorer at the University of Kansas."
The walk-on brigade is led by Conner Teahan, a 6-5 junior out of Kansas City Rockhurst. Teahan was granted some meaningful minutes early in the year before the rotation was set. He averaged 3.9 minutes a game in 21 contests, having an off year from beyond the arc (two of 17).
Other walk-on returnees include Chase Buford, 6-3 junior guard from San Antonio and Jordan Juenemann, 6-4 sophomore from Hays. For a look at KU's newcomers, see an ensuing article.
More like this story on KUsports.com