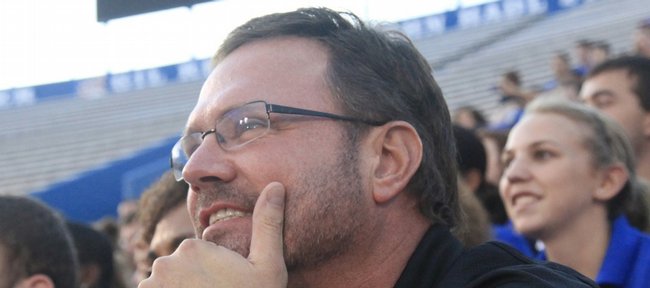 Bill Self insists he wasn't trying to start a new tradition during Kansas University Traditions Night festivities Monday night at Memorial Stadium.
Self, Kansas University's seventh-year basketball coach, showed up for his guest-speaker stint sporting a brand-new beard.
"It's not going to stay. I lost a bet," Self said. "My wife says she likes it a little bit. I said I'd grow it out for a little while."
Self, who admits he was "fired up" in speaking to the first-year KU students "in front of the Campanile on a beautiful night," remained on the stadium track for 15 minutes at the conclusion of the event.
He posed for pictures with students, who had been treated to speeches from Self, KU Chancellor Bernadette Gray-Little and others.
"This will be my favorite KU class ever because my daughter is a part of it," Self said of Lauren Self, who is a Free State High graduate/KU freshman.
"I'm excited for these kids. It should be a fun year. They should have a great career. As long as they take care of business and handle their stuff right, there's no reason they can't have a great experience here."
That includes his five basketball freshmen — Xavier and C.J. Henry, Elijah Johnson, Thomas Robinson and Jeff Withey.
The Henry brothers, as expected, arrived on campus Monday from their hometown of Oklahoma City.
Xavier, a 6-foot-6, 220-pound freshman guard/forward, moved into his Jayhawker Towers apartment with roommate Chase Buford. C.J., a 6-4, 205-pound, 23-year-old freshman, will be living off campus in his own apartment.
"I think they look great. They both lost weight, leaned down," Self said. "Xavier and C.J. are both very strong young men. It looks to me like the person who worked with them (personal trainer) did a great job making their program designed for a lean basketball athlete.
"C.J. has been totally cleared to play," he added of the player who had a cracked bone in his foot last season, which kept him from playing his first and only campaign at Memphis. "They reported in as good a shape of anyone, I believe, with the exception of Tyrel (Reed). I don't think anybody is ever in as good a shape as Tyrel."
Self said it was business as usual on a day the Henrys arrived on campus.
"I know some fans were nervous about that occurring. It certainly wasn't the case with us," he said of the KU coaches, who were not concerned about summertime reports the Henrys had second thoughts about playing here.
"Today was not a special day because of that," he added of them reporting. "It was more special when they committed. Of course we've had our little peaks and valleys after that, but that was kind of all blown out of proportion. I think it'll be a lot more exciting when we see them out there running around the court than actually arriving."
He noted that, "They are excited to be here. They were fired up today, both C.J. and Xavier. They were able to get their physicals and everything today. Tomorrow hopefully they can jump in and be part of this group 100 percent."
Self said all the Jayhawks were scheduled to be in town by late Monday night, with the exception of Sherron Collins, who'll be here Tuesday.
Can he believe he's starting Year Seven on Mt. Oread?
"No I can't," Self said. "That's unbelievable. The longest we were anywhere before was four (at Oral Roberts). It does seem fast. I hope the next six go as fast as the last six. If they do, it probably means we'll have a lot of fun."
Self was asked to pinpoint his favorite KU tradition.
"I don't know them all like our student body does," he said. "I'm not out there when they do the alma mater or Rock Chalk Chant at least before the basketball games. My favorite one is hearing the slow Rock Chalk Chant break out with about a minute left in a game because that means we've probably got it well under control."
Self told the students above all else to go to class.
"I think this statistic is real and somewhat sad. Out of this very intelligent group of young people here tonight, there will be somebody who is not here next year, and it won't be your decision. Why?" he told thousands of KU newcomers.
"Because somebody will get off track a little bit. I encourage you all to take advantage of this opportunity and understand there is a direct correlation between making grades and attending class. There is no excuse for anybody to not attend class. Be proud to be a Jayhawk."
More like this story on KUsports.com