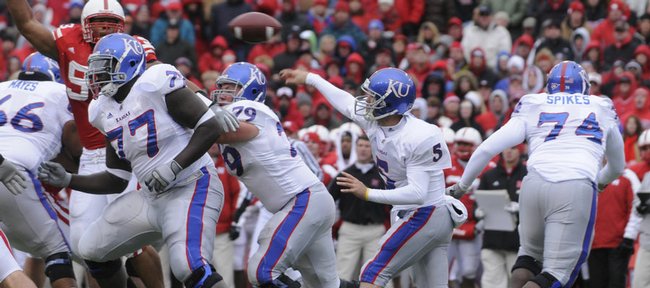 If the Kansas University football team is to win its first outright Big 12 North title this season, the Jayhawks will have to make history with a brutal conference schedule ahead of them.
For the second straight year, KU drew the big three from the Big 12 South: Oklahoma, Texas and Texas Tech. Two of the three (UT, TTU) are on the road.
By contrast, Nebraska, which is expected to finish atop the North standings with KU, doesn't face Texas this year. And the Cornhuskers drew Texas Tech and Oklahoma at home.
When comparing schedules, Nebraska is the favorite. Kansas, however, returns the most prolific quarterback in its history in Todd Reesing, along with the best group of receivers in the conference. Couple that with a date against Nebraska on Nov. 14 in Lawrence, and the Big 12 North is officially up for grabs.
Here's a look at KU's conference schedule in 2009, along with a few names to remember when preparing for the opposition:
Oct. 10: vs. Iowa State
Player to watch: Junior running back Alexander Robinson. If healthy, Robinson should surpass his 863 all-purpose yards (703 rushing) and six scores from last season. He only caught 17 passes, but new offensive coordinator Tom Herman, who previously held the same position at Rice, is expected to implement his spread attack, which will showcase heavy doses of Robinson in the running and receiving game. He's really the Cyclones' lone home run threat on offense.
The Jayhawks' offense should be able to feast on an ISU unit that ranked No. 116 of 119 Bowl Subdivision teams in pass defense last year.
Oct. 17: at Colorado
Player to watch: Sophomore running back Darrell Scott. The five-star recruit and the No. 1-rated Rivals.com freshman back in the nation was somewhat of a disappointment last year after rushing for just 343 yards and a touchdown. Injuries limited his productivity, but he's a prime breakout candidate this year with future NFL potential.
Colorado has the deepest corps of backs in the conference with sophomores Scott, Rodney Stewart and Brian Lockridge, to go along with junior Demetrius Sumler. With a quarterback battle between unproven signal callers Cody Hawkins and Tyler Hansen, the Buffaloes should focus a lot on their ground game this season.
Oct. 24: vs. Oklahoma
Player to watch: Junior quarterback Sam Bradford. Naturally, you're going to attract attention when you're the reigning Heisman Trophy winner coming off a season with 4,720 passing yards and a nation's-best 50 touchdown passes. Bradford, predicted by many to be a Top 5 NFL Draft pick this April, decided to return to school with a fire still burning inside him after OU's BCS Championship loss to Florida. He would have battled Matthew Stafford, who went on to sign a $78 million contract with Detroit, for the No. 1 pick. Bradford should be a finalist again for the Heisman, and the Sooners are a consensus Top 5 team in the country this season.
The atmosphere in Lawrence should be electric for this game, particularly if the Jayhawks enter at 6-0, which is realistic. ESPN College GameDay, are you listening?
Oct. 31: at Texas Tech
Player to watch: Junior quarterback Taylor Potts. The Red Raiders have led the nation in passing six of the last seven years, so it's a good bet coach Mike Leach will continue to air it out, even without Graham Harrell and Michael Crabtree. Potts is next in line in the TTU quarterback factory, and at 6-foot-5, he's taller than any signal caller of the Leach era (2000-present). He reportedly has a better arm and can heave it downfield with more precision than Harrell.
Texas Tech won't be a Top 25 team to start the season like last year, but consider the Red Raiders haven't won fewer than eight games in a season since 2001.
Nov. 7: at Kansas State
Player to watch: Senior wide receiver Brandon Banks. He's arguably the most underrated player in the conference. Banks caught 67 passes for 1,049 yards and nine TD's last season, and he's a threat to take it the distance on kickoff returns, too. Most Lawrence High and Free State High receivers are bigger than Banks, who is listed a mere 5-7, 150 pounds.
One problem: With Josh Freeman gone, who's going to give Banks his touches, Carson Coffman or Daniel Thomas? Both are unproven.
Nov. 14: vs. Nebraska
Player to watch: Senior defensive tackle Ndamukong Suh. The KU offensive line is most likely going to want to double team Suh, who's already being projected the No. 2 overall pick in Todd McShay's 2010 NFL Draft. The 6-4, 300-pounder led an improved Nebraska defense last season in tackles (76) and sacks (7.5).
The Huskers should be a fringe Top 20 team to start the year. This game will be one of the most anticipated KU home games of the season and could decide the Big 12 North champion.
Nov. 21: at Texas
Player to watch: Senior quarterback Colt McCoy. He was the most accurate QB in the land last year, completing 76.67 percent of his passes, a NCAA record. McCoy was a finalist for the Heisman Trophy last year and is a front-runner to win the award this season.
The Longhorns didn't like being the odd man out in the South's three-way tie last year, and will likely use that as motivation in their quest to win a BCS Championship. Texas is a consensus Top 5 team in the country this season.
The Jayhawks, as good as they're supposed to be, will likely still be at least 14-point underdogs at Darrell Royal Memorial Stadium.
Nov. 28: vs. Missouri in Kansas City, Mo.
Player to watch: Junior running back Derrick Washington. He rushed for 1,036 yards and 17 scores last year on a hurt left knee. With the absence of Chase Daniel, Jeremy Maclin and Chase Coffman, Washington quickly becomes the No. 1 option in the MU offense. Pressure rests on the arm of sophomore quarterback Blaine Gabbert, one of the most heralded recruits in Missouri history. But Washington should help him ease into a comfort zone in his first year running the offense.
Missouri, which won the North the last two years, won't be ranked to start the season and will be somewhat of a long shot to win the Big 12 North again in 2009.
More like this story on KUsports.com