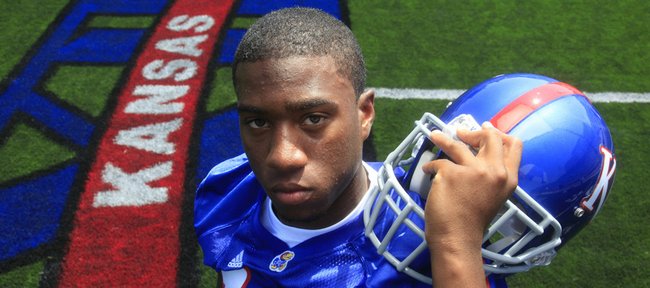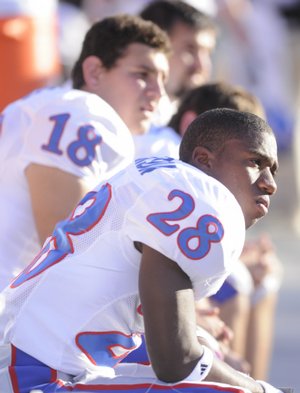 Daymond Patterson has had brief discussions with Kansas University football coach Mark Mangino about playing receiver again sometime in the future.
There's only one catch: The sophomore Patterson has to prove that he can be a dominant cornerback first.
Make no mistake: Patterson knows plenty about former Jayhawks Charles Gordon and Aqib Talib, who thrived under Mangino in the secondary before getting a chance to contribute as part-time receivers.
"That got me really excited, just to see where they ended up and then just trying to do a little bit of the same thing," Patterson said. "Maybe there's a little hope that I can get back over there."
First, though, Patterson will look to prove that he can handle full-time duty as a defensive back.
The 5-foot-9 speedster from Mesquite, Texas, switched over from receiver to cornerback halfway through last season.
As a true freshman, Patterson didn't have much time to adjust. He had just three practices in the secondary before making his first start against Texas Tech, one of the top passing teams in the nation.
"If a receiver would do a certain thing, I was like, 'What do I do to stop this?' Or if he does this, 'What do I do to stop that?'" Patterson said. "I was just out there going off of instincts and athleticism last year trying to stop receivers."
In seven games at corner, Patterson contributed 21 tackles and two pass breakups but no interceptions.
He's expecting more from himself this year.
"I don't really have to think out there any more," Patterson said. "I know where I'm going, and I know the defenses. I can make calls, and I can get guys in the right positions now. That makes everything a lot easier when you can just react instead of having to think always."
KU defensive coordinator Clint Bowen said Patterson's offseason improvement has been twofold: Patterson has increased his overall knowledge of the defense and also has started to learn some of the fine details that go with playing corner.
"Combine some fundamentals with his natural quickness and speed," Bowen said, "and he's light-years ahead of where he was."
Patterson also looks to be the favorite to begin the season as KU's punt returner.
Last year, he started better than he finished.
After returning four punts for 135 yards in the season-opener against FIU — including a 75-yard return for touchdown — Patterson had 18 punt returns for just 108 yards the rest of the season.
He also led the team with three lost fumbles.
"That really doesn't weigh too much because that's last year. That's old," Patterson said of his fumbles. "We're just looking to improve, and I'm looking to improve."
After wearing No. 28 last season, Patterson has switched to his high school number — 15 — this year.
He said quite a few people had asked him if he was going to take the No. 3, which previously was worn by Talib and Gordon.
"I want to do what they did, but I want to let them have their legacy," Patterson said. "I want to start my own legacy with No. 15."
Talib and Gordon have helped Patterson with his transition to defense.
Gordon offered tips to Patterson after last year's Kansas State game.
Talib, meanwhile, talked with Patterson about his technique during the offseason. Patterson recalled Talib telling him, "Hopefully, you can do the same things I did up there. Be a good corner and get to play on the other side of the ball as well."
For now, though, Patterson will focus on cornerback — just like Gordon and Talib did during their early years at KU.
"The thing that those kids could do was make a special play that really had nothing to do with them," Bowen said of Talib and Gordon. "I can't tell you how many times Aqib Talib wasn't anywhere near where he was supposed to be, and he would intercept the ball. Same with Charles.
"We'll find out if Daymond has that ability just to make something happen."
More like this story on KUsports.com