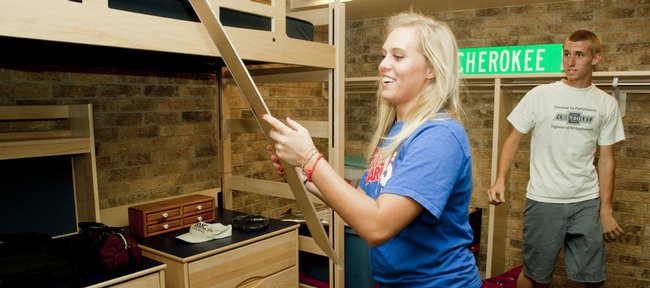 As cars, pickup trucks and U-Hauls pulled up to Jayhawker Towers on Friday crammed with furniture and other belongings, Stephanie Chase took a break from moving to look at her newly renovated apartment.
"It was really, like, '70s-looking before," the junior from Atchison said. "Now, it's really sleek-looking."
The $8 million worth of renovations to Tower A — home to many student-athletes — has been completed for this semester after being expedited at the request of Kansas Athletics and basketball coach Bill Self.
Chase, like many moving in on Friday, said she enjoyed the on-campus location of the more than 40-year-old buildings and had many friends moving in, too. The renovations played a role in their decision to locate there, she said.
"I just like how open and homey it feels," she said.
Diana Robertson, KU's director of student housing, said the cost of the renovations will be paid for with higher fees collected from the residents living in the renovated space.
Living in a newly renovated area costs about $800 more for a person living in a four-person room and nearly $1,400 more for a two-person room.
The added costs put the price of living in the building at $3,630 for a four-person apartment per year and $6,388 for a two-person apartment.
There's some new drywall on some of the old brick walls in the 72 apartments, and the tower now has its own laundry facility, Robertson said. However, much of the renovations will be things residents will never see.
"There's lots of behind-the-wall stuff," such as plumbing, wiring and flooring upgrades, Robertson said. The tower also has new energy-efficient windows and heating and cooling, along with a new security system.
Robertson said the department wanted to give students the choice of paying more for more amenities.
"I think students will probably most notice the new kitchens and bathrooms," Robertson said.
Both areas have received major upgrades; several rooms now feature a kitchen island, along with other appliances.
Brock Templeman, a junior from Overland Park, lived in Tower C last year and said the differences were everywhere. He pointed out new lighting systems that made the dreary-looking rooms from last year stand out more, and said that was just a start.
"We have a dishwasher," he said, while pointing things out in his new four-person room. "New appliances and even a digital thermostat."
He most looked forward to the new wireless Internet service, after having to run a cable from the main room to his bedroom last year.
Even the desks are new, and much improved, Templeman said.
"They were tattered and beat up," he said. "I mean, they were from the '70s."
Now that renovations to Tower A are completed, work will begin this semester on renovations to Tower D, Robertson said, with similar scope and costs.