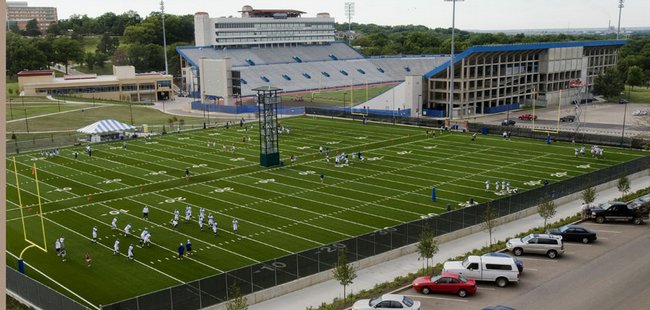 When last year's starting linebackers — Mike Rivera, Joe Mortensen and James Holt — all exhausted their Kansas University football eligibility, they left behind a legacy, but no definite replacements. And as the Jayhawks prepare for the 2009 season, competition for the position is still open.
"We really don't know (who's going to start)," said senior running back-turned-linebacker Angus Quigley. "We're just working. Coach is rotating, trying to get everybody in. Whoever comes out on top, that's what it's going to be."
In addition to Quigley, returnees seniors Arist Wright and Jake Schermer, juniors Justin Springer and Drew Dudley, and sophomore Steven Johnson are all options for the Jayhawks.
Out of the short list for starters, Wright turned in the most tackles last season with 33. Playing in all 13 games last year, Dudley finished with 12 tackles and has earned praise from both head coach Mark Mangino and linebackers coach and co-defensive coordinator Bill Miller.
"Drew Dudley, who we moved over in the spring … " Miller said. "He just got three days at linebacker in the spring, but he's been really consistent and executed well."
Springer recorded 15 tackles in nine games for the Jayhawks last year before suffering a season-ending injury in the Kansas State game, and questions about his injury remain.
"We just haven't gotten a lot of work out of Springer," Mangino said. "With injuries, he has just been limited. So I can't tell you what he's going to contribute or what he's not going to contribute at this time. We're hopeful, but we don't know."
Quigley and Dudley served as first-team linebackers for most of the open practice Tuesday, but at Media Day at the Anderson Family Football Complex, Mangino suggested the Jayhawks might be going in a younger direction, specifically in the form of true freshman Huldon Tharp.
"You are going to see Huldon Tharp play, there's no question," Mangino said. "... He has been impressive as a freshman. I think it's a matter of time before he wins the job. I think we're just counting the days until he wins the job. We want to see him on tape in a scrimmage, and we think that's just going to be a rubber stamp putting him at a starting position."
Miller echoed Mangino's enthusiasm for the Kansan out of Mulvane.
"Huldon Tharp has really been a pleasant surprise as a freshman coming in here," he said. "... You know, we're really searching for the consistency, and the guy that's going to do it right and execute every time, he's out there."
Consider that a call to arms for the veterans.
"I think that some of the older kids, they've got a few days here to buckle down and make a statement, or (they) are probably not going to be in the mix," Mangino said.
But the challenge from the underclassmen is something the older players embrace.
"It's definitely a good thing," Quigley said. "If there wasn't competition, then you can't develop a solid two-deep or anything like that. Competition is healthy for everybody. It helps you not to be complacent."
"It's been good," Springer added. "We do have a lot of competition. ... I feel like it's bringing the better out of all of us because every day we have to go out there and prove something to the coaches."
If these Kansas linebackers have anything to prove, it's that they can live up to the strong defense of the linebackers who came before them.
"We're working, and we're trying our best to get that done," Quigley said. "That's our goal, to be one of the strong points of the defense and not be a weak link or anything like that. ... We're trying to hold up our end of the deal."
More like this story on KUsports.com