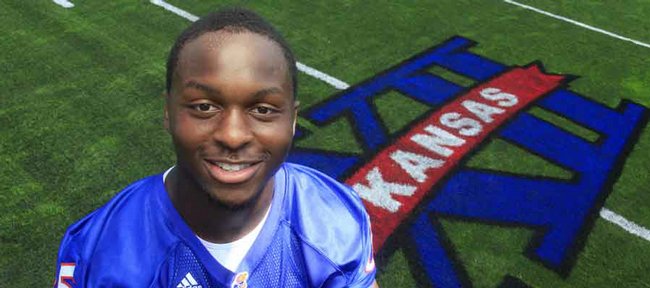 How they stack up
Here are Kansas' top candidates at running back, with height, weight and class:
Jake Sharp 5-10 195 Sr.
Rell Lewis 5-10 201 So.
Daniel Porter 5-11 200 Jr.
Toben Opurum 6-2 235 Fr.
Deshaun Sands 5-9 182 Fr.
The first few days of major-college football practice are enough to make any true freshman's head spin.
That includes somebody as accomplished as 6-foot-2, 235-pound running back Toben Opurum.
"Training camp ... they install new plays every day. They throw a lot at you," said Opurum, who rushed for 882 yards and eight touchdowns and had 31 receptions for 238 yards last season at Plano (Texas) East High.
"It's hard to remember everything, but you've got a lot of people helping you out — coach Matsakis (Louie, running backs coach), Jake Sharp and Rell Lewis, people like that," Opurum added of running-back teammates.
"They all help make things easier on me."
Opurum, who chose KU over Florida, Notre Dame and others in recruiting, compared the first few days of practice at KU to his prep days in Plano.
"Thankfully it's not as hot as it is in Texas. It's still kind of warm out here," Opurum said, speaking of recent Kansas weather in the 90s, apparently a few degrees cooler than that of the Lone Star State. "The first few days have been long. We improved as a team, so it'll definitely pay off in the end."
Opurum, who apparently is in the mix to contribute this season, says he's been kept busy at practice.
"We are all getting repetitions. The opportunity is there to play," Opurum said. "All the running backs coming in bring different styles and complement one another. I think me coming in with more size than other running backs, they expect me to complement different styles of the shorter backs. I think it (size) will help out a lot."
A three-year starter and two-time first-team all-district selection at Plano East, Opurum says he wants to do all he can to help KU win big his rookie campaign.
"For everyone coming in here ... the big goal is to win a Big 12 championship," Opurum said.
He has more than football on his mind.
"I picked KU because of the playing opportunity here, the education you receive. The program is top-of-the-line. It's what I wanted in a school for academics," said Opurum, who plans to major in finance or sports medicine.
He's taking it day by day right now while getting adjusted to the next level.
"I've been so caught up with football. That is fun for me," Opurum said. "I think I have improved since I've been here. I think everybody has improved. That's what has impressed me the most — the improvement of everybody since I've been here."
Coach Mark Mangino, who ultimately will decide whether to play or red-shirt Opurum this season, also likes what he's seen at practice from his ball carriers.
"In terms of the running-back situation, Jake Sharp obviously looks good and picked up right from where he left off last year," Mangino said. "I like that Rell Lewis is healthier and doing a lot better. Two newcomers, Daniel Porter and Toben Opurum, are really good, talented young guys.
"We have a chance to be really good and really deep at the running-back position. I think that overall some positions are going to have some depth. The defensive line will have some depth, the secondary with have depth, running back will have depth, and obviously the quarterback will have depth, but hopefully we won't need it, but we will be deep at that position as well."
More like this story on KUsports.com