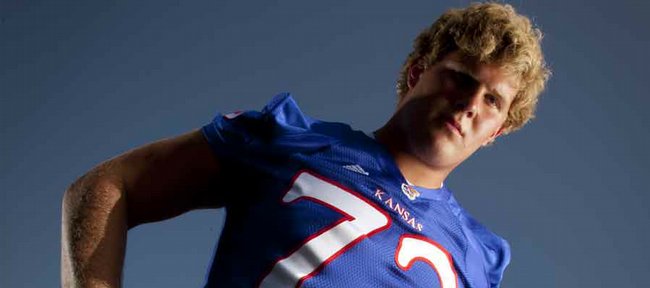 The plump kid with the curly hair was sitting in the back of the room, talking about food.
This was Tuesday, and Tanner Hawkinson, the newly minted left tackle for the Kansas University football team, was explaining how, exactly, a recently lean college freshman had managed to transform himself into a nearly 290-pound titan.
"It's not too hard," Hawkinson assured during KU football media day. "It's just eating quite a bit for most of the day."
Over the course of the last year, as he has inhaled eggs and protein shakes and generously proportioned peanut butter and jelly sandwiches with great frequency, Hawkinson has packed nearly 50 pounds onto his 6-foot-6 frame — a development that has significantly altered the player's appearance while also acting as a source of great amusement to fellow members of the team's offensive line.
"Yeah, we notice (the extra weight)," says sophomore center Jeremiah Hatch, smiling. "We tease him. It's like, 'How does it feel to be a real o-lineman now?'"
For the moment, it appears to feel good enough.
With the exception of some obvious weight-related setbacks — "Sometimes when we're running sprints or something, I feel like I'm still moving pretty good," he says, "but I'm still back with all the (linemen)" — Hawkinson seems to be settling into his new role nicely. Currently, he is acknowledged as the team's starter at left tackle, and while the depth chart figures to be altered greatly before the team's home opener against Northern Colorado on Sept. 5, there does not appear to be an abundance of competition for the left tackle spot.
What's more, Hawkinson is working under the tutelage of a man who — by his own account — has made a career out of turning marginal tight ends into highly successful offensive tackles. During last month's Big 12 media days in Dallas, Kansas coach Mark Mangino pointed out the similarities between Hawkinson's situation and those of Adrian Jones and Todd Weiner, former players under Mangino who went on to play professionally after making the switch from tight end to offensive tackle.
"When I came here, Adrian Jones was a tight end — and a mediocre one at that," Mangino said of the current Houston Texan. "And it took us about six months to convince him that he could make a lot of money being an offensive lineman. He didn't believe it at first; he didn't. He believes it now. Because if he was a tight end coming out of this program, he'd be a good insurance salesman."
Of course, new and exciting as Hawkinson's new position might be, it also comes with a catch: the pressure of being counted on as the primary protector of the program's most valuable commodity.
Hatch is no stranger to such pressure. He lived it for nine games last season as a red-shirt freshman, taking over the position previously manned by all-American — and current Cincinnati Bengal — Anthony Collins, and he can still remember those unfortunate occasions when his man would burst by him on the line and KU quarterback Todd Reesing would end up on his back.
"To this day, it haunts me," said Hatch, shaking his head.
Hatch has spent the past few months, however, trying to ease the transition of his successor — mostly, by answering the multitude of questions that Hawkinson has been firing at him.
"He asks me questions all the time," Hatch said. "... He'll ask, 'How close does my footing need to be?'; 'How fast do I need to set?'; 'What's the key thing as far as when the ball's snapped?'"
After some early reservations about the switch, meanwhile, the McPherson native seems confident that, by the end of training camp, he'll be prepared for the various rigors that come with playing as a Division-I lineman.
"Being out there on the field this year will be one of the most exciting things — just being able to help my team in any way possible," he said. "Obviously, if the coaches are positive and confident in you, it's always encouraging."
Stuckey named to Bednarik watch list
Kansas senior safety Darrell Stuckey was named to the Chuck Bednarik Defensive Player of the Year watch list Thursday, the third time the Kansas City, Kan., native has been named to a national trophy watch list this preseason.
Stuckey, an all-Big 12 first-team selection last season after finishing with 98 tackles and five interceptions, was one of 55 players named to the list but one of only four safeties, joining Tennessee's Eric Berry, Georgia Tech's Morgan Burnett and USC's Taylor Mays.