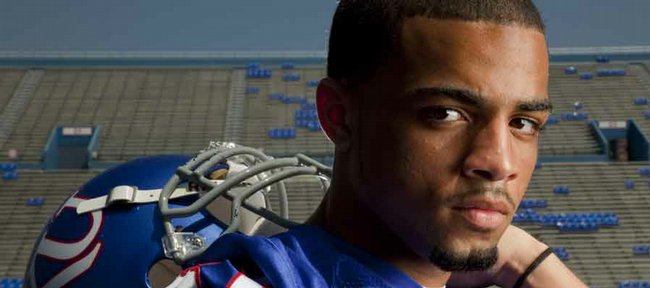 In his sophomore season, wide receiver Johnathan Wilson was voted "Biggest Surprise" by his Kansas University teammates. He went on to start in 12 of the Jayhawks' 13 games, racking up 43 receptions for 573 yards and three touchdowns.
Apparently, however, Wilson isn't quite done surprising people.
Voted "Biggest Surprise" for the second straight year, the junior from Houston is poised to make a major impact on the Jayhawks' offense.
"John has just continued to get better and better every day and every year that he's been here," said offensive coordinator Ed Warinner. "He had a great spring, had a good spring game, put up big numbers. So he's a guy that you know really gives us a weapon on one side. ... And if they want to try to overload to (wide receivers Dezmon) Briscoe or Kerry Meier's side, John Wilson can hurt you. He's really developed."
While Wilson says he was surprised to receive the honor for the second year in a row, it wasn't because he didn't put in the effort.
"I'm just a hard-working guy," Wilson said. "I want the team to have trust in me, so I just work hard and try to show the guys that I can make plays for them and they can count on me."
And it's a work ethic his teammates and coaches have noticed.
"John has pushed himself hard since he first got here," Meier said. "John's the type of guy you can depend on. He's going to come out and work each day."
Added Warinner, "He's worked really hard in the offseason to be stronger and more physical and that helps him out there to have a bigger presence. He understands our offense. He's got confidence in running the routes. Todd (Reesing) has confidence in him."
Wilson got his chance to shine this spring after Briscoe missed most of the spring season because of a suspension for academic reasons.
"Not having (Briscoe) there and having John kind of be that other guy, he was the guy that Todd looked to through the spring," Meier said. "John definitely felt confidence through the offense and it definitely boosted his confidence as a player. I think he definitely benefited from being that man out there on the outside."
His play and effort on the field certainly earned Briscoe's seal of approval.
"What impresses me about John is when I wasn't there with the team, he stepped up and helped out our receiving corps," Briscoe said. "What I've been seeing in two-a-days and from one-on-ones, I've seen that he's learned some new releases to get off the line and he learned how to beat man coverage. He learned the playbook a whole lot. He knows every position that the wides have. He's really developed as a premier player on the team."
And with a tough Big 12 Conference schedule looming, the Jayhawks will be looking to Wilson to keep surprising people.
"Johnathan has been a steady hand for us, now," coach Mark Mangino said. "He is a guy that has kind of been back in the shadows, but he has made some big plays for us. He continually gets better. ... He is going to be an important guy. He will be a guy that has to make plays for us in order for us to be a good offensive team; and I think he will."