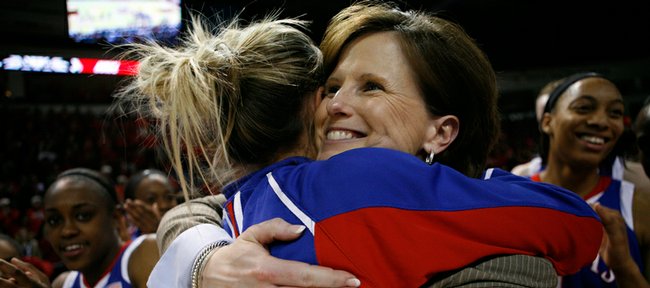 Bonnie-ball at KU
Bonnie Henrickson's year-by-year record at Kansas:
2008-09: 22-14 (6-10 in Big 12, WNIT Finals)
2007-08: 17-16 (4-12, WNIT second round)
2006-07: 11-20 (4-12)
2005-06: 17-13 (5-11, WNIT second round)
2004-05: 12-16 (5-11)
Totals: 79-79 (24-56)
Bonnie Henrickson has signed on for three more years as women's basketball coach at Kansas University.
"This is a great time to be at KU," Henrickson said Thursday after netting an extension that will keep her in Lawrence through the 2013-14 season.
"Between the beautiful new facilities we have and the talent on this year's team, I'm as excited about the future as I've ever been," added Henrickson, who returns four starters from last year's 22-14 team, including senior All-America candidate Danielle McCray.
Also on hand for Henrickson's sixth season will be highly acclaimed freshman point guard Angel Goodrich, who missed the 2008-09 campaign because of a torn ACL.
"The kids on the team have been coming up and saying, 'Coach, people everywhere are talking about the season.' That's a good thing," Henrickson said. "Our last game was a sellout (in finals of WNIT). The next time we'll be in the fieldhouse it'll be full for Late Night."
It's an exciting time professionally for the former Virginia Tech coach, whose compensation remains the same. She will continue to be paid $485,000 annually with a retention agreement of $150,000, making the total compensation package $635,000 per annum.
Last year's success — KU lost to South Florida in the finals of the WNIT in a season in which the Jayhawks also downed No. 5 Baylor — as well as promise for this year has caught the attention of recruits.
Henrickson has already received three commitments from high school players in the Class of 2010.
"It's a great vote of confidence from (athletic director) Lew Perkins which speaks volumes in recruiting," Henrickson said. "This gets me out to five (more seasons at KU).
"Families do their homework and are interested in my tenure. Kids want to know. I can say to them, 'If you don't like me, don't come. I'm not going anywhere.' I'm thrilled to have the tenure and ability to move forward."
She has more than her own job security to use in recruiting.
There's a new women's locker room in a renovated Allen Fieldhouse, and a new practice facility that the men and women will both use. Horejsi Center and the fieldhouse courts will also remain available, meaning court-time conflicts should be rare.
"For kids in the last class and the one we are working on now, those are the ones who got to see the facility DVD and artist renderings," Henrickson said. "I don't know how many times I watched the DVD and laid out (rendering) boards (in homes of recruits). It makes a huge difference.
"We've talked a lot about it. It's nice to see it come to fruition. We've been down in Texas so much (recruiting). They have nice facilities in Texas. This matters to kids and coaches."
Perkins, who hired Henrickson to replace Marian Washington six years ago, issued a statement on the extension.
"We are excited about what the future holds and very pleased that Bonnie will be the coach to lead us into that future," Perkins said. "She has done an excellent job building our women's basketball program to a high level in what is perhaps the most difficult conference in the country."
Henrickson has high hopes for the 2009-10 season.
"No one is more excited than I am about the program. Nobody has more expectations than I do," said Henrickson, who is 79-79 at KU after compiling a 158-62 record at Virginia Tech in seven seasons. "Losing is not fun. We came here to win and make a difference in kids' lives. I think we've done that and think we're turning the corner (on the court)."
Goodrich update
Henrickson said Goodrich, a 5-4 playmaker from Tahlequah, Okla., continues to play in pick-up games as she recovers from ACL surgery. She tore her ACL in the left knee in the second practice of her rookie season.
"She is running, jumping, played pick-up all summer," Henrickson said. "The kids tell me she looks good playing pick-up."
More like this story on KUsports.com